DAN PANOSIAN

SEND THIS TO A FRIEND!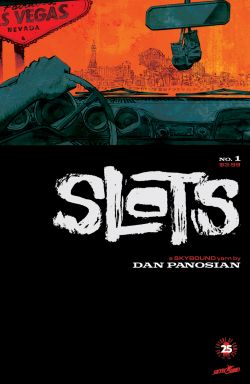 DF Interview: Dan Panosian gambles on new series as he pulls the lever with Slots
By Byron Brewer
You can say this about the life of Stanley Dance: he did it his way. Unfortunately, his way never took getting old into account. Now, the former boxer is on his last legs, looking for redemption … but he'll settle for going down swinging.
Roll the dice with artist/writer Dan Panosian as he creates, in his new series Slots, a bold and breathtaking vision of Las Vegas, where everything old can become new, and superstition influences how the chips fall.
To get more info for our readers, DF caught up with the creator at, of all places in a casino … the slots! Here's what Dan Panosian told us.
Dynamic Forces: Dan, before we get into this great new series from Image and Skybound, tell us a little about the genesis of the book. How long has this been rattling around in your creator's brain?
Dan Panosian: A long, long time. I came up with some characters and an idea about some old skool characters re-entering Vegas. But only the idea stuck. The characters didn't. Years later I was working on covers for Skybound's Ghosted series and Sean Mackiewicz asked me if I was interested in doing any sequential art for a new series. I asked if I could pitch them a few things and they liked Slots. I've been smiling ever since.
DF: Location is sometimes key to a story, and that certainly seems to be the case here. Gotham, Atlantis, Metropolis, L.A. … sometimes these locales, fictional or real, in comics are presented so powerfully that they become a character themselves. Tell our readers about your vision of Las Vegas.
Dan Panosian: To me, Las Vegas is a unique place. There's a bit of the Old West lingering there. It can almost seem a bit lawless. There's also a lot of hope floating around. Desperation too. You can make or lose a fortune in a matter of moments. Where else can that happen?
DF: Who is Stanley Dance? What can you tell us about him, as a character and as perhaps a reflection of his creator?
Dan Panosian: Stanley is the guy who made every selfish decision that came by. We can all look back and wonder what our lives would be like if we took some left turns here and there. But generally we're too responsible. Stanley always listened to the devil on his shoulder and brushed off the angel. Consequently, he doesn't have many friends or family left. Or chances…
DF: Any other prime characters we need to look for, in Issue #1 or as the series goes forward? If so, can you introduce us to them and tell us a little about them?
Dan Panosian: His "arch enemy" Les Royal truly hates him. They were thick as thieves at one point but Stanley is Stanley and he screwed that up too. Les owns a casino called the Royal but he used to own The Piggy Bank before he sold it to an ex-girlfriend of Stan's. Now he wants it back and he won't take no for an answer. Stan's son is also a person of interest. They haven't seen one another in years and there's a lot of resentment built up on his son's behalf. He sort of represents the new Vegas to a small degree. Then there's Mercy May, a burlesque dancer and the daughter of Stan's ex. It's her act that Les is after. She has her own agenda. The cast itself is fairly large. One big dysfunctional family.
DF: What can you say in general about the initial storyline for Slots? What challenges is Stanley facing here?
Dan Panosian: His biggest challenge is himself. He doesn't know how to be a good guy. He has zero experience in that department. He wants to essentially save the day and reconnect with his son but he's very ill-equipped to do either.
DF: You see a lot more creators acting as both writer and artist on indy series. Any particular reason you went the one-man band route with the book?
Dan Panosian: It's been my dream ever since I was introduced to icons such as Frank Miller, Walt Simonson and John Byrne's work from the 80's. I've been working towards this my whole life. Now I can safely say I'm a bit spoiled. Skybound has created a monster!
DF: Haha! I see. … What would Writer Panosian have to say about the work of Artist Panosian? Can you tell us a little about your creative process here? Advantage or disadvantage?
Dan Panosian: I can probably speak more on behalf of Artist Panosian in this instance. I know that if I received a script from someone else with as many 16 panel pages as Slots has -- there would be hell to pay! But I've never had this much fun drawing comic books. As a writer, I'm lucky to have the solid editors I have. I feel it's important that the art supports the emotion and direction. There's a level of sensitivity I want to see in the artwork and it's a true challenge to reach those levels. So far Writer and Artist are getting along nicely...
DF: Good to hear. … Dan, what other projects current or near-future can you let our readers know about?
Dan Panosian: I'm almost done with a Super Hero Game App that I'm very excited about. It's been a long road from conception, financing, finding a development team to completion. Hopefully it's a fun game and it takes off well. Beyond that, I'm always doing covers for Marvel, DC, Dynamite and Dark Horse Comics when I can. Busy, busy, busy! Thanks for asking!
Dynamic Forces would like to thank Dan Panosian for taking time out of his busy schedule to answer our questions. Slots #1 from Skybound and Image Comics hits stores Oct. 4th!
For more news and up-to-date announcements, join us here at Dynamic Forces, www.dynamicforces.com/htmlfiles, "LIKE" us on Facebook, www.facebook.com/dynamicforcesinc, and follow us on Twitter, www.twitter.com/dynamicforces.
GARTH ENNIS' RED TEAM VOLUME 2: DOUBLE TAP, CENTER MASS TRADE PAPERBACK
GARTH ENNIS' RED TEAM: DOUBLE TAP, CENTER MASS #1 (OF 9)
UNCANNY #1 DAN PANOSIAN "BLACK & WHITE" MIDTOWN EXCLUSIVE
THE LEGEND OF SUPREME #1 - SIGNED BY JEFF JOHNSON AND DAN PANOSIAN
---
NEW! 1. 11/25/2020 - STEVE SKROCE
4. 11/16/2020 - RYAN O'SULLIVAN
5. 11/16/2020 - RYAN O'SULLIVAN