CULLEN BUNN

SEND THIS TO A FRIEND!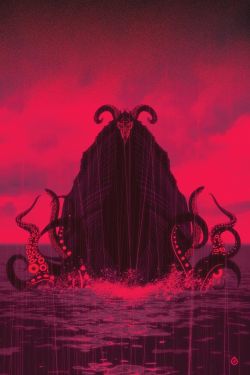 DF Interview: Cullen Bunn picks up some denizens that Noah forgot in Dark Ark
By Byron Brewer
The wickedness of mankind has moved the Creator to destroy the world by way of the flood. Noah has been tasked with building an ark to save his family and the animals of the world. But this is not Noah's story. For darker powers have commanded the sorcerer Shrae to build his own ark and save the unnatural creatures of the world – such as the vampires, the dragons, the naga, and the manticore. But what will happen on a vessel crawling with monsters, where insidious intrigue and horrific violence are the rule of law?
From writer Cullen Bunn (X-Men Blue, Deadpool, Venom) and artist Juan Doe (American Monster, World Reader) comes a sinister tale of biblical proportions!
DF got the 411 for you straight from the Book of Bunn.
Dynamic Forces: OK, Cullen, seriously … HOW many books are you writing a month? Or should I lessen it to a week? (laughs)
Cullen Bunn: I don't even like to keep count these days! Let's just say—a lot! But I'm hoping to cut back. Of course, I've been saying that for a while now.
DF: And the thing that makes this rift on the "Noah's Ark" story different is …?
Cullen Bunn: Well, this isn't really the story of Noah and his Ark. This is the story of the OTHER Ark. While Noah's Ark was loaded with the animals of the natural world, the Ark featured in this story is loaded with the monsters of the unnatural world.
DF: What was your muse for this dark diddy? How long has this been bubbling in the Bunn brain?
Cullen Bunn: I'm not exactly sure where this one came from. A love of monsters. An interest in biblical tales and turning them on their ear. An appreciation of "talking animal" (or in this case "talking monster") stories. I'm not sure. I've been licking it around for a few years, though.
DF: Who is Shrae? And who exactly are the "darker powers" who are tapping God's communications line?
Cullen Bunn: Shrae is a powerful sorcerer who has, in his day, committed terrible acts in the world. He wants to put those days behind him, though. He wants to live a "normal" life. But he has one more task to perform before he and his family can be free. The dark powers that command Shrae to build his Ark might be devils or demons. That's something readers will have to decide for themselves.
DF: What can you tell us about some of the "unnatural creatures" that are saved on the Dark Ark, and how do they cohabitate? Not well, I would assume.
Cullen Bunn: No, the monsters on the Ark don't get along terribly well. Many of them hate each other. Many are vying for power. Few—if any—are happy about taking orders from a human like Shrae.
DF: Can you tell us of the storyline, and any other characters aside from Shrae we might meet?
Cullen Bunn: Shrae's daughter, Khalee, plays a huge role in the story, as does his son, Orin. There are also humans on board the Ark who are destined to be sacrificed as food to the monsters. Among them, the young woman Janris plays a vital role in the story.
Of course, there are countless monsters—vampires and naga and manticore, among others—who have significant parts to play.
DF: Does Noah and his fabulous craft exist in this reality? Will Shrae or others in THIS series meet Noah?
Cullen Bunn: Oh, yes. Noah's Ark exists. It appears in the very first issue. As for a potential encounter between the two Arks, I'm certain the monsters would like for that to happen. After all, in their eyes, Noah's Ark is full of food!
DF: What does artist Juan Doe bring to this unholy table?
Cullen Bunn: Juan is just such an amazing talent. In this story, he must bring all these different monsters to life and give each and every one of them a distinct personality. He does so masterfully!
DF: Cullen, keeping the list to under 1K, tell readers what projects you might be involved with now or in the near-future (especially my beloved X-Men Blue).
Cullen Bunn: In addition to Dark Ark, I'm writing Unholy Grail for AfterShock. I also have Regression from Image, The Damned for Oni Press, Harrow County for Dark Horse, and The Unsound for BOOM! Studios. And, as you mentioned, I write X-Men Blue for Marvel.
DF: See what I mean?! (laughs)
Dynamic Forces would like to thank Cullen Bunn for taking time out of his busy schedule to answer our questions. Dark Ark #1 from AfterShock Comics hits stores Sept. 20th!
For more news and up-to-date announcements, join us here at Dynamic Forces, www.dynamicforces.com/htmlfiles/, "LIKE" us on Facebook, www.facebook.com/dynamicforcesinc, and follow us on Twitter, www.twitter.com/dynamicforces.
VENOMVERSE #1 ULTRA-LIMITED SYMBIOTE SILVER EDITION - SIGNED BY CULLEN BUNN
VENOMVERSE #1 - SIGNED BY CULLEN BUNN
X-MEN: BLUE #1 SKOTTIE YOUNG VARIANT ULTRA-LIMITED BLUE SIGNATURE SERIES SIGNED BY CULLEN BUNN
X-MEN: BLUE #1 ULTRA-LIMITED BLUE SIGNATURE SERIES SIGNED BY CULLEN BUNN
X-MEN: BLUE #1 SIGNED BY CULLEN BUNN
DARTH MAUL #1 ULTRA-LIMITED CRIMSON RED SIGNATURE SERIES EDITION SIGNED BY CULLEN BUNN
DARTH MAUL #1 SIGNED BY CULLEN BUNN
MONSTERS UNLEASHED #1 SIGNED BY WRITER EXTRAORDINARE CULLEN BUNN
DEADPOOL BACK IN BLACK #1 SIGNED IN BLOOD RED BY CULLEN BUNN
DEADPOOL BACK IN BLACK #1 SIGNED BY CULLEN BUNN
MICRONAUTS REVOLUTION #1 SIGNED BY CULLEN BUNN
IDW'S REVOLUTION #1 SIGNED BY CULLEN BUNN
CIVIL WAR II: X-MEN #1 SIGNED BY CULLEN BUNN
DEADPOOL AND THE MERCS FOR MONEY #1 BLOOD RED SIGNATURE EDITION SIGNED BY CULLEN BUNN
---
NEW! 1. 11/25/2020 - STEVE SKROCE
4. 11/16/2020 - RYAN O'SULLIVAN
5. 11/16/2020 - RYAN O'SULLIVAN