DAN ABNETT

SEND THIS TO A FRIEND!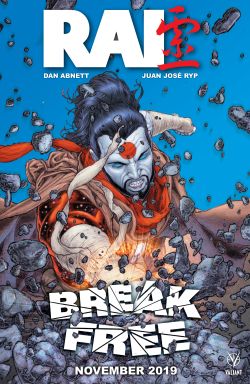 DF Interview: Dan Abnett blends action, sci-fi, a little horror and a lot of character in new 'Rai' series
By Byron Brewer
Welcome to the 41st century: New worlds, new characters, new adventures. Valiant's critically-celebrated cyborg ronin Rai embarks on a thrilling quest to save the future in a new ongoing series.

Multiple New York Times bestselling and award-winning writer Dan Abnett (Guardians of the Galaxy) joins forces with breathtaking artist Juan José Ryp (X-O Manowar) to begin the essential sci-fi series of the next two thousand years. With DF as your guide, we first decided we should check about the book with OUR guide, cosmic scribe supreme Dan Abnett!
Dynamic Forces: Dan, as long as I've known you, you have been building and expanding comic book universes. This latest volume of Rai looks to be no different, with his quest to save the future leading to the introduction of new worlds AND new characters. Can you share with readers just a little bit of what's to come by way of the above?
Dan Abnett: Rai has moved from being the unquestioning protector of New Japan (the great orbital paradise ruled by the A.I., "Father") and become more of its redeemer. This series follows on from the epic Fallen World event, and sees Rai—along with an unusual sidekick—traveling the truly bizarre landscapes of the future Earth on a life-or-death quest. This unexplored Earth is part of the main draw. Put simply, it's a kind of post ("post post") apocalypse setting, but that barely does it justice. This is a world gone wild, like a garden left untended. Almost anything is possible, no matter how fantastic. [Artist Juan José] "Juanjo" Ryp and I have tried to make this a staggering setting, both as a backdrop for Rai's adventures and a driver for the stories.
DF: The cyborg samurai always thrills with his cosmic capers, and of course you are known for concocting cosmic capers with the best of them. Tell us a little about the first arc in this new ongoing.
Dan Abnett: Rai is dedicated to protecting the human—and positronic—citizens of New Japan, mainly by destroying the apparently benign (but actually tyrannical) A.I., Father. He's on a quest to sanction any relic of Father that might exist, any scrap that could potentially bring Father back to power. But it's a personal quest, too: Rai is determined to better understand his own nature, his binary self—part unswerving positronic machine, part human. The world he's in, as we see in the first few issues, often gets in the way of that. Plus, there is a major threat brewing.
DF: Hard as it is to believe, there are a lot of newcomers to the Valiant Universe with the bombastic books coming from the publisher of late. If you would, give us a look into who/what Rai is, and how you see this warrior please.
Dan Abnett: It's pretty simple: He's a half-human, half-machine warrior built to protect and police a futuristic utopia. When he realized that the utopia was being ruled by a despotic A.I., he turned against his origin and programming and fought for liberty. He made sacrifices, and though he did the right thing, not everyone appreciates him for that. He yearns to better understand the state of humanity, the part of him that allowed him to break free. I would say that, while the series builds on the fantastic stories that have gone before (so longtime readers will get satisfying continuity), this new start gives any and all readers everything they need to know.
DF: Can you introduce us to some of the other protagonists in this new iteration of Rai here? Any new supporters or big-bads out there?
Dan Abnett: There will be several, including some familiar Valiant Universe faves. With Fallen World ending, I don't want to spoil anything, but…the key support comes from Raijin. Raijin is an older model of Rai, a previous version, so he's Rai's "big brother," but he appears to be a boy. He's a great focus character, with a quirky insight into the world. They make a great double act, and there's tension between them, too. The big threat…well, that's another face familiar to Valiant fans, though very different. The Red King, the "Bloodfather," who is intent on restoring the full and terrifying power of Father…who happens to occupy the body of Bloodshot!
DF: A little boomeranging here, but as we were talking previously about new readers, is this indeed a good book to get started on learning about Rai and the Valiant U.? If so, why?
Dan Abnett: Absolutely. It's a great place to start, and we explain everything. The future of the Valiant Universe is being built here!
DF: I have seen art from the first five issues of Rai coming, and it is stunning! Talk a little about your collaboration with artist Juan José Ryp.
Dan Abnett: Juanjo is simply amazing. His work has stunned me. And he's so into the story; his contribution is amazing. I'm pretty pleased with the story, but this is a book worth picking up for the astonishing art alone. Thankfully, you get a good story, too. (smiles)
DF: Dan, you are never NOT busy. Tell readers what projects you may now be involved with, inside or outside comic books.
Dan Abnett: I'm writing Justice League Odyssey for DC, a new Dejah Thoris epic for Dynamite, plus ongoing stories for 2000AD and its sister publication, Judge Dredd: The Megazine here in the UK, plus more novels for Warhammer 40,000 (I'm working on the epic "Siege of Terra," the culmination of the bestselling Horus Heresy). It sounds like a lot. I love what I do, and I thrive when I'm busy. With lots of projects on the go, there's a creative momentum that produces the best work. After 30 (really?!) years, no matter how hard the work can get (every job has its downsides and bad days), I am still delighted and grateful that I am doing the thing I always wanted to do.
Dynamic Forces would like to thank Dan Abnett for taking time out of his busy schedule to answer our questions. Rai #1 from Valiant Entertainment hits stores Nov. 20th!
For more news and up-to-date announcements, join us here at Dynamic Forces, www.dynamicforces.com/htmlfiles/, "LIKE" us on Facebook, www.facebook.com/dynamicforcesinc, and follow us on Twitter, www.twitter.com/dynamicforces.
AQUAMAN REBIRTH #1 CGC GRADED!
GUARDIANS OF GALAXY #14 100TH ISSUE ANIVERSARY CELEBRATION CGC GRADED 9.8!
BATTLESTAR GALACTICA CLASSIC OMNIBUS VOL. 2
BATTLESTAR GALACTICA: THE DEATH OF APOLLO #1 RARE MIKE MAYHEW "VIRGIN ART" EDITION FEATURING SILVER ELITE EDITION SIGNATURE BY MIKE MAYHEW
BATTLESTAR GALACTICA: THE DEATH OF APOLLO TRADE PAPERBACK
BATTLESTAR GALACTICA VOL. 2: THE ADAMA GAMBIT TRADE PAPERBACK
---
NEW! 1. 11/30/2020 - SKYLAR PATRIDGE
5. 11/16/2020 - RYAN O'SULLIVAN