VASSILIS GOGTZILAS

SEND THIS TO A FRIEND!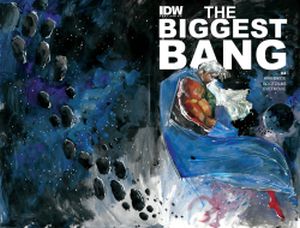 DF Interview: Artist Vassilis Gogtzilas helps bring IDW's Biggest Bang saga to its cosmic conclusion
By Byron Brewer
Cosmos has been mortally wounded by The Penumbra, and his explosive death could destroy a universe. In order to save countless lives, Wyan must help him get to the legendary White Hole at the Center of the Universe -- where the mythical Living Asteroids are standing guard. Grab your tissues and hold onto your seats, cosmic comic fans, because, from artist Vassilis Gogtzilas and writer D.J. Kirkbride, it's the final chapter of IDW's great sci-fi opus, The Biggest Bang!
To gather the 411 on this grand finale, DF spoke with the artist who has been knocking it out of the park on this series from its inception, Vassilis Gogtzilas.
Dynamic Forces: Vassilis, with Biggest Bang #4 it seems you and writer D.J. Kirkbride are finally closing out the long saga you began in Bigger Bang in 2014. Why is this great sci-fi universe published by IDW coming to a close?
Vassilis Gogtzilas: It's a miracle that we managed to have a sequel. The first part was so successful, that allowed us to delve a little more into the characters…and D.J.'s concept was amazing. In the first part, the Bigger Bang, I was more involved with the story. Due to many obligations, I had to step back for a while. So the characters in this story have a little more space. And I wanted to give more space to D.J. I had a feeling that I owed that to him. This new book was created for him and as far as I know he is a little more pleased with the result. But with comic characters, we should never say "it's over" because we never know.
DF: First, can you bring us up-to-date on what a new reader would need to know to enjoy this spectacular climax to this series?
Vassilis Gogtzilas: It's about a new character that was created because of a bigger bang. As a result, a new superhero was born with the name Cosmos instead of the old universe. From there on, a story with various peculiar characters unfolds and stories with intergalactic emperors, living asteroids, one-eyed universal priests and overall a love story which is the core of the story. After all, it's always about women, isn't it?
DF: How did Cosmos get wounded and what does that mean for this universe?
Vassilis Gogtzilas: During his fight with the Penumbras, he gets seriously injured by a primitive bat. Having lost half of his powers, he starts becoming gradually weaker. How the story evolves…you can find out reading the fascinating ending.
DF: Give us a little background of our hero, Wyan.
Vassilis Gogtzilas: Wyan has to deal with her past, which is not easily forgivable as she is the General of the King's army. And she doesn't have less casualties than the people she is after, as a superhero anymore. She has shared half of her powers with Cosmos, the superhero of the book, and other than that she is feeling wonderfully.
DF: Who/What are the Living Asteroids
Vassilis Gogtzilas: My favorite part of this sequel. They are planets which transform into living gigantic creatures. The scene might be short but it's amusing. D.J. has done a fantastic job with the characters and I think it was wise of him to focus on them.
DF: Throughout Bigger Bang and Biggest Bang, as an artist do you have a favorite character you have enjoyed designing/rendering? What about a favorite cosmic scene/issue?
Vassilis Gogtzilas: I absolutely love Cosmos, the main character, and I was very glad that people responded to such a romantic and melancholic hero. I think that there is something from me and D.J. in everything. I believe that final scene of the fourth issue of the sequel could be a favorite scene.
DF: You and D.J. seem to really work well together. Any future projects planned you can discuss? Is science fiction a favorite genre of yours and if so, why? (Your art is jaw-dropping, IMHO.)
Vassilis Gogtzilas: The funny thing is that I'm not so familiar with science fiction. I read some stories at a younger age but I had never come into such close contact with that part. I'm glad to hear that you believe that my performance here was good. D.J. is my friend. He has been next to me throughout the creation of this comic. We share some personal moments and hardships with great understanding. He is so professional and so friendly. I was very fond of his work back in the old days when I was drawing for PopGun, for which he was the editor. There is nothing planned for a new project at the moment. We just finished Biggest Bang. We need some time to breathe and maybe we'll be up to something soon.
DF: Vassilis, what will you miss most about drawing the Bigger/Biggest Bang saga?
Vassilis Gogtzilas: It was a very special experiment for me, artistically and personally. In the first part, my attitude was more experimental. In the second part, it is a little more clear. I really loved the evolution of the character, especially through his connection with Wyan. The way he started talking, acting, knowing things, treating others, to get rid of loneliness and all this by finding his other half. What I will miss the most are the emotions and the sincerity of our intentions.
Dynamic Forces would like to thank Vassilis Gogtzilas for taking time out of his busy schedule to answer our questions. Biggest Bang #4 from IDW hits stores Sept. 14th!
For more news and up-to-date announcements, join us here at Dynamic Forces, www.dynamicforces.com/htmlfiles/, "LIKE" us on Facebook, www.facebook.com/dynamicforcesinc, and follow us on Twitter, www.twitter.com/dynamicforces
---
NEW! 1. 12/04/2020 - JOSH BLAYLOCK
3. 11/30/2020 - SKYLAR PATRIDGE