PAT SHAND

SEND THIS TO A FRIEND!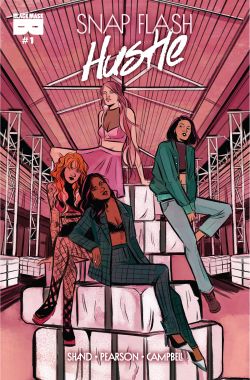 DF Interview: Pat Shand mixes fashion and felony in Snap Flash Hustle
By Byron Brewer
Haley Mori, a downtrodden alternative-model, happens upon a secret society of elite models in NYC that is using its platforms to sell narcotics. Seeing a possible escape from a lifetime of crushing debt, Haley becomes involved and works her way up the ranks, making new alliances and enemies alike while getting a taste of a power she never knew she craved.

In this new stylish crime thriller from writer Pat Shand (Breathless) and artist Emily Pearson (The Wilds), nothing is as it seems. Which is the exact reason DF had to learn more, so we chatted it up with scribe Pat Shand.
Dynamic Forces: Pat, tell readers how you came up with the concept for Snap Flash Hustle. Is this something that has been brewing on the mental back burner awhile?
Pat Shand: I thought of this idea for Emily Pearson. She DMed me in hopes of collaborating, which stopped me dead in my tracks, because Emily was someone with whom I'd wanted to work ever since seeing her art on Twitter. I am humbled. Beyond grateful for that.
I don't remember exactly how I came up with the concept – it came to me fully formed. I fleshed out the story and the characters once I saw Emily's art, but the concept was always Models use social media to operate an undercover drug operation.
In comics, to keep going, you have to constantly be thinking of concepts for stories. What's my next series, what's the next pitch – a lot of my ideas just sit around waiting for the right artist, but thankfully Emily and I really clicked over this one.
DF: What can you tell us about the world in which the reader finds themselves here?
Pat Shand: Emily is building the world here through a very precise color palette. You'll see what I mean when interior previews begin dropping. We've got some K-Pop inspired pastel action going. Beyond that, the totally unique visual motifs that Emily is building, what we're striving for is recreating our world. We want to hold up a mirror to you and make you ask, "Is that who we are?" Or maybe, "Is that who we are now?"
DF: Did you do any kind of research for this limited series?
Pat Shand: Absolutely, yeah. My wife is an alt-model and a lot of this is informed by her experience. Less so the drug kingpin angle, obviously, hahaha. I'm talking about the core here, the experiences that models have with photographers, the constant grind to market yourself and your art. It becomes a lifestyle.
For the narcotics side of it, I had to essentially think up a business model that could work. I had to be the characters who planned out an illegal operation that functions perfectly, hidden in plain sight. The character work to me is natural. That stuff, essentially creating a business model within the world of the story, is where the brainstorming comes in. Doing that makes me feel like a mob boss in this motherf*cker.
We get to wear different shoes as writers. It's all about trying to make them fit. Trying to get into a character and live their life so something completely alien to us begins to feel natural. We get to live many, many lives within this one life.
DF: What can you tell us about the overall storyline for Snap Flash Hustle?
Pat Shand: We follow Haley Mori, an alt-model who has accumulated a ton of debt. She happens upon a ring of popular models who are using photo shoots and the production of glamor and fetish photography as a cover for the exchange of narcotics, and a means to launder their money. As Haley gets more involved, she sees a solution to her debt but, on the way, discovers something about herself that she didn't know was there.
DF: Can you introduce your cast to us please? Maybe tell us a little about them?
Pat Shand: Haley is our lead, and she's always been passionate about photography. She sees her body and her life as art, and has spent the better part of her life trying to convince people of that. She's grappling with debt that she hides from her husband Jamie and their girlfriend Pauline. She feels stuck in this, unable to escape the spiral of debt and depression, until her new job empowers her in a way she never expected.
On the other end of the spectrum, there's Coral. Coral is one of the top models in this collective, and is working her way up the ranks with increasingly ruthless methods. Coral is, by (almost) all accounts, a big-hearted and sweet person, but she's always had a competitive streak in her that is exacerbated by money and power. It becomes harder and harder to tell if she's the sweetest cinnamon roll you've ever met, or if she's Scarface.
Tiff is one of the models working under Coral, who has always seen modeling as a way to make cash on the side. She's come into bigger money now with this group, but she still dreams of getting a job that'll make a difference.
Rosabelle is a funny, self-deprecating character who will do anything for the people she loves.
Simone is the enforcer, a powerful woman with a deeply entrenched sense of empathy.
Drew is Coral's direct boss, who reports to the actual boss. He is a retired photographer himself who has taken a liking to the business end of things – he sees more money that way. Soft-spoken until he's screaming at an enemy that he's dangling off the top of the roof, he seems like a pretty nice guy. He's not.
I don't want to give anything away, though. I want people to read the comic and meet these people and love and hate who they love and hate. There are no good or bad guys.
DF: Pat, you usually have some subtext looming between the pages. Can you give us even a hint at some of your BTS thoughts for this crime thriller?
Pat Shand: How much of the darkness within us do we hide from society? From the people we love? What would you do for money? Can money bring happiness? When we are dehumanized by a society set up to make it difficult for creative people to make a living, do we in turn lose empathy for others?
I like the idea that the subtext in my work is questions rather than trying to pose answers. I'm Sway about this.
DF: Talk about the awesome art of Emily Pearson.
Pat Shand: You haven't seen anything. Seriously. Emily is a force of nature. Don't get me started, I swear. I said earlier this year she's about to be the biggest thing in comics. Let me say it again: she's about to be the f*cking biggest thing in comics. You're getting these answers from me one day after Emily sent me the full inks of our first issue. If you saw what I saw, you wouldn't stop talking about the awesome art of Emily Pearson.
Emily Pearson is comics.
DF: Wow! … Pat, what other projects do you have out there or coming readers may like to know about?
Pat Shand: I'm all about creator-owned right now. I spent too long stifled and doing company work. And I love that. I still do that. But I need the freedom to explore and to create. I'm doing a lot of work with Black Mask, and they've been a great home for my work. My supernatural thriller Breathless just finished up, and then I've got something else coming through them, probably toward the end of Snap Flash Hustle or right after.
I have my horror comic Little Girl through Devil's Due Comics. Big things are happening there, with that one. Little Girl is a horror story told through the perspective of the ghost, as she seeks to discover what happened to her. That one is personal and devastating and – to me – terrifying.
I also run Space Between Entertainment, a company I've created with my wife Amy and our best friend Shannon Lee. We create vlogs, podcasts, and graphic novels that we fund through Kickstarter. My main piece of work there is the ongoing graphic novel series Destiny, NY. Volume Two is shipping now, and Volume Three will launch in 2019. That series is about a world where magic is a real and accepted part of everyday life. I'm beginning to develop a larger world out of that series with spinoff books, beginning in September this year with Gangster Ass Barista. Gangster Ass Barista is a graphic novel about Trinity, a former gangster and current coffee shop employee who is trying to make rent and deal with customers without resorting to the only recourse she's ever known: violence. It's a comedic thriller, and it totally stands alone – you don't need to have read Destiny, NY to get this. It launches on September 4th and it's going to be a total blast. We're just having fun with this one.
Dynamic Forces would like to thank Pat Shand for taking time out of his busy schedule to answer our questions. Snap Flash Hustle #1 from Black Mask Comics hits stores Nov. 28th!
For more news and up-to-date announcements, join us here at Dynamic Forces, www.dynamicforces.com/htmlfiles/, "LIKE" us on Facebook, www.facebook.com/dynamicforcesinc, and follow us on Twitter, www.twitter.com/dynamicforces.
---
NEW! 1. 11/25/2020 - STEVE SKROCE
4. 11/16/2020 - RYAN O'SULLIVAN
5. 11/16/2020 - RYAN O'SULLIVAN