MICHEL FIFFE

SEND THIS TO A FRIEND!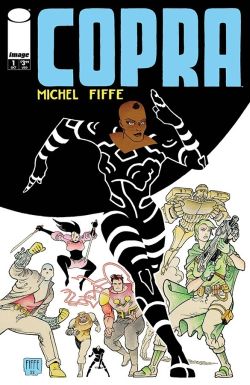 DF Interview: Michel Fiffe concocts new adventures, human drama in new ongoing for 'Copra'
By Byron Brewer
Copra returns in the first issue of its all-new ongoing Image Comics series, with acclaimed comics auteur Michel Fiffe picking up where his band of mercenary misfits left off, reintroducing the entire cast of his Suicide Squad-esque revenge machine in a brutal standoff against their own leader.
Jump right into the thick of it with the world's greatest action team in this extra-length debut milestone from Michel Fiffe, who put down his writing and drawing pens just long enough to talk to DF about this epic Image debut!
Dynamic Forces: Michel, why is NOW the perfect time for your comic Copra to return?
Michel Fiffe: The last issue I worked on ended on a nasty cliffhanger! The time is right for Copra to return. Image Comics released the first five trades that collect all of the previous material, so readers can catch up easily before this new #1 drops.
DF: For the uninitiated (you know who you are!), tell readers about the genesis of the series.
Michel Fiffe: It started out as me daring myself to do a long-running serialized action comic all by myself. 31 self-published issues later, Copra remains my love letter to comics.
DF: If my information is correct, Copra has been publishing since 2012 and this new ongoing from Image Comics picks up where you left off. Can you summarize what readers may need to know going into this new issue #1?
Michel Fiffe: You information is indeed correct! As for summarizing, I would hate to spoil anything for new readers BUT I will say: while this new first issue picks up where I last left off, it is also the perfect jumping-on point for those uninitiated you spoke of.
DF: Would you introduce your main cast to us, please? Can you tell us a little about each?
Michel Fiffe: It's a huge cast with a revolving door of crucial players and expendable members. For starters, GRACIE is the field leader/hand-to-hand ex-fashion badass, WIR is an armor-covered delinquent. GUTHIE is the lovable green-haired gun nut, LLOYD is the masked assassin with nothing but retribution on his mind, RAX is a stranded alien ex-cop with a power vest. That's the core crew.
DF: If able, can you tell readers why Copra is up in arms against its leader?
Michel Fiffe: Read the new #1!
DF: There has got to be a big-bad lurking in here somewhere. Can you clue us in about Copra's foe for issue #1 without spoiling anything?
Michel Fiffe: I've got loads of new characters to introduce into the world of Copra, as well as storylines that I've seeded long ago and cannot wait to see them reach fruition. Big-bads, small fries, and everything in between... I've no shortage of surprises waiting around the corner.
DF: Michel, what has the comic Copra meant to you as a creator?
Michel Fiffe: It's the perfect vehicle for me to express my love for colorful violence and personal drama. Plus a loyal, enthusiastic readership supporting the title throughout the years? A better job I cannot think of.
DF: Any other projects in the works you can tell our readers about?
Michel Fiffe: Nothing but Copra full steam ahead!
Dynamic Forces would like to thank Michel Fiffe for taking time out of his busy schedule to answer our questions. Copra #1 from Image Comics hits stores Oct. 2nd!
For more news and up-to-date announcements, join us here at Dynamic Forces, www.dynamicforces.com/htmlfiles/, "LIKE" us on Facebook, www.facebook.com/dynamicforcesinc, and follow us on Twitter, www.twitter.com/dynamicforces.
BLOODSTRIKE #0 ULTRA-LIMITED BLOOD RED SIGNATURE SERIES TRIPLE COVER SET SIGNED BY MICHEL FIFFE!
BLOODSTRIKE #0 SIGNED BY MICHEL FIFFE!
CAPTAIN VICTORY AND THE GALACTIC RANGERS TRADE PAPERBACK
---
NEW! 1. 05/24/2023 - DOUG WAGNER
3. 02/10/2022 - SIMON SPURRIER