DAVID PEPOSE

SEND THIS TO A FRIEND!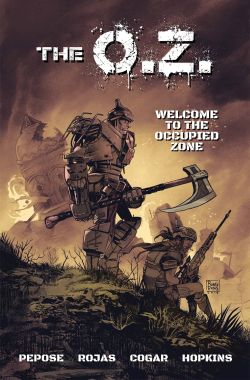 DF Interview: David Pepose says in his new book 'The O.Z.', you are definitely NOT in Kansas anymore; on Kickstarter
By Byron Brewer
The O.Z. is the story of when Dorothy Gale killed the Wicked Witch and then returned to Kansas, the resulting power vacuum sending Oz spiraling into decades of civil war – and how a generation later, Dorothy's Iraq War veteran granddaughter has to navigate this otherworldly battlefield (and her grandmother's former friends) to bring peace to the Occupied Zone... or as the locals call it, The O.Z.
Written by David Pepose, illustrated by Ruben Rojas, colored by Whitney Cogar, and lettered by DC Hopkins, with variant covers from Maan House, Rio Burton and Kenneth Wagnon, The O.Z. is now up on Kickstarter.
DF wanted to get the 411 on The O.Z. so we talked with scribe David Pepose.
Dynamic Forces: David, were you a fan of the original children's tales written by L. Frank Baum, or perhaps the film which was, in my day, an annual TV event? Why is now a good time for a sequel of sorts to The Wizard of Oz?
David Pepose: I grew up watching the Judy Garland film like many people did, although I actually revisited the L. Frank Baum books in college, for a class on adolescent literature. (I wrote about how Oz was sort of the prototypical superhero universe, decades before Marvel and DC tried it. So I come by this comics thing honestly!)
As far as why is now a good time for a Wizard of Oz sequel, I'd say it's really more why is this a good time for a story like The O.Z. I think we're at a point in history where we're in moral conflict with ourselves — and by telling the story of a soldier who's looking to find that right moral decision in wartime while tapping into the iconic archetypes of the Wizard of Oz, I think we're able to capture that struggle in a way that is immediately accessible to everyone.
DF: Before we go on, congratulations on The O.Z.'s Kickstarter campaign! It was off to a roaring (appropriate since we have both a cowardly lion and MGM's Leo associated with this legacy) start when launched Aug. 17. With a goal of $6,000, by the end of that first day it hit $14,000! It's set to run for 30 days. Was this success a little mind-numbing?
David Pepose: Thank you so much — I definitely haven't gotten much sleep! (Laughs) The thing is, I've always believed in The O.Z., because I've always believed in my creative team. And to see how the rest of the world has so instantly responded to their work? It's the best feeling in the world. Running your first Kickstarter can sometimes feel like stepping into the unknown, but seeing the reaction to The O.Z. felt like a leap of faith rewarded.
DF: Tell readers what the situation is when The O.Z. begins and what has happened since the ruby slippers last clicked.
David Pepose: In The O.Z., we reframe Dorothy Gale killing the Wicked Witch in the original Wizard of Oz as something akin to a botched regime change. And so when young Dorothy clicked her heels and returned home to Kansas, she inadvertently left Oz in a horrific power vacuum that would spiral into years of civil war.
Since Dorothy's departure, her former friends have found themselves on opposite sides and in disarray. The Tin Soldier has been destroyed and rebuilt so many times, his hard-won heart hardened as he's become an unstoppable freedom fighter; the Scarecrow has become embittered, his all-seeing intelligence curdling as the war has expanded; while the Cowardly Lion has had his own problems as the ruler of the Animal Kingdom.
That's the thing I've enjoyed most about writing The O.Z., is that while our new Dorothy grapples with her own trauma and disillusionment, she's not alone here — the war has scarred her grandmother's friends just as deeply, if at different angles.
DF: What can you tell us about Dorothy's granddaughter, our (I assume) POV character? Who is she, and what challenges does she face in bringing peace to the Occupied Zone beyond the rainbow… or as locals call it, The O.Z.?
David Pepose: Our main character is the granddaughter of the original Dorothy Gale, but instead of being a wide-eyed girl from Kansas, this new Dorothy is a disillusioned Army veteran who served in Iraq and Afghanistan. She's returned home to take care of her ailing grandmother, but more importantly, to put the pieces of her life back together. Unfortunately, when a tornado strikes, this world-weary soldier is going to find herself dropped into the war-torn land of Oz.
Dorothy's been a really engaging character to write for a number of reasons; first and foremost, she allows me to explore those themes of trauma that I've dug into with my previous work Spencer & Locke and even Going to the Chapel. But Dorothy I think is the most take-charge character I've ever written — she's got military training and a soldier's eye, which means that the magical land of Oz provides plenty of weapons for Dorothy to defend herself and those around her.
But most importantly, Dorothy's journey is about the morality of wartime — she's in this unique position, both as a soldier and as a reluctant leader of the Oz resistance, where every decision she makes can wind up with someone dead. Dorothy is going to grapple with that weight of responsibility through the whole series, because while The O.Z. dredges up some of her worst memories, she also sees it as a second chance to set things right.
DF: Can you, without spoilers, reveal if there is indeed a BTS big-bad in operation here, or is this just a land and people in turmoil?
David Pepose: There is a regime in place in the war-torn land of Oz, and they have a bit of a warmongering streak — the idea of promoting Oz's direction and purpose as a marauding war economy.
Without spoiling too much, there's a direct line between this character's ascension to the throne and Dorothy Gale's actions all those years ago. I had a lot of fun writing this villain, because they have such an interesting headspace to explore — whereas our new Dorothy questions how we can mitigate or even escape the cycle of war, our villain seems altogether committed to the practices of violence and suffering.
DF: Talk about the art of illustrator Ruben Rojas and colorist Whitney Cogar.
David Pepose: Ruben and Whitney are just an absolutely dynamite dream team to be working with. Ruben is like a cross between Sean Murphy and Dan Mora — he's an incredibly talented draftsman with his panel composition, but what blows me away the most about Ruben's work is how talented he is as a designer.
He fleshes out every setting of Oz in a way that's both ominous and heartbreakingly beautiful, and he does the same thing with our characters, as well — the moment I saw Ruben's take on the Tin Soldier, I made him a promise that come Hell or high water, I would get this book made. The comics industry has been a lesser place for not actively seeing and celebrating his work.
And Whitney is just the perfect partner for Ruben — as the colorist on the Eisner Award-winning Giant Days, Whitney is an absolute master of conjuring up this wonderful sense of atmosphere to Oz. She and I talked a lot about what a combination of Mad Max and Star Wars might look like — capturing that grit and desert-like feel, but also tapping into the sheer variety of locations ranging from the bombed-out Emerald City to the mountaintops of Ix to the Deadly Desert to the Wicked Witch's castle.
DF: David, tell readers anything and everything about your Kickstarter campaign.
David Pepose: Because this is my introduction to the Kickstarter community, I wanted to make sure that every backer felt like they had gotten their money's worth. We've got a ton of different reward tiers, with almost all of them including behind-the-scenes materials like my scripts, Ruben's raw inks and Whitney's untouched colors. We've also got original commissions from Ruben, as well as three ultra-rare handmade Spencer plushies that I had commissioned for our creative team after Spencer & Locke was first released. And we've got plenty of awesome stretch goals in the works as well.
But what we're not doing is telling this story simply for the sake of shock value — that's no way to build investment or emotional engagement from your readers. We've worked hard to justify our story narratively, to create compelling characters who you want to root for as they fight for the soul of an entire world, and that's all the magic this story needs. You might think you know the story of Oz, but this is the story of what comes next — so join us in the trenches today with The O.Z.
Kickstarter link: https://www.kickstarter.com/projects/theozcomic/the-oz-1
Facebook link: facebook.com/theozcomic
Twitter link: twitter.com/theozcomic
Instagram link: instagram.com/theozcomic
Dynamic Forces would like to thank David Pepose for taking time out of his busy schedule to answer our questions. The O.Z. is currently up on Kickstarter. Watch DF News and comics-related social media for more information!
For more news and up-to-date announcements, join us here at Dynamic Forces, www.dynamicforces.com/htmlfiles/, "LIKE" us on Facebook, www.facebook.com/dynamicforcesinc, and follow us on Twitter, www.twitter.com/dynamicforces.
---
NEW! 1. 11/25/2020 - STEVE SKROCE
4. 11/16/2020 - RYAN O'SULLIVAN
5. 11/16/2020 - RYAN O'SULLIVAN