GREG PAK

SEND THIS TO A FRIEND!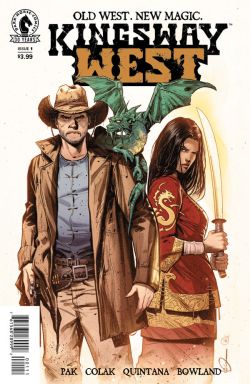 DF Interview: Greg Pak brings the magic to the Old West in Kingsway West
By Byron Brewer
After spending thirteen years in a war that made him a monster, a Chinese gunslinger named Kingsway Law just wants to live in peace with his wife, Sonia. But even in a fantastical Old West crackling with magic, a man of his skills can never quite disappear. So when a woman with a red-gold sword brings bloody chaos to his doorstep, Kingsway must fight for his life, his wife, and his very soul.
Writer Greg Pak and artist Mirko Colak seem to be teaming up for a magical comic book western. DF wanted to know more, so we moseyed on over to the bar to talk with the scribe.
Dynamic Forces: Greg, we have talked a little about this project. You've had this in mind, in one form or another, for over two decades, I believe. So tell us: Who is Kingsway Law?
Greg Pak: Kingsway Law is a Chinese gunslinger searching for his Mexican wife in an Old West overrun with magic. In this alternate-history world, he's a veteran of the thirteen-year-long Red Gold War, fought between the Chinese Queen of Golden City and the República de los Calfornios over red gold, the source of "extramundial" phenomenon.
So Kingsway did terrible things during the war and eventually became an outlaw, hunted by the Queen he once served. As our story begins, Kingsway has started a new life deep in the wild with his wife Sonia, determined not to get pulled back into the kinds of atrocities he was part of during the war. But a Chinese woman with a magic sword comes looking for him and his wife goes missing, and suddenly Kingsway has to choose between picking that gun up again or losing everything he's fought to build.
DF: Old movies and TV shows form many people's ideas for what the wild American West was really like. But there were also realities you don't see on Rerun TV. What does Kingsway face as a Chinese gunslinger in these times?
Greg Pak: There were thousands of Chinese immigrants in the American Old West, mining during the Gold Rush, building the transcontinental railroad, farming and running stores and building communities and doing all kinds of other work. But it's almost vanishingly rare to even see a Chinese face in a Western movie. I grew up as a biracial Korean kid in Texas absolutely loving Westerns, so when I learned about the actual history of Chinese folks in the Old West, my head popped off. So this is a character I've been aching to bring to life forever.
But it's worth noting that as the story's developed, I've moved away from striving for literal historical accuracy. In the actual 19th century, Chinese immigrants became targets of racist legislation and propaganda that culminated in massacres in places like Rock Springs, Wyoming, and Los Angeles. Early versions of the story worked with this actual history, and that kind of horrific racial conflict on the frontier is still a key theme of the current story. But I'm imagining a world in which Northern California is ruled by a Chinese Queen and a Mexican-ruled República de los Californios reigns over the Southwest. It gives me the chance to create new myths, imagine a different kind of America, but still grapple with those specifically American glories and tragedies associated with the frontier.
DF: You've talked about your early love for Lord of the Rings. Is the high fantasy element of this new Dark Horse ongoing reminiscent of Tolkien, and would you someday like to script a Rings-centric comic?
Greg Pak: I've also mentioned my love for Hayao Miyazaki's brand of fantasy. I'm a sucker for all kinds of epic, outdoor adventure stories. But Kingsway West is distinct from Miyazaki or Tolkien in part because it's so specifically American. The magic comes from the red gold of Northern California and the way it plays out draws on American folklore and history. So we've got jackalopes and bigfoot-like creatures called bearfeet and some other fun surprises.
Would I ever want to script an actual LOTR comic? Well, hey, if called, I will serve! But that'd be a pretty tricky challenge, given how thoroughly and how well the movies have re-told those stories. I'd have to do some thinking to come up with a take that made it feel critical to do those stories as comics in this day and age. A big challenge, but the material's so rich... if you know anyone who's hiring, feel free to send 'em my way! (smiles)
DF: Tell us what you can about Sonia, Kingsway's wife. How have the changes and challenges he has been through affected her, and their relationship?
Greg Pak: In issue #1, we hint at the horrors she's went through during the war and how that contributes toward her and Kingsway's understanding each other. We've got some big revelations coming about Sonia in the next few issues. Keep on reading!
DF: What can you tell us of the mysterious visitor, the woman carrying a red and gold sword? Who is she and what does this mean for our gunslinger?
Greg Pak: Her name is Ah Toy, and she's determined to recruit the legendary Kingsway Law she's heard so much about for a new mission. She wants a gunslinger, a killer. But Kingsway's in another place altogether now, trying to live a quiet life of peace with Sonia. So when Ah Toy brings all that chaos and danger to Kingsway's doorstep and destroys the peace he's worked so hard to build, we'll see whether that brings out the hero she dreams of -- or the monster she doesn't even realize exists.
DF: Many authors writing period pieces do varying amounts of research. Any delving into the past by you for Kingsway West?
Greg Pak: Oh, man. I've read so much about all of the different communities of the Old West for the past couple of decades! Yes, I've done tons of research. But it's all playing out in unexpected ways in this alternate history story.
DF: From what I've seen of the artwork for this book, Mirko Colak and Wil Quintana are knocking it out of the park. Did Mirko do any research on the period, and what are your thoughts on their interpretation of your scripts?
Greg Pak: I love this creative team. I knew Mirko could do amazing things with historically-based material -- he did a tremendous job on the Red Skull Incarnate and Turok books we worked on together in the past. But he's taking it all to a new level with Kingsway West, combining this deeply believable, gritty, real-world Old West feel with almost surreal fantasy. And Wil's colors support that combo of realism and fantasy every step of the way.
DF: Greg, I have never known when you weren't working on 10 things at once but I will ask: any projects current or near-future you'd care to tell the readers about?
Greg Pak: Ha! I can't reveal too much. But I'm writing the Big Trouble in Little China/Escape from New York book for BOOM! Studios and the Totally Awesome Hulk book for Marvel right now, both of which are hugely fun. And I've got a new creator-owned project in the works that we may be announcing pretty soon. In the meantime, I'll just tease that we've got some huge news coming with the Hulk book. Stay tuned!
Dynamic Forces would like to thank Greg Pak for taking time out of his busy schedule to answer our questions. Kingsway West #1 from Dark Horse Comics hits stores Aug. 24th!
For more news and up-to-date announcements, join us here at Dynamic Forces, www.dynamicforces.com/htmlfiles/, "LIKE" us on Facebook, www.facebook.com/dynamicforcesinc, and follow us on Twitter, www.twitter.com/dynamicforces
PLANET HULK #1 FIRST PRINTING SIGNED BY GREG PAK!
BATMAN SUPERMAN #13 FIRST PRINTING SIGNED BY GREG PAK!
STORM #1 FIRST PRINTING SKOTTIE YOUNG VARIANT ULTRA-LIMITED EDITION SIGNED BY GREG PAK!
BATMAN/SUPERMAN: FUTURES END #1 3-D MOTION ULTRA-LIMITED GOLD SIGNATURE SERIES ELITE EDITION SIGNED BY GREG PAK!
SUPERMAN DOOMED #1 GOLD SIGNATURE SERIES SIGNED BY GREG PAK!
BATMAN/SUPERMAN #1 FIRST PRINTING GOLD SIGNATURE SERIES SIGNED BY GREG PAK!
ALPHA FLIGHT #1 - (1:25) EAGLESHAM VARIANT - SIGNED BY WRITER GREG PAK!
DF'S DOUBLE "INCREDIBLE" HULK VARIANT SET-SIGNED BY STAN LEE AND GREG PAK! The Man and Greg Pak!!
INCREDIBLE HULK #621 - SIGNED BY GREG PAK
SILVER SURFER #1 - SIGNED BY GREG PAK
---
NEW! 1. 11/25/2020 - STEVE SKROCE
4. 11/16/2020 - RYAN O'SULLIVAN
5. 11/16/2020 - RYAN O'SULLIVAN