JOHN JACKSON MILLER

SEND THIS TO A FRIEND!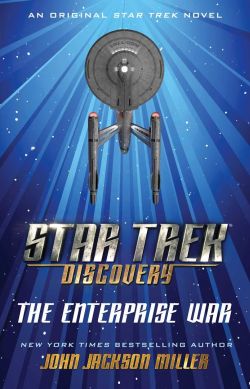 DF Interview: John Jackson Miller has a divided crew trapped in nightmarish conflict in his new novel 'Star Trek Discovery: The Enterprise War'
By Byron Brewer
Hearing of the outbreak of hostilities between the United Federation of Planets and the Klingon Empire, Captain Christopher Pike attempts to bring the U.S.S. Enterprise home to join in the fight. But in the hellish nebula known as the Pergamum, the stalwart commander instead finds an epic battle of his own, pitting ancient enemies against one another—with not just the Enterprise but her crew as the spoils of war.

Lost and out of contact with Earth for an entire year, Pike and his trusted first officer, Number One, struggle to find and reunite the ship's crew—all while Science Officer Spock confronts a mystery that puts even his exceptional skills to the test…with more than their own survival possibly riding on the outcome….
DF was anxious to discuss this newest intriguing Star Trek Discovery novel with its author, so we sat down with novel AND comics book scribe John Jackson Miller.
Dynamic Forces: John, if anyone can spin a good science fiction tale, I would say it is you. You are well known for your Star Wars and Star Trek novels and you just wrapped a Battlestar Galactica comic at Dynamite. What brought you to conceive Star Trek Discovery: The Enterprise War?
John Jackson Miller: I had written a trilogy of novels, Star Trek: Prey, that came out monthly during the 50th anniversary year — and while it was an incredible project and one I'm proud of, it was taxing to write all at once, so I took a couple of years away from the franchise. But then I saw the first season of Discovery, and was very impressed by the Mirror Universe episodes — such that when I was asked to write what happened to Pike and Spock during Season One, I was delighted to dive back in.
I'm glad I did — we feel it's a great action novel AND a great Star Trek story.

DF: How tightly is it tied to the current CBS All Access TV program? Does a reader stand a chance with the novel if not a viewer of the Discovery series?

John Jackson Miller: I worked with Kirsten Beyer, one of the writers on the series, to develop a story that tied in with what would be happening in Season Two; a number of the moments you see in flashback or hear mentioned in that season, you actually see in the book.

That said, since it takes place during Season One in a place far away from its action, you don't have to know anything about what happened in the show. It's thus a very safe book to read in terms of Discovery spoilers.


DF: For the uninitiated (you know who you are!), tell readers the general time frame in the Trek universe this adventure takes place and a little about what is going on in that time Trekkers may find familiar.

John Jackson Miller: This book takes place during the entire first season of Star Trek: Discovery, which is about ten years before Kirk takes over the Enterprise. Spock is aboard Enterprise in this era, as well as some characters from "The Cage" and also some from the comics and novels that came out in the intervening years. And of course, we have some of the characters that we see aboard the ship in Discovery.

The Beta Quadrant during this timeframe is hip-deep in the Klingon War, and that's taking all their resources. Enterprise is relatively isolated, in a nebular region in the Alpha Quadrant far away from the front; they're barely able to get word out, much less much news of the war. Enterprise has its own war to deal with, far away.


DF: What can you tell us about the overall plot of the novel? (No fair using the solicit, I am stealing it for elsewhere in the interview.)

John Jackson Miller: By the time we meet Pike and Spock, the Klingon War is already underway — but there's nothing they can do about it. Enterprise has been tasked with exploring the Pergamum Nebula, a place which is, to use Pike's words, like "swimming in glue"; it's hard to get anywhere, and even harder to get word out.
That becomes a liability when the Enterprise finds itself in the middle of somebody else's war. Pike's ship is initially a participant — then a battleground, and then a prize as things go from bad to worse. Pike, Number One, and Spock are separated, unable to contact one another, much less Starfleet. We really see how these characters can make it on their own in a crisis.
It's the longest novel to date in the Discovery line, covering a whole year of continuity — and we really make use of it. This was the sort of story where you really need to spread out if you want to show the impact on the crew. To swipe a Voyager term, it's Enterprise's own "year of hell."
DF: Give us your take on your key characters. Some of them are so iconic, is it a matter of finding the right "voice" for them or bringing readers into your own iterations?

John Jackson Miller: One of my goals — as I recently told Anson Mount — was to bridge the gap between what Jeffrey Hunter was playing and Mount's interpretation of Pike. Pike in "The Cage" was about to hang it all up after a handful of casualties; with Enterprise War, I wanted to give him a much greater loss to worry about. We'll see how he bounces back.
Spock still isn't the Spock we see later on; he's very reserved, very protective of himself. He and Pike aren't yet as friendly as they would be later on, either. But the novel is aware of that, and we see their relationship evolving as it goes along.
DF: Just in general, talk about your love of writing fantasy and science fiction.

John Jackson Miller: It's something that's always been a part of my life, since I started writing stories on my parents' typewriter and drawing comics on notebook paper years ago. I sort of grew up along with Star Trek and Star Wars fandom — it's just in my blood, at this point. I really enjoy being able to take people on an adventure that draws them far away from their daily lives.


DF: John, what else can you tell our readers about any projects in which you may be involved, in any medium?
John Jackson Miller: I have collected editions coming out this fall for my Classic Battlestar Galactica: Counterstrike series from Dynamite, as well as my first kids' comic for Star Wars, which is being reprinted by IDW in Star Wars Adventures: Pomp and Circumstance. I also have just released an original graphic novel, The Lion King: Wild Schemes and Catastrophes from Dark Horse, which ties in with the Disney remake.

As for beyond that, I've started on another project — but it's top secret. I'll be working on that between my various promotional trips for Enterprise War this summer. People can find out more about my schedule on Twitter at @jjmfaraway.
Dynamic Forces would like to thank John Jackson Miller for taking time out of his busy schedule to answer our questions. His new novel, Star Trek Discovery: The Enterprise War, is available online and in book stores now!
For more news and up-to-date announcements, join us here at Dynamic Forces, www.dynamicforces.com/htmlfiles/, "LIKE" us on Facebook, www.facebook.com/dynamicforcesinc, and follow us on Twitter, www.twitter.com/dynamicforces.
BATTLESTAR GALACTICA (CLASSIC): COUNTERSTRIKE TRADE PAPERBACK
BATTLESTAR GALACTICA (CLASSIC) #1
BATTLESTAR GALACTICA (CLASSIC) #0
---
NEW! 1. 11/25/2020 - STEVE SKROCE
4. 11/16/2020 - RYAN O'SULLIVAN
5. 11/16/2020 - RYAN O'SULLIVAN