JOHN SEMPER

SEND THIS TO A FRIEND!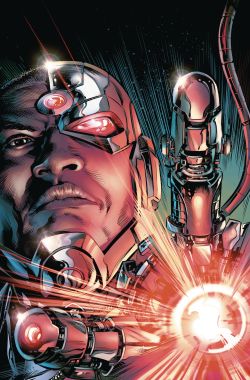 DF Interview: Rebirth: Cyborg finds writer John Semper helping Vic Stone discover the man inside the machine
By Byron Brewer
Victor Stone was once a star athlete and brilliant student with a bright future. But after a tragic accident destroyed over half of his body, Victor was kept alive by merging flesh with advanced technology. Today he is the Justice League co-founder called Cyborg. But is the young hero a man...or a machine that merely believes it's a man?
Questions like these will be examined by writer John Semper and artists Paul Pelletier, Sandra Hope, Tony Kordos and Will Conrad next month in Rebirth: Cyborg and the hero's new issue #1.
To learn more, DF sat down with the new Cyborg scribe.
Dynamic Forces: John, so how did the writer of the excellent '90s Marvel's Spider-Man: The Animated Series swing into DC Rebirth and a refurbished Cyborg book?
John Semper: I've been good friends with Dan Didio for almost twenty years, going all the way back to a time right after I finished producing and writing Spider-Man: The Animated Series. Back then, I was very actively developing new animated shows for various companies and he was the head of a computer animation company called Mainframe Entertainment, and we ended up developing a show together. Fast forward to just a few years ago, when Dan approached me to possibly do a comic book for DC. That didn't work out at the time, but this time, everything fell firmly into place.
I also have to mention another good friend of mine, Dan Evans, VP Creative Affairs, who initially thought of me when they were looking for somebody specifically to tackle Cyborg. He brought up my name, and he and Dan Didio realized that this was the perfect time to bring me into the DC fold. I thank them both for this wonderful gig.
DF: If my information is correct, this is your Big 2 comic book debut. How does it feel to be in on the beginning of something as exciting as DC's new Rebirth?
John Semper: It feels great, and, at the same time, it feels familiar. This is EXACTLY where I like to be -- right in the center of a major pop-cultural and media event, guiding the "fate" of a major fictional character. This is exactly where I was twenty years ago with Spider-Man and, to a lesser extent, Static Shock on TV. If you do what I do for a living, there's nothing better than this.
DF: Cyborg received several upgrades as part of "New 52," most notably, becoming a founding member of the Justice League and a cool usage of a Boom Box for mass teleportation. What are the major changes we will find in Rebirth: Cyborg and then going forward into Cyborg #1?
John Semper: He will begin a new career as a dancer. Just kidding. I can't spill the beans yet on any major upgrades. You'll just have to read the comics to find out. But there will be big changes in his life, including the addition of major new characters and his own roster of unique new villains.
DF: At this point in time, Vic Stone is arguably one of the highest profile African-American characters in the DCU. How will the book use this to reflect that point, and the changes and challenges going on in the real world today?
John Semper: I'll be exploring his personal life much more, and getting down and dirty with what it means to be a black man living in Detroit, which is where his adventures are set. I don't think that's been investigated much in the last five years. So, in this run, you will really get to see what Victor's day-to-day life is like in the streets of Detroit, outside of the protective walls of S.T.A.R. Labs. Obviously, being a black man living in Detroit carries with it a number of "unique" challenges, and we will definitely be exploring them all.
DF: One of Vic's many struggles of late has been how much of him is man and how much machine. Will this story thread be a part of the new Cyborg? How does that work into your previously-mentioned philosophy of the "Singularity"?
John Semper: That's the big question on Vic's mind at all times, and we'll certainly explore it from my first issue. But it's not just unique to Vic. We're reaching a time in the history of mankind where we all will be relying so much on technology that it will almost become a necessary part of us – our minds and our physiology. Soon we will all be dealing with the blurred line between where we end and the technology begins. Futurist Ray Kurzweil refers to this moment of man merging with machine as "The Singularity," which is a huge challenge humanity will be confronting in the next few decades. Cyborg is just facing it a little ahead of us. Because I'm a person who loves to immerse himself in technological issues, I'm so excited that, in this book, we'll get to examine this important social issue from all angles.
DF: It's obvious this is really going to be a philosophical mag. Can you tell us what villains Cyborg will be taking on going forward?
John Semper: There will be philosophy, but there will also be action! The first villain Cyborg will face is a new one I created named, appropriately enough, "Malware!" Beyond that, I can say no more.
DF: How does it feel to work with artists like Paul Pelletier, Sandra Hope and Tony Kordos, and Will Conrad?
John Semper: Fantastic! They take my meager words and turn them into an epic movie -- one which you can hold in your hand! That's pretty amazing, when you stop to think about it. They are geniuses and I'm thrilled to be working with all of them.
Dynamic Forces would like to thank John Semper for taking time out of his busy schedule to answer our questions. Cyborg: Rebirth #1 hits stores Sept. 7th, while Cyborg #1 goes on sale Sept. 21st!
For more news and up-to-date announcements, join us here at Dynamic Forces, www.dynamicforces.com/htmlfiles/, "LIKE" us on Facebook, www.facebook.com/dynamicforcesinc, and follow us on Twitter, www.twitter.com/dynamicforces
---
NEW! 1. 11/30/2020 - SKYLAR PATRIDGE
5. 11/16/2020 - RYAN O'SULLIVAN