INTERVIEW WITH ARTIST MATTHEW J. FLETCHER

SEND THIS TO A FRIEND!
By Elizabeth Delaney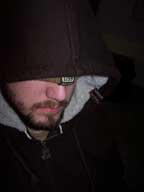 Matthew J. Fletcher might not be a name thrown around a comic shop on an average Wednesday, but if fans are lucky, it will be. Fletcher's pencils speak to the noir and pulp genres of comics with his use of sharp corners as transitions and characters' facial expressions that exude the emotional spectrum. The watercolors bring out a sense of whimsy merged with horror like Tim Burton and Skottie Young. If Mike Mignola and Ben Templesmith had a baby, it'd be Matthew Fletcher. And there's a good chance you'll see him at a convention and you'd be fortunate to get on his sketch list early.

ED - How would you describe your own work as a painter & illustrator?

MJF - Outsider Art or Low Brow seems to be the easiest way to classify art not in the mainstream these days, although I'm not sure my work completely fits into that mold. My style has a very strong illustrative/comic book influence. I love lots of lines and varying line weights. I've always felt that I was more of an illustrator that could paint a little, rather than the other way around. Working in watercolors really allows me to hold on to those tight lines and hard edges that my style is known for.

ED - Some of your pieces have a socio-political satire to them. Is that something that you do for yourself or do you find commercial success in that also?

MJF - Definitely, my original work is something that I do for myself. A great deal of thought and preparation goes into every series of work that I produce, and I'm super neurotic when it comes to subject matter. If I'm not really passionate about it and can't identify with the painting then I don't want to paint it.

However, I also think I've had a good deal of "commercial success" with my original work as well. My socio-political work strikes a chord with a lot of people. The current state of the world and the political climate in the U.S. being what it is really allows a greater number of people to identify with it.

ED - There are violent images in your portfolio also. Should there be a standard rating system for comics the way there is for video games and movies for sexual or violent imagery?

MJF - Comic books already have the Comics Code, which acts as a guideline for publishers, but I'm not sure anyone really knows what it means to have the Comics Code stamp. As far as an actual rating system…I guess I wouldn't see a problem with it so long as there was a clear line drawn in the sand that would prevent the rating system from becoming a censor. As a parent, I can understand that feeling of wanting to shelter your children from all of the "bad" things in the world, but it's my responsibility as a parent to do that, not some other authority's. I think a rating system (without a censor) would be useful tool to that end. As an artist, there is nothing worse than having your work censored…it is senseless.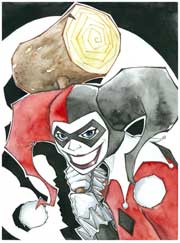 ED - Your resume doesn't include published comic work but focuses on commissions. Do you have a goal for getting into comics or do you prefer to have the independence that you have now?

MJF - Wow…great question!! I am a fanboy at heart, so the first chance I get to work on a comic project that will be published I will jump at (pencils, inks, paint…whatever), but there is something to be said for artistic independence. I love creating art…not just comic art. I am influenced by so many different things and my brain is always going off in crazy directions, so having the freedom to explore those directions and influences in my artwork is very rewarding. In addition to the 5 or 6 comicons this year, I have a couple solo gallery exhibits (May and November), and will be participating in some group shows throughout the year as well, so for now I get to play both sides on both sides of the fence. My style is such a hybrid that I think it can successfully exist in both worlds, but ideally I would like to work on a title all in watercolor. Ben Templesmith and Ashley Wood come to mind as two amazing artists with that outsider art/low brow feel that are considered mainstream artists working on regular titles.

ED - In 2008, both Logan and Grayson were on the Top 50 baby name lists. Have you ever considered naming your children after your favorite character or comic book icon?

MJF - Oh, I've definitely considered it!! I have 2 daughters right now, but I never had any female comic book characters that I was just mad over, so we didn't go that route. If we ever have boy and girl twins though, you can be sure that Luke and Leia will be in the running.

ED - Your convention schedule is on your site (mjfletcher.com). Do you have a favorite con? What's your favorite part of being at a con?

MJF - They are all great in their own way, but New York and Baltimore are probably my favorites. Being an independent artist and trying to push your work at a Con is a lot different than a small publisher trying to push a new book. Generally, fans are more receptive to trying a new book than just a piece of artwork. I think a lot of that has to do with the allure of "what if?"...you know, what if this is the next Hellboy or 30 Days of Night? New York and Baltimore just happen to have fans that are more receptive to the art scene...plus the night life is amazing. My favorite part of the being at a con??? That would have to be the look on a fan's face when they pick up a print or sketch that I've done for them that they just love. It is very gratifying to be able to do that for someone.

ED - Do you think the increasing prices of comics are making the medium less acceptable to current and potential readers?

MJF - In a nutshell, yes, I think it can be very damaging to the industry. I got into comics pretty late (I think I was about 14), and comics had just gone from $1.00 to $1.25. That was a lot of money to a kid that was collecting multiple titles and didn't have a job. Fast-forward to today and it's just outrageous...$3 and $4 a book!? The comic book industry is so much different now than it was 10 and 15 years ago. With the help of the internet, video games, and (good) movies, comics have become accepted into the cultural mainstream which couldn't make me happier for the industry. The problem is…this is still a business, so the more popular a product gets, the more the companies will try to supply the public with that product. Now there are so many titles out there that it seems like it's just a race by the publishers to take up space on the racks. This ends up watering down the quality of writing and illustrating talent in the industry, which results in a poor product. And the way the economy is now, who wants to spend $4 on a mediocre comic book?

ED - Do you have a favorite superpower?

MJF - The Force!!! Hands down.

ED - What's the best way for someone to reach you for an inquiry?

MJF - The best way to reach me is to email me through my website (www.mjfletcher.com), or directly at mf99@sbcglobal.net. I'm also on facebook (http://www.facebook.com/pages/matthew-j-fletcher/66985041432?ref=mf), myspace (http://www.myspace.com/matthewjfletcher), and deviant art (http://mjfletcher.deviantart.com/).

Journalist Elizabeth Delaney freelances for Dynamic Forces among other websites. For more of her intriguing coverage on comics and costuming refer to her blog at herofashions.blogspot.com and her video channel youtube.com/user/amberthestylist.
---
NEW! 1. 02/10/2022 - SIMON SPURRIER
4. 01/31/2022 - TIM SEELEY & AARON CAMPBELL
5. 01/27/2022 - TYLER BURTON SMITH