DELILAH S. DAWSON

SEND THIS TO A FRIEND!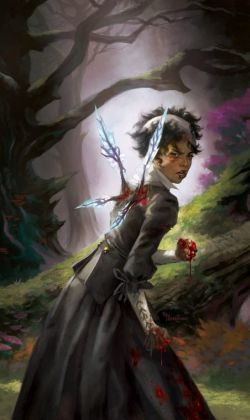 DF Interview: Delilah S. Dawson takes flight with Sparrowhawk
By Byron Brewer
As the daughter of a Naval Captain born of two very different worlds, Artemesia has never fit in with her father's family, nor the high-class life to which they belong in the complicated time that is London, 1851. However, when she is targeted by the Faerie Queen and pulled into another realm with even deadlier threats than she's experienced in the Victorian Era, Art finds she has no choice but to try and save a world that has always hated her.
From BOOM! Studios comes Sparrowhawk, a new five-issue limited series from writer Delilah S. Dawson (Ladycastle, Star Wars: Forces of Destiny) and artist Matias Basla (The Claw and Fang). DF, in search of the full 411, sat down for a chat with scribe Delilah S. Dawson.
Dynamic Forces: Delilah, tell us about the inspiration for this wondrous tale you will be spinning in Sparrowhawk. Has this been something you have been wanting to write for a while?
Delilah S. Dawson: Since 2011, so finally finding the right home for the project is super exciting! Seven years ago, I read Alexander McQueen's Savage Beauty and was smitten with his designs—they're so fierce and otherworldly yet natural. I tried to write a YA book about a teen girl who gets yanked into Faerie, but the concept just fell flat without the visual component. When I pitched the idea to BOOM! Studios, I took that idea and merged it with Alice in Wonderland, Fight Club, and Dido Elizabeth Belle, a real figure from history with the same parentage as Artemisia Grey, the heroine of Sparrowhawk. Matias Basla really brought the story to life with his designs, and it's even better than I dreamed it might be back in 2011.
DF: I love to watch fantasy series with a foot in reality build their worlds. What can you tell us about the world you and Matias are creating here?
Delilah S. Dawson: I love that sort of story, too— and my first tattoo was the Cheshire Cat. Artemisia's story begins in Victorian England on a poor family manse akin to Lizzie Bennett's house from Pride & Prejudice. Her home has a sort of decaying grandeur with a proper veneer, and the colors are Fragonard's pastels. But when she's tugged into Faerie, everything changes. The colors, the trees, the shapes, the diagonals. It's a darker, fiercer, sharper world with nothing proper about it. There's nothing red in Faerie until Art starts bleeding. Part of the fun of the jump is that Art doesn't quite fit in in her own world but finds that she's well suited to life in Faerie. But of course, as the legends tell us, nothing in Faerie is what it seems.
DF: What is the main storyline for this limited series?
Delilah S. Dawson: Art is dragged into Faerie, and the Unseelie Queen takes her place in her proper world—while wearing Art's face. Once she's in Faerie, Art knows she has to get back home to prevent something horrible from happening, and the only way to do that is to kill fairies, which infuses Art with power and glamor. Once she has amassed enough power and glamor, she can cross back into our world and face down the Unseelie Queen. But it's never as easy as it sounds, and Faerie is a very dangerous place. Fortunately, Art has a well of rage and strength she's never had to tap before. And friends to help her on the way.
DF: Can you in as great a detail as possible introduce us to Artemisia? What can you tell us about her insecurities, her inner strengths as the series begins?
Delilah S. Dawson: Artemisia's father is a Captain in the British Navy, and her real mother was an enslaved woman of color in the West Indies, where he was stationed—a situation her polite family never discusses. As such, her stepmother barely tolerates her, and her older stepsister, recently deceased, treated her like a servant. Art is kind and intelligent but does not suffer fools, and the only person who has ever really loved her is her younger stepsister, Caroline. As such, Art has learned to get through anything, to be tenacious, to maintain her cool even as she rages with fury. While her sisters learned dancing and piano, Art sat in a tree and watched through the window, but that exclusion also gave her skills polite girls weren't allowed to develop, including riding horses, running about the grounds, and sparring with neighbor boys. Deep in her heart, she worries that she's as useless and unlovable and lesser as her stepmother has always accused her of being. But perhaps even deeper, she has an unshakable inner core of strength. She's a survivor, and she'll do what it takes to get back home.
DF: BOOM! Studios' solicit certainly had some interesting character descriptions for denizens of this book! (I.e., a flying jackalope who can't lie, the monstrous twin of Pumbaa fromThe Lion King …) Can you further introduce readers to some here?
Delilah S. Dawson: The first creature Art meets in Faerie is a Wolpertinger, which is basically a jackalope with pheasant wings. And fangs. His name is Crispin, and he offers to be her guide in Faerie—for a price. He's the unreliable Giles to her Buffy, a monster who vacillates between adorably cheeky and viciously cruel. Our Faerie version of Pumbaa is the Beast of Dean, an enormous forest boar whose terrifying visage hides a tender heart. And there's also Warren, the Unseelie Queen's least favorite son, who becomes the angel on Art's shoulder to balance out Crispin's corrupting influence.
DF: I love the Victorian Era and stories set therein. I understand this is not the prime setting but it is one that shaped our protagonist. Did you and/or Matias do any type of research into the period? How important is that for you as a writer?
Delilah S. Dawson: I've always loved the Victorian Era, and I can fall down a Wikipedia hole for hours, but most of my research comes from absorbing quality media. I love Jane Austen movies, and I love reading books by writers like Deanna Raybourn, whose descriptions of the settings, clothes and manners of the time paint a powerful picture. I consider my work alternative rather than historical fiction, and maybe even something closer to pulp. But there are real touches. For example, the series includes a visit to the Crystal Palace, which was erected in London for the Great Exposition of 1851. History tells us that the Queen of England was frustrated by the sparrows that moved into the live elms planted in the enormous glass building, and when she asked the Duke of Wellington how to get rid of them without shooting out all the plate glass, he suggested importing sparrowhawks. Hence the name of the series.
DF: Interesting! … Speaking, as we were earlier, of your collaborator, talk about the art of Matias Basla.
Delilah S. Dawson: What first struck me about Matias's work was how atmospheric and dreamlike it is. He really captures that moment when you can't tell if you're awake or sleeping, when you question who you are and where you are, that moment where magic feels possible. His work is powerful in black and white, and then he uses color to tell a story in such a transportive way. I feel so fortunate to be working with him and can't wait to see what he does with each panel. As I write, I want to make sure to leave plenty of space for him to create and play. His ideas add so much to the original concept.
DF: Delilah, what can you tell our readers about any project, current or near-future, you may have?
Delilah S. Dawson: I began as a traditionally published novelist, so Amazon has all my novels available and ranging from vampire romance (Wicked as They Come and the Blud series) to Southern Gothic Horror (Servants of the Storm), to a teen mercenary in a bank-owned America (Hit and Strike). I have a Weird Western series written as Lila Bowen and starting with Wake of Vultures, and I'm co-writing a twisted Fantasy series with author Kevin Hearne called The Tales of Pell, which starts with Kill the Farm Boy. In comics, I wrote Ladycastle for BOOM! Studios and have written in the worlds of Adventure Time, Labyrinth, The X-Files, Star Wars Adventures, Star Wars Forces of Destiny, and Rick and Morty… with more on the way. You can always find me on Twitter, @DelilahSDawson, or at my website, whimsydark.com. Thanks so much for the interview!
Dynamic Forces would like to thank Delilah S. Dawson for taking time out of her busy schedule to answer our questions. Sparrowhawk #1 from BOOM! Studios hits stores Oct. 3rd!
For more news and up-to-date announcements, join us here at Dynamic Forces, www.dynamicforces.com/htmlfiles/, "LIKE" us on Facebook, www.facebook.com/dynamicforcesinc, and follow us on Twitter, www.twitter.com/dynamicforces.
---
NEW! 1. 11/25/2020 - STEVE SKROCE
4. 11/16/2020 - RYAN O'SULLIVAN
5. 11/16/2020 - RYAN O'SULLIVAN