BRIAN CLEVINGER

SEND THIS TO A FRIEND!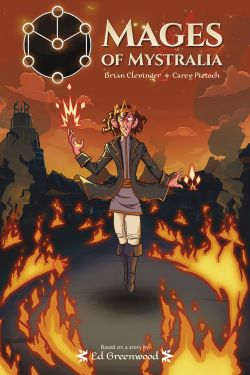 DF Interview: Brian Clevinger introduces us to magic, majesty and mayhem in the Mages of Mystralia TPB
By Byron Brewer
The backstory for one of the most hotly anticipated video games of the year is coming to comics.
Mages of Mystralia is written by Eisner-nominee Brian Clevinger (Atomic Robo, 8-Bit Theater) and drawn by artist Carey Pietsch (Lumberjanes, Adventure Time). The Dark Horse comic is based on a story by Forgotten Realms creator Ed Greenwood. The 80-page, full-color trade paperback will be in stores in November.
A prequel to the upcoming Borealys Games release, the story follows an inexperienced young mage who ascends to the throne after a deadly plague kills the monarchs of Mystralia. The mage becomes a bloodthirsty tyrant, and four battle captains stand in opposition.
DF is very excited about this trade, and sought out writer Brian Clevinger to learn more.
Dynamic Forces: Brian, this trade paperback acts as a prequel of sorts for the coming video game, I believe. Is this all-new material or an adaptation for the comics format of scenarios to be found in the game?
Brian Clevinger: We're telling an all-new story! The folks at Borealys Games quite wisely decided to set the comics a hundred years before the game. That way it's a prequel that gives some added context to the world of Mystralia but what we're doing happens far enough "away" from the game that both of them can stand on their own merits.
Plus I can't stand that thing with movies or games where something in them won't make a lick of sense and then a month later someone says "Oh, that was explained in the tie-in" and I'm like, no, bad dog. I get the impulse to make tie-ins essential: so you can double dip on the diehards. But it's annoying for everyone else! No, tie-ins should be fun things on their own that also act as a teaser for the main thing. And the main thing itself should be solid enough that it makes you want to seek out tie-ins.
DF: Tell us how you became involved in bringing this Mages of Mystralia TPB to readers.
Brian Clevinger: I was brought on initially because of my work on Atomic Robo and my now ancient webcomic 8-bit Theater. With Robo our main character is a robot and he's been around for about a hundred years. We've done eleven volumes so far, working on the twelfth one right now, and all of them are standalone adventures. Sometimes it's the present, sometimes it's the past, just depends on our mood when we sit down to make them. So, the team at Borealys Games liked that I can tell stories from a setting's past that have huge impacts on its present, but it doesn't matter which order you come at them.
And from 8-bit Theater they liked that I was familiar with fantasy and humor and video games. This isn't 8-bit Theater remixed or anything. The humor for my take on Mystralia is a much quieter beast.
DF: Are you a gamer yourself? Did you have anything to do with the connective video game herein?
Brian Clevinger: Oh, yeah. I play a video game almost every day. But no, I had nothing to do with Mystralia outside of the comic.
DF: How is Ed Greenwood, creator of Forgotten Realms, involved in this trade
Brian Clevinger: Well, Ed is the good fellow who came up with the world of Mystralia! Its history, its magic, its peoples, and how all those things crashed into one another to make the world of the game.
All I had to do was pluck out a part of that history, a fairly pivotal series of events that more or less define the world that Mystralia becomes in the game, and throw some dialog into the characters he'd imagined.
DF: What can you tell us about the world that is being created here in Mages of Mystralia?
Brian Clevinger: The world of the comic is steeped in magical traditions that are heretical by the time of the game. The comic shows us why that came to be. It was a treat to be allowed to play with it. Knights, generals, sages, kings, castles, monsters, a plague. Good times!
DF: Can you introduce the protagonists in this video game prequel to us, with perhaps a capsule summary about them?
Brian Clevinger: In brief we've got the Battlecaptains, the King, and the Sages. I had a fair amount of leeway to imagine how these groups related to one another and how that informs their actions when crisis strikes all of them. So there's something like a checks and balances system between them. Like a hybrid of medieval European and Dynastic Chinese ideas about monarchy.
In Mystralia the King rules but the Battlecaptains command the armies. The King's authority to rule, then, does not come from might of arms but from moral governance -- that is to say, kind of a feedback loop wherein a good King doesn't have to worry about rebellions because the people are happy and prosperous. The King counsels the Sages who have dedicated their lives to the study of magic which is derived from the heavens so they've got a sort of the widest perspective on things and can make sure a King's rule is in accordance with the cosmos as a whole.
I'd have maybe cast one Battlecaptain and one Sage to make my life easier. But Ed gave us four Battlecaptains and four Sages! And these groups didn't come together in a vacuum one minute before the first page of our comic, right? So the way the Battlecaptains or the Sages treat one another has to tell us about their shared battles and disagreements and camaraderie. Capturing that sense of history between these characters with the slices of them we get to see in this comic was probably the most challenging aspect of the project but also the most satisfying.
DF: Tell us about the storyline for this 80-page trade paperback.
Brian Clevinger: Mystralia has enjoyed hundreds of years of peace and prosperity under its traditions. The Kings have been kind, the Battlecaptains have been honorable, and the Sages have been wise.
Until now.
The comic explores what happens when a crisis puts someone on the throne who doesn't care about those traditions and the chaos that befalls Mystralia as they erode.
DF: What was it like to work with Carey Pietsch on this book? I know the artist has continually knocked it out of the proverbial park in Lumberjanes, Adventure Time and a number of other projects.
Brian Clevinger: Carey is a peach! That's a joke that works better in person because you might not know her last name is pronounced "peach" just by looking at it. I could take five seconds to delete this, but no, let us forge ahead.
Carey's a great artist and she added a ton of life to these characters. Since our story takes place a hundred years before the game she had to design our whole cast practically from scratch. She knocked all of them right out of the park.
Probably my favorite thing about the collaborative process is changing the script to better reflect what the artist has put on the page. You rearrange a sentence or totally remix a conversation or just change one little word somewhere and it'll make all the difference. I always think of my script as a series of suggestions, and it's fun to see where the artist goes with them and then to change the script to better emphasize their vision.
DF: Hey, peachy response! (laughs) … Brian, are there any other projects current or near-future you can tell our readers about?
Brian Clevinger: Well, we're always doing more Atomic Robo over at, surprise, atomic-robo.com. There's eleven volumes of sci-fi adventure comics to read over there, all for free. Check it out!
Dynamic Forces would like to thank Brian Clevinger for taking time out of his busy schedule to answer our questions. The Mages of Mystralia TPB from Dark Horse Comics hits stores Nov. 22nd!
For more news and up-to-date announcements, join us here at Dynamic Forces, www.dynamicforces.com/htmlfiles/, "LIKE" us on Facebook, www.facebook.com/dynamicforcesinc, and follow us on Twitter, www.twitter.com/dynamicforces.
THE KING COLLECTION TRADE PAPERBACK
---
NEW! 1. 11/25/2020 - STEVE SKROCE
4. 11/16/2020 - RYAN O'SULLIVAN
5. 11/16/2020 - RYAN O'SULLIVAN