PHIL HESTER

SEND THIS TO A FRIEND!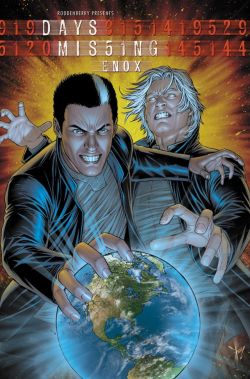 DF Interview:

Phil Hester brings a long saga to an epic conclusion in Days Missing: Enox
By Byron Brewer
Since the beginning of time, there has existed a being whose interaction and interference with mankind has shaped human history. His powers of time and intellect have allowed his secrecy and resulted in certain days being absent from any historical record. Their stories have never been told. Their details have never been documented. Their existence is not remembered. But the occurrences of these days have forever changed the course of humanity's evolution. These are the "Days Missing" from our existence, and they are about to be revealed.
Under license from Roddenberry Entertainment, American Mythology this fall will be releasing the long-awaited Days Missing: Enox, third part of the saga, as a full-color, 136-page hardcover original graphic novel celebrating the series' grand finale from writer Phil Hester and artist Felipe Watanabe.
To get the 411 on this momentous event, DF tracked down and chatted with scribe Phil Hester.
Dynamic Forces: Phil, this is the third installment of the Days Missing saga, all written by you. Can you tell us about the previous two, Days Missing and Days Missing: Kestus, which I understand American Mythology will be re-releasing for fans who want to collect the whole saga?
Phil Hester: Well, the first Days Missing series was a round robin executed by a number of writers and artists. I just happened to write the first and last issues of the mini. I then wrote all of Days Missing: Kestus and Days Missing: Enox.
Days Missing introduces us to The Steward, an outwardly human cosmic entity who may be as old as time itself. From his massive pocket dimension library he observes the doings of humanity throughout history and steps in when we are about to do something truly catastrophic. One aspect of The Steward's mysterious power is that once he sets foot on our world, the next twenty-four hours are redacted from our collective memory. That is to say, he drops in, saves the day, and we NEVER know about it, hence the title "Days Missing".
Days Missing: Kestus was about an equally mysterious cosmic entity named Kestus, who is immune to The Steward's mind-wipes and has full knowledge of the feats he's accomplished. She's also a bit of a rival, monkeying with his greatest achievements, not so much out of malice, but as a way to make contact with one like herself. A tragic romance between them blossoms, the cataclysmic outcome of which leads directly into Days Missing: Enox.
Enox is another character who lives "outside of time" like Kestus and The Steward, but his intentions are dark and destructive. He is The Steward's opposite number. For every day The Steward puts right, Enox sabotages. Days Missing: Enox is the story of The Steward's direct confrontation with this character who may be even more powerful than himself with murky ties to his very origin.
DF: Please tell us about the connection of Days Missing and legendary Star Trek creator, the late Gene Roddenberry.
Phil Hester: Days Missing is the brainchild of Roddenberry, specifically Trevor Roth. I think it fits nicely within the context of aspirational, humanist sci-fi like Star Trek that the Roddenberry brand is known for.
DF: It's been over five years since anxious readers last saw Part 2 of Days Missing, and they have been waiting to learn the fate of The Steward's legendary journey. Has anything happened between Parts 2 and 3?
Phil Hester: Haha. That's a loaded question with a time-travel book. I wrote the project years ago and it is meant as a direct sequel to Days Missing: Kestus. It picks up mere nanoseconds after the end of that series... or maybe nanoseconds before. Like I said, time travel is confusing. Anyway, readers who followed Days Missing know the whole score when they pick up Days Missing: Enox. No secret canon took place in-between books. It's a through line from one series to another.
DF: So, Phil, if you can, clue us in on the storyline for Days Missing: Enox, and what you'll be building toward in this trilogy conclusion.
Phil Hester: Well, I don't want to spoil too much about Enox and who he is or what his aims are, but to say he is The Steward's opposite number is pretty accurate. We'll see him break down The Steward in ways even Kestus didn't. I think we see a human side of The Steward much more in this series because we see him defeated and watch him work his way back. We see him wrestle with both human and cosmic doubt about not just his mission, but who he is. I mean, at the core of all these adventures, The Steward has this gnawing question about how he came to be. Enox has the answer to that question, but the price may be far too high for The Steward to pay.
DF: To your mind, what does artist Felipe Watanabe bring to this cosmic table?
Phil Hester: Felipe didn't start drawing this book until long after I had finished the project. I'll be seeing his art along with the readers of the book. I mean, I've seen a few pages here and there, but not the whole project. I think Felipe brings a sense of action and blockbuster dynamism to the story which really isn't present in the earlier volumes. That's by design. The earlier volumes are sort of intellectual sci-fi horror. They're very dialogue- and character- driven, but DM: Enox is the big spectacle those earlier volumes were setting up. Felipe turns it up to 11.
DF: Phil, I know you have been working on Gold Key: Alliance for Dynamite. What other projects current or future can you tell us about?
Phil Hester: I just wrote a Deathstroke Annual that may or may not still be on the stands. I'm drawing a series for Aftershock written by Warren Ellis called Shipwreck. I am also writing a series for Aftershock called Blood Blister with Mirko Colak on art, and writing an as-yet unannounced series for Oni. I'm kicking around ideas with John McCrea for Mythic: Season Two. I'm also writing and drawing a new Wretch story for inclusion in a Wretch Omnibus from Omaha Bound this fall.
Dynamic Forces would like to thank Phil Hester for taking time out of his busy schedule to answer our questions. The Days Missing: Enox GN from American Mythology hits stores this fall!
For more news and up-to-date announcements, join us here at Dynamic Forces, www.dynamicforces.com/htmlfiles/, "LIKE" us on Facebook, www.facebook.com/dynamicforcesinc, and follow us on Twitter, www.twitter.com/dynamicforces
GODZILLA: KINGDOM OF MONSTERS #1 DYNAMIC FORCES EXCLUSIVE - SIGNED BY ARTIST PHIL HESTER!
VAMPIRELLA #1969 RARE ROBERT HACK "BLACK & WHITE" EDITION Writing by Phil Hester and more
GREEN ARROW #2 - SIGNED VERSION Signed by Phil Hester and Andy Park
GREEN HORNET VOL. 6: LEGACY TPB Cover by Phil Hester
BAD KARMA VOL. 1 HARDCOVER Art by Phil Hester and more
GOLD KEY: ALLIANCE #1 (OF 5) RARE FELIPE MASSAFERA "VIRGIN ART" EDITION Written by Phil Hester
DOCTOR SPEKTOR #1 HIGH-END PHIL HESTER "VIRGIN ART" ULTRA-LIMITED
DOCTOR SPEKTOR #2 HIGH-END PHIL HESTER "VIRGIN ART" ULTRA-LIMITED
DOCTOR SPEKTOR #3 HIGH-END PHIL HESTER "VIRGIN ART" ULTRA-LIMITED
DOCTOR SPEKTOR #4 HIGH-END PHIL HESTER "VIRGIN ART" ULTRA-LIMITED (DIGITAL COVER)
---
NEW! 1. 11/25/2020 - STEVE SKROCE
4. 11/16/2020 - RYAN O'SULLIVAN
5. 11/16/2020 - RYAN O'SULLIVAN