RICK SPEARS & EMMETT HELEN

SEND THIS TO A FRIEND!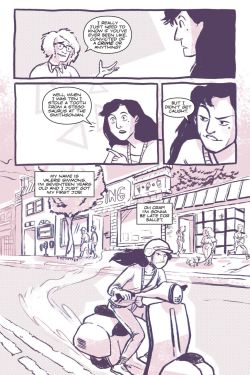 DF Interview: Rick Spears & Emmett Helen explore music, politics and how they entwine in 'My Riot' OGN
By Byron Brewer
1991: Val, a teenager from a conservative family, has grown up dreaming of becoming a ballerina, but recently something has changed. She's begun feeling pressure to conform to a specific idea of beauty, body type, and a personality that just doesn't fit.
Val meets Kat, a smart, witty girl that doesn't take any crap off anyone. Kat introduces Val to punk rock. Along with Rudie, another new friend, the three form an all-girl punk band they ironically name The Proper Ladies.
Soon Val and her friends find themselves caught up in a movement with other girls also starting bands, also finding their voice. Collectively, these "riot grrrls" discover that their songs ring out loud and powerful -- and for Val, there's no going back.
From Oni Press comes My Riot by writer Rick Spears with art by Emmett Helen. DF wanted a deep dive into this new graphic novel, so we caught up with the creators.
Dynamic Forces: Rick and Emmett, tell readers how you two got together for the coming graphic novel, My Riot.
Emmett Helen: The summer between junior and senior year my professor was like…"you have to go to HeroesCon, I set you up a portfolio review with Oni Press." Which is in Charlotte NC, like four hours away. I couldn't afford to go so I drove up the day of, did the review in the hotel, crashed on a friend's floor, and went home the next day. Ari Yarwood emails me a bit later with a test for this book about girls and punk music. I freaked. So I did the test amidst like this awful breakup I was going through and it was a mess but then somehow they came back with a contract? As I understand it, Rick was really nervous to collaborate with a stranger but I think we ended up making a really good team.
Rick Spears: Yeah, I'd mostly found my own artists in the past, but I wanted to open myself up to new people and new voices. I talked to Oni about it and asked for their help in finding someone. I was nervous about it, though, because partnering on a big book like this is a huge commitment, and it's tough to find the right person. You have to really jell, and in the end, you want the writing and art to feel like one voice. Emmett's sample pages were fantastic, and we talked it over a bunch, and it just felt right. I'm very happy with how it's all turned out.
DF: Rick, if I understand right, you were living during the 1990s, the era in which this book takes place. Did you do any further research of the period, or just have fun remembering what you wanted to include … and what you didn't? (Lived it myself, LOL!)
Rick Spears: I was indeed alive. And I have a lot of fond memories of going to shows, hanging out with friends, and I guess figuring out my place in the world a bit. I saw Bikini Kill play in Richmond VA, and it was one of those special shows that has always stuck with me in vivid detail. I did do a ton of research on the Riot Grrrl scene. Some books I would recommend are, RIOT GRRRL Revolution Girl Style Now, A GIRL'S GUIDE TO TAKING OVER THE WORLD writings from the girl zine revolution, and WE OWE YOU NOTHING the Punk Planet collected interviews.
DF: Introduce us to Val, and tell us about the life she came from and the one she finds going forward.
Rick Spears: When we meet Val, she's applying for a job. I thought that was a fun and quick way to get to know a character. The Val we meet is on the cusp of adulthood, and through the story, we learn that a lot of her choices about herself weren't really her choices, she was just sort of going with the flow. As she meets Kat and Rudie and they form the band, Val begins to discover who she is, what's important to her, and literally finds her voice.
DF: Talk about the relationship between Val and new friend Kat. What spoiler-free info can you give readers on this new friend of Val's and the all-female punk rock band that becomes Val's destiny? How is that decision of Val's reflective of the times and its music, would you say?
Rick Spears: Kat is a bit of a catalyst for Val. Val is searching for something, and Kat introduces her to this whole new world filled with energy and possibility. Rudie completes the triangle and the band. Rudie and Kat are both based on real friends of mine that I learned a lot from. Music was the glue in a lot of my relationships and digging through someone's record collection is a great way to get to know them. Also, at that time, before social media making music was a way to be heard. People would form bands because they had something to say.
DF: Emmett, I think it is so interesting that as the illustrator you be changing up your art style as Val follows her coming-of-age journey. Tell readers a little more about that.
Emmett Helen: In general I have a really loose relationship with "style," and it tends to change by the hour or project anyway. Since the book is super about Val and her journey, I thought it would make sense to visually show how the world would feel to her during this huge transition in her life. So the ballet scenes are a little tighter and cleaner, both in the linework and the color. The early concert scenes with the girls are drawn clumsily and full of energy. And by the end, as Val gains more confidence, the lines feel more confident too. It's hopefully subtle enough that no one notices as they're reading, but enough to make an impact.
DF: Aside from this gradual morphing of your art style, which is brilliant IMHO, how do you utilize your artist's tool box to convey mood, emotion, atmosphere in a piece such as My Riot?
Emmett Helen: Thanks! Sometimes my approach to this stuff is like really pretentious method acting and I hate talking about it haha, but I tried to think of what punk music felt like and translate that to comics. So it was analog, ink on paper. And this kind of "whatever works" attitude to getting lines and textures. No rulers. A lot of the crunchy black is marker and paper towel, some splatters and stuff. Didn't sweat anything too much, especially the instruments. They're not accurate, because like, Val doesn't actually know how to play guitar. As a perfectionist, it was really hard to essentially "wing it" but I don't think the book would look as good if it looked better.
When it came to color, digital felt right. I was able to recreate these kind of sly VHS effects using the colors of that pastel paper everybody used to print flyers and pamphlets on when color printing was still super expensive. So we got that blend of analog grit and on-screen smoothness that felt very 1991 to me.
DF: Who in the OGN became your favorite to illustrate? Was there a set piece or scene that is your favorite (or was notoriously difficult to render as you would like)?
Emmett Helen: All the characters were fun to draw, but I always looked forward to drawing Kat. I feel like she has the most texture. She's also the first one I designed and it happened like...instantly. Rudie's really up there too, I really was just spoiled with all the cool as shit girls I got to draw.
The dive at the end with the big barfight was my favorite. It's modeled after a blues bar in Atlanta that's been here forever. It's hard to think of a part I hated drawing, honestly. A lot of my colleagues give me weird looks when I say my favorite parts were the crowd scenes. I don't know haha, most of it just felt very meditative.
DF: Emmett and Rick, tell readers about some of your other projects, in or out of comics, coming in the near future.
Emmett Helen: I'm at one of those dumb places where I have two huge things coming out soon but can't talk about them very much. I've got my writing debut coming up in a series, which is pretty exciting. Folks can follow my Twitter @EmmettHelenArt for updates on all that junk.
Rick Spears: THE AUTEUR book I did with James Callahan is being made into a series for Showtime with Taika Waititi and Jude Law, and I'm writing on that. It's nuts and very exciting.
Dynamic Forces would like to thank Rick Spears & Emmett Helen for taking time out of their busy schedules to answer our questions. The My Riot OGN from Oni Press is slated to hit stores Oct 21st!
For more news and up-to-date announcements, join us here at Dynamic Forces, www.dynamicforces.com/htmlfiles/, "LIKE" us on Facebook, www.facebook.com/dynamicforcesinc, and follow us on Twitter, www.twitter.com/dynamicforces.
AXIS CARNAGE #1 SIGNED BY RICK SPEARS!
---
NEW! 1. 11/30/2020 - SKYLAR PATRIDGE
5. 11/16/2020 - RYAN O'SULLIVAN