CALEB GOELLNER

SEND THIS TO A FRIEND!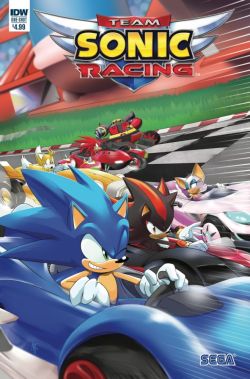 DF Interview: Caleb Goellner brings the Team Sonic Racing one-shot zooming into comic shops this fall
By Byron Brewer
Speedster hedgehog Sonic has been taken to another world and entered into a race unlike any other. With a little help from his friends Tails and Knuckles, he'll race to win the competition and get everyone home.
From writer Caleb Goellner (Teenage Mutant Ninja Turtles) and longtime Sonic the Hedgehog artist Adam Bryce Thomas comes this extra-long one-shot, Team Sonic Racing, which leads into the upcoming game of the same name debuting this winter.
DF wanted to know the full 411, so with the speed of … er uh, well, a hedgehog, we pinned down scribe Caleb Goellner. Here's what he told us.
Dynamic Forces: What's it like to write for such an iconic character as Sonic? Are you a fan of the speedy hedgehog?
Caleb Goellner: It's really special for me! Aside from a few Teenage Mutant Ninja Turtles Adventures comics I had as a young kid, Sonic was the first comic book series I really got invested in. My dad bought me a copy of Sonic #1 on a business trip when I was in third grade and I immediately got a subscription. I started going to comic shops and got into superhero comics about a year later, but my actual gateway into this world is thanks to loving the Sonic 2 game and the Sonic comics and cartoons. I made a hilarious amount of fan comics from about 1992 to 1994 where Sonic had a family and stuff. In fifth grade I had a pet hedgehog. It's kind of wild to think about how much of an influence Sonic has had on my life.
DF: The events of the Team Sonic Racing one-shot will lead directly into the highly-anticipated SEGA video game that arrives this winter. Any added pressure there, and were there any changes you had to make in your story to conform with what will come in the game?
Caleb Goellner: The team at SEGA has been encouraging and forthcoming with game information and assets, so pitching was cool and anything I've had to refine while working on my script has been done in the spirit of making the comic as fun as possible. Sometimes you hit unexpected speed bumps writing for licensed characters, but I came into this project on a very Sonic wavelength, so it's moved about as quickly as Sonic running through Green Hill Zone.
DF: I know this is a one-shot, but to you as writer … who is Sonic? What can you tell us about his character except that he is a speedster? Why should readers care about Sonic as a hero?
Caleb Goellner: That's a big question! I personally see him as a kind of modern shonen hero. On a basic level, Sonic is a lovable dude who likes making friends and doing the right thing for its own sake. Living like that makes him free in a way that we'd all like to be, and I think that helps inspire people to be themselves and do their best.
DF: What can you tell us about the storyline of Team Sonic Racing?
Caleb Goellner: I can't say a lot, but without being too vague I can say the story will give readers a look into the game's setting and kind of show what would happen if a certain character acted on a zany impulse. I think people will nod their heads reading along.
DF: Can you introduce readers to some of the rest of the book's cast? Any new characters?
Caleb Goellner: All I can say is "Stay tuned!" I'm confident fans will like hanging out with the characters who appear in the story, though. I for sure am.
DF: What is it like working with longtime Sonic The Hedgehog artist Adam Bryce Thomas?
Caleb Goellner: Adam's an outstanding artist and I've been loving his recent art on the core Sonic series. I feel lucky to be working alongside him as a storyteller and I know fans will dig his take on the game's characters and vehicles. One of the hardest things to make look cool in a comic has always been car chases, but between his penchant for mechanical stuff and his taste in anime and manga, I'm more excited than anyone to see his pages (except for maybe our editors Joe and David!).
DF: Caleb, what other projects, current or near-future, can readers expect from you?
Caleb Goellner: Thanks for asking! I'm always working on an indie comic I do with Buster Moody called Task Force Rad Squad (#6 just dropped), plus another indie jam I do with Jim Gibbons called Birch Squatch (I'm trying to finish drawing #2 by the fall). I also draw webcomics at my day job. You can find those on the VRV Twitter channel every other Friday or so. I've got a few other irons in the fire that I hope I can talk about before long too!
Dynamic Forces would like to thank Caleb Goellner for taking time out of his busy schedule to answer our questions. The Team Sonic Racing one-shot from IDW hits stores Oct. 31st!
---
NEW! 1. 11/30/2020 - SKYLAR PATRIDGE
5. 11/16/2020 - RYAN O'SULLIVAN