PIERCE BROWN

SEND THIS TO A FRIEND!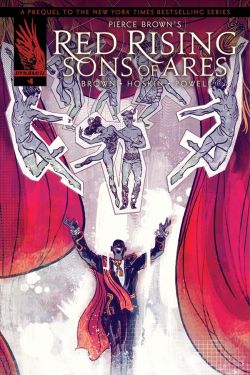 DF Interview: Pierce Brown talks Red Rising: the novel, the sequels, the movie, the comic book
By Byron Brewer
Author Pierce Brown gained a worldwide set of fans and gave birth to a new franchise upon writing Red Rising, a 2014 science fiction novel and the first book and eponym of a trilogy. The novel, set on a future planet Mars, follows lowborn miner Darrow as he infiltrates the ranks of the elite Golds.
In February 2014, Universal Pictures secured the rights for a film adaptation. And even now, a prequel of the novels is being published by Dynamite Entertainment: Red Rising: Sons of Ares.
DF wanted to talk to the man behind this growing sci-fi franchise, so we caught up with Pierce Brown and covered everything Red Rising.
Dynamic Forces: Pierce, tell us how you first conceived and then executed the original Red Rising novel that eventually led to a trilogy. What was your inspiration and what initial challenges did you face?
Pierce Brown: I was living above my parents' garage in Seattle and working for a start up tech company (drearier than it sounds), when I re-read Sophocles' play, Antigone. In it, a young girl defies the authority of her city to bury her brother. That seed started spreading its little roots through me on a mountain climb I did with my friends that week. Roped together on the side of a mountain at 5a.m., I remember how vivid the stars looked and I started wondering if I couldn't take that story of Antigone, that seed of rebellion against authority, and plant it in the stars.
Red Rising I wrote in a month and a half, the first draft at least. It was a blaze. Took another three years to get it on shelves. The biggest difficulty came in finding time to edit the book and start on the sequels before I had enough funds to quit my dayjob. Lots of early mornings. Lots of long nights.
DF: I know those well … Your talent as a screenwriter is certainly apparent in your cinematic approach to your novel writing. Can you briefly discuss differences and similarities of process in doing a novel such as Red Rising as opposed to, say, the Red Rising screenplay you are writing for Universal?
Pierce Brown: The story has to be smaller, first off. For a big movie, or any movie, the character's emotion has to have a linear arc. In a book, you can have 3,423 permutations of a character's mindset because you're in their mind. Not so in a script or film. So there's a simplification that must exist for clarity.
DF: For the uninitiated, tell us a little about the universe you created in Red Rising.
Pierce Brown: When the first colonists ventured forth from Earth to make their home on the moon, they created a hierarchy for labor. In time, they improved this hierarchy through genetic and surgical manipulation. The result was a color coded Society of perfect efficiency, dominated by a superior breed of humanity, the Golds. It was they who rebelled against Earth, conquered her, and sowed the seeds of their Society across the Solar System.
Red Rising is about the revolution against that Gold class by a member of the lowest class of their corrupt society, a Red boy named Darrow.
DF: What can you tell us about Darrow, and how he has changed during the course of your trilogy?
Pierce Brown: Darrow is the heart of the series, but he's constantly changed by those around him. In many ways he is the product of his enemies as much as he is that of his friends. His maturation over the course of the series shows this. At times he's seduced by the grandeur of the civilization he's trying to upturn. Hotheaded, and stubborn as hell, he's a damn pleasure to write.
DF: Haha! I bet he is! … Writers know that characters sometimes take on a life of their own and often begin dictating plot. What character in the Red Rising novels has become far more than you planned? Do you have a favorite character?
Pierce Brown: Killer question. Sevro and Victra are the two standouts. Both are so dynamic in scenes that they really make it difficult to not let them hijack the scene and the course of the plot. My favorite would be Victra. Who doesn't love a six and a half foot tall Amazonian who has never told a lie?
DF: What can you tell us about the forthcoming Iron Gold novel, which, I believe, will start a trilogy of its own continuing the story of the Red Rising books?
Pierce Brown: Iron Gold expands the scope of the series. It shows what happens when you break an empire—the power vacuums that form, the alliances that break down, the sins that come home to fester.
It takes place ten years after the conclusion of Morning Star, the third book in the series, and brings in a host of new characters to interact with the veterans.
DF: As we spoke earlier of the film coming from Universal based on your novel, is there any news you can give readers regarding this?
Pierce Brown: Pretty tight-lipped at the moment. Things are in development. If anyone ever tells you that Hollywood moves fast, then they either worked on The Martian or they're a damn liar.
DF: Fans have been enjoying seeing your Red Rising universe in comics, courtesy of Dynamite's ongoing Red Rising: Sons of Ares, which you are working on with writer Rik Hoskin and artist Eli Powell. What are your thoughts on Sons of Ares and what role does it play, if any, in the Red Rising canon?
Pierce Brown: It's been so fun working with Rik and Eli. I've learned a bunch from both of them about the medium. As for Sons of Ares, it takes place 17 years before Red Rising and follows the creator of the eponymous terrorist cell that begins the resistance against the Society.
It's a violent, gritty tale about rebels and what made them rebels told on an interplanetary scope with space knights, evil bureaucrats, and the first glints of hope in a world devoid of freedom.
Dynamic Forces would like to thank Pierce Brown for taking time out of his busy schedule to answer our questions. His newest Red Rising novel, Iron Gold, is slated to be published in 2018. Dynamite's Red Rising: Sons of Ares #4 hits stores Aug. 16th!
For more news and up-to-date announcements, join us here at Dynamic Forces, www.dynamicforces.com/htmlfiles/, "LIKE" us on Facebook, www.facebook.com/dynamicforcesinc, and follow us on Twitter, www.twitter.com/dynamicforces.
PIERCE BROWN'S RED RISING: SONS OF ARES #1 ATLAS COMICS SIGNATURE SERIES - SIGNED BY PIERCE BROWN
PIERCE BROWN'S RED RISING: SON OF ARES #1
---
NEW! 1. 04/12/2021 - CULLEN BUNN
4. 04/01/2021 - DARICK ROBERTSON
5. 03/29/2021 - JOE HENDERSON & LEE GARBETT