DENNIS CULVER

SEND THIS TO A FRIEND!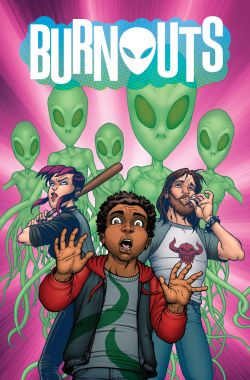 DF Interview: Dennis Culver has teens getting high – to save us all in Burnouts
By Byron Brewer
To save their friends and families, a group of high school teenagers must fight off an attack on their town by a secret alien invasion... but they can only see the aliens if they're completely wasted.

The Burnouts are saving the world one puff at a time!
From Image Comics, writer Dennis Culver (E Is for Extinction) and artist Geoffo (layout artist of Marvel Rising) team up for Burnouts, a new ongoing series that combines the paranoia of They Live with Stranger Things.
To make more other-media comparisons, DF discussed the new book with scribe Dennis Culver.
Dynamic Forces: Dennis, this is the kind of dark-humored book I would have loved in high school. And since I went to high school in the 1970s, you just might have a new multi-generational wonder here in Burnouts! Tell readers the genesis of this comic's concept.
Dennis Culver: I had half this idea in my notes for a while where outcasts were battling enemies only they could see. It only crystallized for me as a viable idea once I framed it in a high school setting. I worked up a pitch and outline and liked what I had put together. I had pitched the concept to a couple of publishers but they were reluctant because of the drug aspects of the book. I decided I'd write the first issue even if it just ended up being practice and then look for an artist to help me get this off the ground. Around that time, Geoffo reached out to me about wanting to work on a project since we'd worked together on a thing for Marvel. I showed him this and another project and he was drawn to this book so we started making it. Once we had the first issue together, we decided to pitch it to Image and Eric said yes almost immediately.
DF: Speaking of pitching, give me the elevator pitch for this book (without – challenge – quoting the Image solicit copy).
Dennis Culver: The worst kids in school are the only ones that can stop an alien invasion but they can only see them when they're high. Getting wasted is just the price they pay to save the world.
DF: The key characters in Burnouts are just that: the group of kids at the OTHER end of the street your mom or grandma was warning you to ignore as she handed you some extra cash and a clean shirt. Can you introduce your protagonists to us please?
Dennis Culver: Our main character is Straight A student Andy Curtis. He's actually one of the best kids in school and he gets inadvertently thrown into the alien fighting world of the Burnouts when he tries marijuana for the first time.
DF: Give us a little background on the aliens who are invisible to all but high "burnouts," if you can.
Dennis Culver: The aliens are one of the central mysteries of the comic. When we meet the Burnouts, they're focused on just stopping and smashing them. Once Andy joins them, he starts to ask bigger questions like, "What do they want?"
DF: I know there are teen angst elements in the story as well as dark humor, Dennis, but tell us about the subtext here on getting high, if you would. The situation certainly offers a new light … storywise, at least.
Dennis Culver: Because of who Andy is and who the Burnouts are, we draw a clear contrast between two modes of thinking. One is following the rules and doing what you're told while the other is a more unorthodox path. We all remember that first sip of a beer or that first puff. Doing something you knew was not allowed but making the decision for yourself. It's a bigger deal when you're a kid but that balance is a part of everyone's lives every single day.
DF: How is it collaborating with artist Geoffo? What does he bring to this violent, comedic table?
Dennis Culver: Geoffo is an absolute pleasure to work with. The characters really started to come alive and speak to me once Geoffo started drawing them. He gives each of the kids a lot of personality and is great at handling all the action in the book. I can't wait for people to see all his work.
DF: Before we close, Dennis, tell readers about any projects, present or near-future, in which you might be involved.
Dennis Culver: I've written some things for Marvel. The aforementioned Year of Marvels stories which featured Wolverine (Laura Kinney) and She-Hulk. Geoffo was the layout artist on that and it was the first art gig for the great Leonardo Romero.
I co-wrote Secret Wars: E is for Extinction with Chris Burnham who is actually handling covers on Burnouts. That one was drawn by my longtime nemesis, Ramon Villalobos.
I've also written a non-fiction regular-not-comics book about the Black Panther called Marvel's Black Panther: The Illustrated History of a King: The Complete Comics Chronology.
I have a couple other comics I'm writing now as well that are not announced yet but I'll be sure to tell anyone who will listen about them as soon as I can.
Dynamic Forces would like to thank Dennis Culver for taking time out of his busy schedule to answer our questions. Burnouts #1 from Image Comics hits stores Sept. 19th!
For more news and up-to-date announcements, join us here at Dynamic Forces, www.dynamicforces.com/htmlfiles/, "LIKE" us on Facebook, www.facebook.com/dynamicforcesinc, and follow us on Twitter, www.twitter.com/dynamicforces.
---
NEW! 1. 12/04/2020 - JOSH BLAYLOCK
3. 11/30/2020 - SKYLAR PATRIDGE