RIK HOSKIN

SEND THIS TO A FRIEND!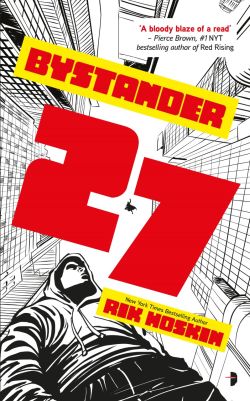 DF Interview: Rik Hoskin deep-dives into the truth about super-powered beings – and it ain't pretty – in his new novel, 'Bystander 27'
By Byron Brewer
For Jon Hayes, the super-powered "costumes" are just part of ordinary life in New York City, until the day his pregnant wife Melanie is senselessly killed in a clash between Captain Light and the Jade Shade.
But as Hayes struggles to come to terms with his loss, and questions for the first time who the costumes are and where they come from, the once-sharp lines of his reality begin to blur…
If Hayes wants to uncover the shocking truth about the figures behind the costumes, and get justice for his fallen family, he'll have to step out of the background, and stop being a bystander.
From publishers Angry Robot comes Bystander 27, a new novel by Rik Hoskin. To learn more, DF caught up with the scribe (who has been known to script a comic book or two in his time).
Dynamic Forces: Rik, congratulations on your novel. How did Bystander 27 come about? Something you've been working on awhile?
Rik Hoskin: The inspiration for Bystander 27 came from reading a lot of 60s and 70s Marvel Comics where all the action happened in New York City and you'd see these incredible battles being witnessed by ordinary people on the streets. I began wondering who these ordinary people were and what they made of what was going on around them – they were basically living in a war zone every time I read an issue of the Fantastic Four or whatever.
I had the idea, but it took me a couple of years to find a space in my schedule to write it. And, of course, nothing in publishing is fast, so even once it had found a home with publisher Angry Robot it still took a while to get it into print.
DF: What can you tell readers about the world in which this sci-fi novel takes place?
Rik Hoskin: It's set in modern day New York City, but a New York where super-powered heroes and villains – or "costumes" – exist. So it's something like the Marvel or DC universes that people will know from comics, films and TV.
DF: Introduce us to Jon Hayes. What can you tell us about his life thus far, and the challenges that may await him in Bystander 27?
Rik Hoskin: Jon Hayes is an ex-Navy SEAL who's just starting to build a civilian life with his wife Melanie. They have a child on the way. But Mel is killed during a conflict between hero Captain Light and villain the Jade Shade. Hayes has to come to terms with this and that's where the story really kicks off.
DF: What other characters are important to your narrative? Can you put just a brief spotlight on some of them here?
Rik Hoskin: Jon Hayes is the focus of the story, it's through his eyes that we learn about this world.
There are a lot of heroes and villains running around in the pages, and I've already mentioned two of the key players: Captain Light, who's an incredibly powerful hero and sometime member of a super team called the Rangers; and the Jade Shade, who's one of Light's foes and is armed with a sentient alien cloak.
There are so many more costumed characters here, there's a whole world of them.
DF: Tell us about the overall storyline, if you would.
Rik Hoskin: My original idea was really to get a Philip K Dick vibe into a superhero novel.
So we follow an everyman, Jon Hayes, as he tries to come to terms with his grief for his late wife, and then turn it into something positive. He is driven to find out why these costumed characters fight their battles, and what the pattern is that lies behind it.
Hayes delves into the mechanics of his world and tries to find out how everything works and why things happen the way they do.
I can't say too much more without spoiling things, but let's just say that Hayes' world isn't as simple as it first seems.
DF: You adapted Pierce Brown's Sons of Ares series for Dynamite Entertainment. Tell readers about the major differences between writing a novel and writing a comic book (with the given that you were adapting someone else's materials).
Rik Hoskin: Novels are a much longer process than comics, and you have to be motivated because it's just you and that blank page starting out. With comics, you're collaborating all the way, so you have editors, artists and, with a project like Sons of Ares, another writer to consult, and you'll often discuss points as you go along.
With comic books, you're always thinking visually, and trying to pare things down so that the artwork can shine and tell the story. Visual pacing is crucial, because you want those huge, splash pages to really make an impact.
With the Sons of Ares graphic novels, Pierce was very generous in what he'd let me do. He trusted me to shape his fabulous plot for the comic book format, and we liaised with how best to do scenes and get ideas across. Pierce has such a great ear for dialogue, he conjures up these fantastic exchanges and insults that make his characters sing on the page, and he brought these killer lines to my scripts that made them feel like they'd just come out of the books. It was a really satisfying way to work.
Pierce was also kind enough to read Bystander 27 before we went to print and, thankfully, he enjoyed it.
DF: Spinning off the above, I hear you've been writing the scripts for the audio adaptation of the Red Rising: Sons of Ares graphic novels, for Recorded Books. Give us some details!
Rik Hoskin: Knowing I'd written audio scripts before, Pierce approached me about adapting the Sons of Ares graphic novels for full cast audio plays. We're talking multiple actors, sound effects, music – the whole deal!
Comics and audio are very different formats, one is geared for visuals, the other has no visuals. So it's an interesting translation, and I could elaborate on parts we only touched on briefly in the comics, like main character Fitchner's time at the Institute, and so on. Pierce did his usual magic on my scripts, adding this great edge to everything. It was a lot of fun, I'm hoping that comes across to the listeners.
As far as I know, Volume 1 is scheduled for release in December, and Volume 2 follows shortly after. We can expect a Volume 3 sometime next year.
DF: And – AND – lead writer on a video game as well?
Rik Hoskin: Yes, I stepped in on a mobile game called Game of Khans, which is the sequel to the hugely successful Game of Sultans. In Game of Khans, you play a fictionalized version of Genghis Khan, conquering the world and romancing beautiful women.
I was brought in at the start of the writing process, providing dialogue and story work with a team of writers, and I was asked to supervise and do some editing for about four or five months, which was enormous fun. These days, the games company has an in-house guy who handles that on site, which gives me more time to write.
Game of Khans has been released in some territories already and, like its hero, it's destined to conquer the world.
DF: So, is there potential in Bystander 27, you think, to become a tentpole for a novel franchise?
Rik Hoskin: The book is self-contained, it's a whole story. But there's always potential for another book, and I have ideas of where I'd take that. It's really always a question of time – I have so many books I want to write.
We've also been talking about adaptations to another medium, but it's very early days.
DF: Rik, going back to my journalism roots, tell our readers when, where and how they might procure Bystander 27.
Rik Hoskin: Bystander 27 is released August 11 in paperback, eBook and on audiobook, and it's available from wherever books are sold. The publisher is Angry Robot, which often does special offers on eBooks on their website at www.angryrobotbooks.com, where you can also find one of my short stories waiting to be read for free. Yes, for free!
Dynamic Forces would like to thank Rik Hoskin for taking time out of his busy schedule to answer our questions. The new novel Bystander 27 from Angry Robot is slated to be released August 11th!
For more news and up-to-date announcements, join us here at Dynamic Forces, www.dynamicforces.com/htmlfiles/, "LIKE" us on Facebook, www.facebook.com/dynamicforcesinc, and follow us on Twitter, www.twitter.com/dynamicforces.
PIERCE BROWN'S RED RISING: SONS OF ARIES VOL. 2 - WRATH SIGNED EDITION HARDCOVER
BRANDON SANDERSON'S WHITE SAND VOL. 3 ORIGINAL GRAPHIC NOVEL HARDCOVER - SIGNED BY BRANDON SANDERSON
ALTERED CARBON: DOWNLOAD BLUES HARDCOVER - SIGNED BY RICHARD K. MORGAN
BRANDON SANDERSON'S WHITE SAND VOL. 2 TRADE PAPERBACK
PIERCE BROWN'S RED RISING: SONS OF ARIES OGN TRADE PAPERBACK
PIERCE BROWN'S RED RISING: SONS OF ARES HARDCOVER - SIGNED BY PIERCE BROWN
BRANDON SANDERSON'S WHITE SAND VOL. 1 TRADE PAPERBACK
DEAN KOONTZ'S FRANKENSTEIN: STORM SURGE HARDCOVER
DEAN KOONTZ'S FRANKENSTEIN: STORM SURGE HARDCOVER LIMITED - SIGNED EDITION
PIERCE BROWN'S RED RISING: SONS OF ARES #1 ATLAS COMICS SIGNATURE SERIES - SIGNED BY PIERCE BROWN
PATRICIA BRIGGS' MERCY THOMPSON: HOPCROSS JILLY HARDCOVER
---
NEW! 1. 11/28/2023 - CULLEN BUNN
4. 11/08/2023 - OLIVIA CUARTERO-BRIGGS
5. 11/02/2023 - ETHAN SACKS & NAOMI SACKS