RON MARZ

SEND THIS TO A FRIEND!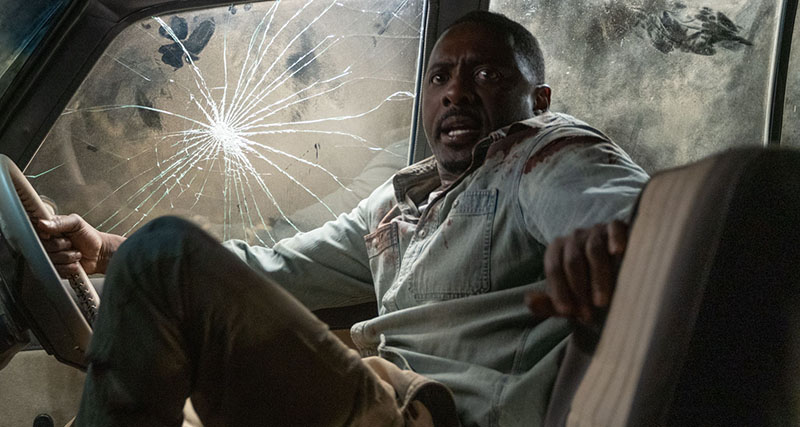 DF Interview: Ron Marz unleashes monsters and mayhem in the 'Beasts of the Black Hand Vol. 2: The Viking League' OGN, up on Kickstarter
By Byron Brewer
In Volume 1 of the horror/espionage tale, Beasts of the Black Hand, readers met British secret agent Oswald Rayner, who was called into action to stop the evil cabal of sorcerers known as the Black Hand from spreading its malign influence across post-World War I Europe. Rayner, along with his compatriots Biffy Dunderdale, Oleda Marchand and American war hero Henry Johnson, thwarted Maria Rasputin and the Black Hand's plans.
The Black Hand disappeared into the shadows… and regrouped.
Now, in the spring of 1920, in a world rife with black magic, horrific monsters, and dieselpunk technology, creatures commanded by the Black Hand are rampaging across Eastern Europe, moving ever westward. Maria Rasputin still seeks vengeance for Rayner's assassination of her father. Black Hand sorcerers Lihko and Koschei have allied themselves with the fascists of the Viking League, spreading terror. A mysterious Teutonic Knight has appeared, his goals and alliances unknown.
And the great beast known only as the Baubus waits to be unleashed.
The acclaimed team of creator/sculptor Paul Harding, writer Ron Marz and artist Matthew Dow Smith are reuniting for Beasts of the Black Hand Volume 2: The Viking League. They are joined by colorist Nanjan Jamberi and letterer Troy Peteri as they bring to life the next chapter of this thrilling tale. As with the first volume, the sequel is presented in a deluxe, oversize hardcover package, featuring 64 pages of story and art.
Scribe Ron Marz told DF that readers can expect more monsters, more magic, and more mayhem as the Beasts are unleashed once again!
Dynamic Forces: Ron, the second volume of Beasts of the Black Hand is currently up on Kickstarter, Volume 1 of the hardcover comic having already been published. Why did you, creator Paul Harding and artist Matthew Dow Smith decide to hit the Kickstarter trail on these books?
Ron Marz: Both books are published through Ominous Press, the publishing company that I'm part of, so the model is to Kickstart projects. We're going directly to the audience, and offering the deluxe hardcover package right out of the gate. The books are the size of European albums.
DF: Tell us how this book effort began, initially.
Ron Marz: It was an idea that Paul Harding had, the framework of a story idea so Paul could design some monsters. That's really where it all started. Paul asked me if I would be interested in writing it, I said yes, and then we asked Matt Smith if he'd want to draw. Obviously Matt said yes too. At the time, we all lived withing a 30-minute drive of each other. So it was very much a situation of making comics with your friends, and still is.
DF: Can you give readers a summary of the first volume of Beasts of the Black Hand?
Ron Marz: Volume 1 introduces readers to the world just after World War I, but a slightly different world, one where dieselpunk technology and black magic are real factors. The evil cabal of sorcerers known as the Black Hand is intent upon dominating Europe, unleashing monsters across the continent. So our heroes, led by Oswald Rayner, have to stop them and their alliance with Maria Rasputin, the mad monk's daughter.
DF: Can you introduce us to your protagonists?
Ron Marz: The good guys are Oswald Rayner and Biffy Dunderdale, who were both real-life British espionage agents. Rayner is thought to be the man who actually assassinated Rasputin, and Dunderdale is one of the people Ian Fleming used as a model for James Bond. We also have American Henry Johnson, who was a real-life World War I hero, and Oleda Marchand, who is based on the French phone operators know as Hello Girls who helped with the war effort. There's also a new hero for this volume, a mysterious figure known as the Teutonic Knight.
DF: What can you tell us about the storyline of the second volume? Will it also be published as a hardcover graphic novel?
Ron Marz: Yes, this will be an oversize hardcover, just like the first one. The second volume picks up shortly after the first, and it'll be darker and scarier. Oswald and his team are now in Germany, trying to track the Black Hand cabal and destroy it. They have to contend with monsters, black magic, and the proto-fascists of the Viking League. We'll also be unleashing the biggest, fiercest monster of the series yet.
DF: Is Volume 2, subtitled The Viking League, reader-friendly for those who may not have seen Volume 1?
Ron Marz: There will definitely be a "Story So Far" page in Volume 2. But part of the creative team's job is to make sure new readers are caught up and comfortable in the story, no matter where they start reading.
DF: Talk a little about Matthew Dow Smith's art for The Viking League.
Ron Marz: I love Matt's art, and I would love it even if he were not one of my best pals. I feel like what he does is just the right fit for this story. Lots of shadows, a great sense of place.
DF: Ron, tell readers how to find out about the Kickstarter campaign and how to order Volume 2.
Ron Marz: The Kickstarter for Beasts of the Black Hand Volume 2 is live now:
https://www.kickstarter.com/projects/1448947346/beasts-of-the-black-hand-vol-2-the-viking-league?ref=discovery&term=beasts%20of%20the%20black%20hand
We've got the graphic novel itself, both print copy and digital, as well as Volume 1, and a number of comics with limited variant covers, sculpture rewards, a print set, and more. The campaign runs through August 13th. Unleash the Beasts!
Dynamic Forces would like to thank Ron Marz for taking time out of his busy schedule to answer our questions. The Beasts of the Black Hand Vol. 2: The Viking League graphic novel from Ominous Press is up on Kickstarter now!
For more news and up-to-date announcements, join us here at Dynamic Forces, www.dynamicforces.com/htmlfiles/, "LIKE" us on Facebook, www.facebook.com/dynamicforcesinc, and follow us on Twitter, www.twitter.com/dynamicforces.
MAGDALENA #1 DF EXCLUSIVE COVER! - SIGNED EDITION BY RON MARZ
TUROK: VALLEY OF THE LOST TRADE PAPERBACK
PATHFINDER: GOBLINS! TRADE PAPERBACK
TUROK VOL. 2 #1 - BART SEARS VIRGIN COVER
JOHN CARTER: WARLORD OF MARS #1 RARE J. SCOTT CAMPBELL "MARS RED" EDITION
JOHN CARTER: WARLORD OF MARS VOL. 2: MAN-MADE MONSTER TRADE PAPERBACK
JOHN CARTER: WARLORD OF MARS VOL. 1: INVADERS OF MARS TRADE PAPERBACK
RED SONJA VOLUME SIX HARDCOVER
---
NEW! 1. 11/30/2020 - SKYLAR PATRIDGE
5. 11/16/2020 - RYAN O'SULLIVAN