VAN JENSEN

SEND THIS TO A FRIEND!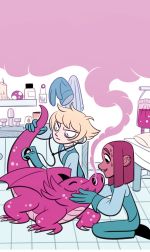 DF Interview: Van Jensen brings epic alien warfare and probing psychological drama in Fallen Suns
By Byron Brewer
The alien warrior called Pharos came to our world to deliver a warning: The Bo-realis are coming. Instead he has wreaked havoc across the Earth and left death and destruction in his wake.
Now, he awaits execution for his crimes deep in a H.A.L.O. facility. Can brilliant young Equilibrium agent Parminder Patel unravel Pharos' history and uncover the secrets behind his dire warning, opening the way to his redemption? Can she convince him to rejoin the fight and save Earth?
Find out in Chapterhouse's new sci-fi epic series, Fallen Suns, written by Van Jensen (James Bond, Green Lantern Corps, The Flash), with art by Neil Collyer (Heavy Space) and Leila Del Duca (Shutter, Afar).
And if you can't wait 'til the September on-sale, here are some nuggets of interview gold about Fallen Suns that DF procured in an interview with scribe Van Jensen.
Dynamic Forces: Van, just reading Chapterhouse's solicit on this new sci-fi epic boggles my mind. Very complex for a new series! Is Fallen Suns something you have been contemplating for a long time? Tell us how the series has come about.
Van Jensen: Yeah, it's a big, intricate world they're building. It took a while to get up to speed. When Chapterhouse approached me over the winter, they had a bit of the world built out and a few major mile markers in place. But there was still a lot of room to explore. I wanted to make it as big and weird as I could, while also really digging into this new character, Pharos.
DF: Was there any particular inspiration for the series? I know you from DC's Green Lantern Corps and Dynamite's Six Million Dollar Man, so I know you are an aficionado of SF.
Van Jensen: Probably the series that inspired it the most is the recent Prophet series from Image. I love how specific and unexpected that universe is. I didn't want to emulate it as much as take it as a challenge, to not hew to any expected genre conventions.
DF: Tell us about the world you are building with Fallen Suns.
Van Jensen: This is really about UNIVERSE building. In Captain Canuck and the other Chapterhouse series, you see lots of what's going on on Earth. And there's a big, big threat on the way from outer space. Fallen Suns is really a matter of defining the galactic scope of that threat, of showing readers what kind of hell is about to rain down. It's both challenging and fun to have that much to create.
DF: What can you tell us about the extraterrestrial Pharos and why he came to Earth?
Van Jensen: Pharos was a king on his planet, and he was the last survivor of an attack that literally destroyed the planet. Like Captain Canuck, Pharos bonded with an alien "seed" that re-wired his DNA, making him stronger and more powerful. But Pharos is a cautionary tale. He didn't react well to all that power, which is tied to the fate of his people. We'll see in the series how he ended up on Earth, where he caused havoc and became viewed as a monster. The big question about Pharos is whether he is actually a monster.
DF: Who is Parminder Patel and what is Equilibrium?
Van Jensen: Equilibrium is a Canadian agency tasked with various security and scientific matters too big or weird for the military. Does that sound secretive? It should. Parminder is a high-level agent, one who has worked with Captain Canuck and seen all kinds of madness. But that only begins to prepare her for working with Pharos. Oh, and she has a cat.
DF: What can readers expect in this series? What is the key storyline?
Van Jensen: Pharos has arrived on Earth, torn his way across North America, and now is in custody, awaiting extermination at the hands of HALO, a U.S. agency. That's where our story begins. Parminder is tasked with getting through to Pharos and discovering what the nature of the threat is that destroyed Pharos' planet, and now seems headed toward Earth.
It's a series split between essentially a psychological interrogation with an alien, and flashbacks to Pharos' planet that are alien warfare at an epic scale.
DF: Any other characters readers may want to be watchful for?
Van Jensen: There's a big reveal coming in issue #2. But I won't spoil it.
DF: I know it is early, but your opinion of the art of Neil Collyer and Leila Del Duca?
Van Jensen: I knew Leila's work from Shutter and greatly admired it. Emotive, smooth, with great storytelling. She's drawing the present-day portion of the book.
Neil was new to me, but he's incredible. The level of detail and energy in his pages is jaw-dropping. He's handling the flashbacks and is going wild with it.
DF: Van, what other projects current or near-future can you tell us about? Any you are particularly BOND-ed to? (laughs)
Van Jensen: Nothing more James Bond than a good pun! Yeah, I've written adaptations of the first two Ian Fleming Bond novels. Casino Royale is out this fall/winter, and Live and Let Die will be the following year, both from Dynamite.
My graphic novel with Nate Powell, Two Dead, is coming in about a year from Simon & Schuster. I have two new creator-owned projects coming before too long. I'm also working a lot on film projects. My first film is headed to the festival circuit, and I'm wrapping post on my second, all while readying to shoot another few things.
Mostly, I have a new son, so I'm very much in Dad mode.
Dynamic Forces would like to thank Van Jensen for taking time out of his busy schedule to answer our questions. Fallen Suns #1 from Chapterhouse Comics hits stores Sept. 27th!
For more news and up-to-date announcements, join us here at Dynamic Forces, www.dynamicforces.com/htmlfiles/, "LIKE" us on Facebook, www.facebook.com/dynamicforcesinc, and follow us on Twitter, www.twitter.com/dynamicforces.
JAMES BOND: CASINO ROYALE HARDCOVER
SIX MILLION DOLLAR MAN: FALL OF MAN TRADE PAPERBACK
SIX MILLION DOLLAR MAN: FALL OF MAN #1 (OF 5)
---
NEW! 1. 11/25/2020 - STEVE SKROCE
4. 11/16/2020 - RYAN O'SULLIVAN
5. 11/16/2020 - RYAN O'SULLIVAN