ZACK KAPLAN

SEND THIS TO A FRIEND!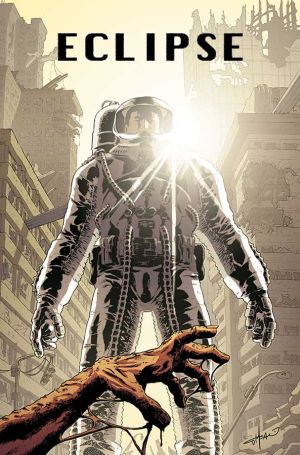 DF Interview: Zack Kaplan brings the heat in Eclipse
By Byron Brewer
Eclipse, an original science fiction thriller written by Zack Kaplan and illustrated by Giovanni Timpano, is launching from Top Cow this fall.
A near future thriller with a powerful message about the fragility of our planet's ecosystem, Eclipse takes place on an Earth that has become uninhabitable during daylight hours due to intense solar radiation. Most of Earth's population has perished, but life goes on by night with the survivors desperately seeking ways to rebuild what vestiges of civilization they can while adapting to a world with a deadly diurnal environment.
Want to know more? So did we, so DF sat down with scribe Zack Kaplan for a heated solar-powered confab.
Dynamic Forces: Zach, tell us how this book came about. Was it something you pitched?
Zack Kaplan: Yes, it was a concept I pitched to Matt Hawkins, who really liked the premise of a world where sunlight will burn people alive. As I've been talking about the book to comic book readers and fans, I've found there's something about the idea that really grabs people and taps into our fears about our world's fragility. What if we couldn't go outside? What if this world at sunrise was it for Earth? What if we were forced to perpetually hide from the sun? Matt saw the potential in that. And Top Cow for always being a publisher that gives new talent a chance. So I have to thank Top Cow and Matt for the opportunity to tell this story.
DF: It is a unique concept. At first, it reminded me of a classic Twilight Zone episode, but that was where folks were boiling because the Earth was out of orbit and nearing the sun. What is the situation in Eclipse?
Zack Kaplan: In the near future, a cataclysmic solar event called "the Flare" has occurred and unleashed deadly light that has killed billions. The few remaining survivors form nocturnal societies in just a few cities using solar power and underground farms to eek out existence. The story is definitely one of science fantasy rather than true science fiction. It requires a little suspension of disbelief on the scientific particulars of what happened to the sun, or how life might or might not survive without sunlight. But we often think about other threats to our world, such as food shortages and water droughts, and I think that we really take for granted our relationship with our most precious resource: the sun. The book explores a world in which we fear the sun, hide from the light and live bottled up in the darkness.
DF: I am sure the book will touch on this, but out of curiosity just how many survivors does our planet have left after the Flare?
Zack Kaplan: Anyone who was in the light or by a window during the Flare was burned alive. Anyone who was foolish enough to brave the streets looking for their loved ones was burned alive. Only those who hid in the shadows have survived. The following weeks after the Flare saw the deaths of millions more as governments failed, and chaos ensued. But when our story starts, maybe 1% of the population has survived; if you can consider living unable to experience direct sunlight living.
DF: Tell us about our main character, who I believe is a disillusioned solar engineer?
Zack Kaplan: David Baxter, aka Bax, was a former firefighter and first responder during the solar cataclysm. He's a hero. Now he is an Iceman, a select group of men who go out into the day to help maintain the infrastructure of the city by using suits that stay cool for limited periods. And while everyone else is hiding from the sun, Bax is also hiding. He's hiding from the world and connection and pain and his past. When you live in darkness and interiors, you are drowned in isolation. Much like other stories of cataclysm and survival, like The Walking Dead, for example, Eclipse looks at the duality of man and the theme of hope vs. fear. Bax has to decide if he is going to remain disconnected in this world or if he will recapture his ideals.
DF: Any other interesting supporting characters that add to the drama of this intense situation?
Zack Kaplan: Well, that gets me to where our story begins. While Bax's job is to maintain the city, in the first issue he gets a new task: to stop a mysterious killer who burns people alive in the sunlight and walks away from the immolating rays unscathed. Bax's old friend, Nick Brandt, now a wealthy solar industrialist and one of the elite few who run New York City, brings Bax in for this assignment. The killer has targeted Nick's rebellious daughter, Cielo, and she needs protection from someone who is comfortable moving around in the sunlight. And so as Bax begins guarding Cielo, he finds that she's got a lot of pain wrapped up in her tough exterior, and he can't help but empathize and connect with her. Nick and his daughter Cielo are two supporting characters that pull Bax in different directions.
DF: Who could be evil enough to use sunlight as a killing tool after the catastrophe? What can you tell us of your big-bad?
Zack Kaplan: I can't say too much about the villain, but he is using the sunlight to burn people, and because he seems to avoid harm himself, that is quite a power. And much like the best villains, this individual is not doing anything to be evil. He has his own story and his own motivations, and he doesn't perceive himself to be evil.
DF: Giovanni Timpano's cover for #1 is gorgeous! What is it like working with him on Eclipse?
Zack Kaplan: Giovanni is brilliant. He's been doing stunning work for years in the Shadow, Justice Inc. and many other titles, and I was lucky that he gravitated to this project. We both are perfectionists. We spent a lot of time discussing this story. We're both science fiction fans, we both love world-building, and we really explored this story from Bax's POV and his experience. I'm so proud because the book is just an awesome blend of art and story. And Betsy Gonia and Chris Northrop did amazing with the colors. And Troy Peteri is killer with letters. And I had Betsy Gonia, Ryan Cady and Bryan Hill editing the book. It's such an awesome team!
DF: Zach, any projects coming from you now or in the near-future you can share?
Zack Kaplan: I'm a writer who's always working on the next three things, but I can't get into any of that just yet. If readers find the story behind Eclipse interesting and want to know more about my future projects, then the best way to do that is follow me on social media.
Dynamic Forces would like to thank Zack Kaplan for taking time out of his busy schedule to answer our questions. Eclipse #1 from Top Cow hits stores Sept. 7th!
For more news and up-to-date announcements, join us here at Dynamic Forces, www.dynamicforces.com/htmlfiles/, "LIKE" us on Facebook, www.facebook.com/dynamicforcesinc, and follow us on Twitter, www.twitter.com/dynamicforces
THE LONE RANGER / GREEN HORNET #1 (OF 6) RARE JOHN CASSADAY "VIRGIN ART" EDITION Interior art by Giovanni Timpano
THE LONE RANGER / GREEN HORNET #2 (OF 6) RARE JAN DUURSEMA "VIRGIN ART" EDITION Interior art by Giovanni Timpano
JUSTICE, INC. #5 (OF 6) RARE ALEX ROSS "VIRGIN ART" EDITION Interior art by Giovanni Timpano
JUSTICE, INC. #6 (OF 6) RARE ALEX ROSS "VIRGIN ART" EDITION Interior art by Giovanni Timpano
THE SHADOW: THE LAST ILLUSION TRADE PAPERBACK Interior art by Giovanni Timpano
---
NEW! 1. 11/30/2020 - SKYLAR PATRIDGE
5. 11/16/2020 - RYAN O'SULLIVAN