CHRISTOPHER SEBELA

SEND THIS TO A FRIEND!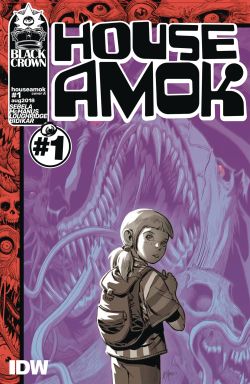 DF Interview: Christopher Sebela marries family drama to horror to build a House Amok
By Byron Brewer
Ten-year-old fraternal twin Dylan Sandifer and her family have fallen down a rabbit hole full of secret implants, conspiracy theories, Mandela effects, extra-dimensional invaders and organ thieves. As the attacks against them intensify, the Sandifers light out on a cross-country search for answers and salvation, blazing a bloody path of torture, arson and murder. Can young Dylan save her family from these delusions... or is this ornate conspiracy actually true?

It's a summer vacation the Sandifers will never forget.
From IDW Publishing's Black Crown imprint comes House Amok, a series by writer Christopher Sebela and artist Shawn McManus that evokes Natural Born Killers and The X-Files. To get the full 411, DF sat down with the scribe himself, Christopher Sebela.
Dynamic Forces: Okay, Chris, I have seen books you've written with some rather strange concepts, but what is House Amok? A horrific version of the summer flick Vacation? Give me the elevator pitch, if you will.
Chris Sebela: House Amok is a horror book I've been wanting to do for a little while now, about a concept called folie a deux, or "shared madness." It's a real, but rare, psychological condition where two people share a very specific insanity and each one props up the others' madness the whole time. If you separate them, it tends to lessen without the influence of the other person there, but if you keep them together, they sort of help each other fall down the rabbit hole even faster together. This condition can extend to entire families, so I wanted to see what it would be like to tell a story about a whole family going insane together and what happens when a perfect nuclear family goes into violent, delusional meltdown. It's also kind of about how everything we rely on in our lives is fragile and changeable, that nothing is a constant. Even reality. So, y'know, a fun time.
DF: How is all this affecting little Dylan Sandifer, age 10? What can you tell us about her as a protagonist and as the POV (I assume) character of this saga?
Chris Sebela: Dylan is home-schooled along with her sister and she lives a pretty sheltered life. Their parents moved them to the middle of nowhere, Oregon and all they have is each other to rely on, for the most part. Especially as her parents begin to slip off the track. Dylan is torn, because her family is all she's ever known, but the further this story goes, the more she'll have to wrestle with staying with them or leaving and saving herself. At 10 years old, she obviously hasn't had to deal with stuff this heavy in her life. And what happens to her and her family is about as heavy as it gets, so Dylan is just trying to make sense of everything, write it all down and try to explain it.
DF: She is a twin? What role will her twin sibling have in the story?
Chris Sebela: Her sister Ollie is Dylan's constant companion, so the two of them are pretty close as it is. Thrown in the weird connection that twins have and Ollie and Dylan function almost as a family inside the family. They know a lot more about this whole thing than any kids their age should and it's the thing that finally starts to drive a wedge between them. Before they were almost inseparable, but as we go, everything is going to be tested, even a bond they never thought would ever break.
DF: Can you introduce us to the rest of the Sandifer family please?
Chris Sebela: George is the dad and he's a blogger, focusing on his family. He's been telling his family's stories to the internet for forever and managed to make a good living off of ad revenue and monetization to make it his full-time job. But it also makes his family more than just his family — they're also subjects. Karen is his wife and the mom. She works as an accountant for the businesses all around them in rural Oregon and is bringing in the lion's share of the money these days, but she's also feeling every year and wondering if this is what the future is going to be forever. Tyler is Dylan and Ollie's older brother and, as a teenage boy in high school, he has a lot of secrets and is trying to just live as normal a life as he can with this family.
DF: What about other characters? Someone representing the law, by chance? A Buford T. Justice du jour?
Chris Sebela: Not really. I'd considered it, but this story is about the family and the dynamics within that family as they start to lose their grip on reality together and drag each other down some bloody roads. The real world of law and order doesn't even factor into their journey. They consider themselves to be on a higher mission, something noble, something that might save the world. So in keeping with locking ourselves in with the family, we tend not to look outside of them too often. Plus, in stories like this, the lawmen are sort of the good guy/bad guy role and I didn't want to muddy the waters. Our good guys and bad guys are all the Sandifer family and sometimes they can be both at the same time or swing wildly from one side to the other. Anyone else in the world, to them and to me, don't really matter for their story.
DF: Can't wait to see artist Shawn McManus cut loose on this fertile ground. Talk about your collaborator a tad.
Chris Sebela: Shawn has been drawing comics forever and I feel pretty lucky that Shelly Bond put us together right away. I don't know that I'd ever have gotten a chance to work with someone of his caliber on a creator-owned book otherwise. Shawn makes it all look effortless. I try to throw him as much fun stuff as I can to make it worth his while and he sends back page after page where everything is just crisp and fun — which makes a nice contrast to this story that's a lot of strange mysteries and vagueness on the edge of your vision. Shawn manages to channel it all in a really weird way that I never would have pictured when I've turned in my scripts. One of the best parts of this job is getting to see his new inks coming in. It feels like no matter what I might ask, Shawn is totally ready and willing to jump in and maybe ratchet it up a few notches in the process.
DF: Chris, what else is out there, now or near-future, with the Sebela imagination stuffed within?
Chris Sebela: I've got Shanghai Red coming out from Image Comics right now with Joshua Hixson. Then on August 15th, my other new Image book, Crowded, starts up. Plus Heartthrob is coming back for a third and final arc, so between those and House Amok, my plate is pretty full.
Dynamic Forces would like to thank Christopher Sebela for taking time out of his busy schedule to answer our questions. House Amok #1 from IDW's Black Crown imprint hits stores Aug. 22nd!
For more news and up-to-date announcements, join us here at Dynamic Forces, www.dynamicforces.com/htmlfiles/, "LIKE" us on Facebook, www.facebook.com/dynamicforcesinc, and follow us on Twitter, www.twitter.com/dynamicforces.
DAMNATION: JOHNNY BLAZE GHOST RIDER #1 SIGNED BY CHRIS SEBELA
KISS/VAMPIRELLA #1 ATLAS COMICS SIGNATURE SERIES - SIGNED CHRIS SEBELA EDITION
AGENT 47 VOL. 1: BIRTH OF THE HITMAN TRADE PAPERBACK
---
NEW! 1. 11/25/2020 - STEVE SKROCE
4. 11/16/2020 - RYAN O'SULLIVAN
5. 11/16/2020 - RYAN O'SULLIVAN