JUAN DOE

SEND THIS TO A FRIEND!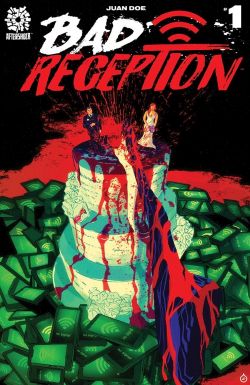 DF Interview: Juan Doe combines homicide and smartphone addiction in 'Bad Reception'
By Byron Brewer
It's the celebrity wedding of the century, set in an undisclosed, remote location, with no access to wifi, cell phone reception or the outside world. But the dream wedding becomes a nightmare when, one by one, the guests are brutally slaughtered by a serial killer who brands his victims with a hashtag.

Bad Reception is a searing horror story that doubles as a topical, satirical critique on society's obsession with technology, social media and the cult of celebrity, written and drawn by Juan Doe (Dark Ark, American Monster, World Reader). DF, as always in search of total knowledge (and since reading this book afraid to touch ANY social media), sat down with the mysterious Juan Doe to chat up the mag.
Dynamic Forces: Juan, tell us about the genesis of the concept behind Bad Reception (and I love that title; who thought of it? Great!). Is this something that has been simmering on the brain backburner for awhile or a relatively new story idea for you?
Juan Doe: The idea is actually about 10 years old, a wedding with no phones allowed. At the time, it was conceived as a schlocky satire for bad cell phone reception, but things have gotten much better in terms of wireless coverage so that particular aspect of the story doesn't work currently. But with the global saturation of smartphones and social media, the idea made much more sense for the current time. Throw in celebrities and the parsing of fame through the aspect of followers and influencers and it serves as a much better story in today's technologically-dependent landscape.
DF: What can you tell us of the storyline? (No fair using the AfterShock solicit, I've already purloined that for elsewhere in this interview.)
Juan Doe: Well, it's going to be a pretty wild ride! What starts off as a hyped-up celebrity wedding turns out to be a really personal and intimate affair so we won't see the pomp that you would expect with characters that are operating at this level of fame and success. The thing that unites all the characters is this fear and anxiety they're all feeling at not having their phones for the duration of the wedding. This makes them have to engage one another in person and it sheds a lot of the distractions we have normalized through our phones, especially in social settings. Inject a gruesome killer into the mix and we get to amp up the definitions of fear and anxiety to some primal levels and that's where I want to characters to exist and fight for their lives.
DF: Can you introduce your protagonists to readers please?
Juan Doe: The main character is GAIA, the most followed human being on social media. She's going off the grid to marry her fiance, Blaise Bordeaux-Davis, a highly successful New York Times best-selling author and a technological evangelist who is trying to address the issues of nomophobia with his new book, Hashtag Off The Grid. Although he is successful, he isn't necessarily famous like GAIA. This gives them a good balance when interacting. Blaise is definitely her rock and a great counterpoint to how famous she is.
DF: Where is this celebrity wedding taking place that is so far off the grid?
Juan Doe: There isn't a specific location I'm referencing, but it's definitely somewhere in America, probably the Pacific Northwest area. The key thing I need from the wedding location is a place where there is little to no reception whatsoever. Our protagonists have built their ultimate cabin getaway there and the only way to access it is via helicopter. The dead-zone just helps provide the backdrop for these characters that are suffering from nomophobia.
DF: At heart, this has the trappings of a great murder mystery. Do you enjoy writing that genre? Any influences that light your fire when talking murder mystery, certain writers, movies or books?
Juan Doe: It isn't something I've attempted to write before, but I tend to lean into the sci-fi/mystery/thriller genres anyway so having my first story be a horror/thriller seems fitting. I haven't read too many horror books save for a bunch of Stephen King and Dean Koontz stories, but movies certainly have probably had a broader influence in tackling this type of story.
DF: There is obviously a subliminal shot at man's current dependence on technology, which is only getting worse, it seems. Can you speak a little to that just as someone working in today's world, with a writer's eye for societal observation?
Juan Doe: I think this is the crux of the story for me. Taking characters that are so overly dependent on technology that there is a sort of cultural singularity with their definition of themselves and the promises of technology to provide relevancy. It seems quite evident that we have entered a phase of humanity where there is an accountable ranking system that determines your value and worth in society. Social media is the vertex in which popularity and expectations meet and I wanted to explore some of that with these characters that are vacillating between finding their humanity and pretending to be human online.
DF: Writing AND drawing: advantage or disadvantage to you, and why?
Juan Doe: I think at this stage of my career, writing and drawing a story feels extremely liberating. Not because I was dissatisfied with my normal gig as an artist but because I'm able to step outside my comfort zone and really try to challenge myself. Definitely a lot more work, but the process has been so satisfying that I hope it's just the start of a slew of stories I want to tell.
DF: Juan, before we wrap, tell us some other things in which you are involved currently or in the near-future.
Juan Doe: Well, this has definitely been the busiest year of my career. I have Vol. 4 of Dark Ark with Cullen Bunn that's coming out in October at Aftershock. I'm also doing the art duties on another really exciting book called Strayed with budding writer Carlos Giffoni that's coming out at Dark Horse in August. And of course, I've got Bad Reception also debuting in August. So it's definitely going to be a fun end of the year!
Dynamic Forces would like to thank Juan Doe for taking time out of his busy schedule to answer our questions. Bad Reception #1 from AfterShock Comics hits stores on Aug. 21st!
For more news and up-to-date announcements, join us here at Dynamic Forces, www.dynamicforces.com/htmlfiles/, "LIKE" us on Facebook, www.facebook.com/dynamicforcesinc, and follow us on Twitter, www.twitter.com/dynamicforces.
SOLAR: MAN OF THE ATOM #1 HIGH-END JUAN DOE "VIRGIN ART" ULTRA-LIMITED
SOLAR: MAN OF THE ATOM #2 HIGH-END JUAN DOE "VIRGIN ART" ULTRA-LIMITED
SOLAR: MAN OF THE ATOM #3 HIGH-END JUAN DOE "VIRGIN ART" ULTRA-LIMITED
SOLAR: MAN OF THE ATOM #4 HIGH-END JUAN DOE "VIRGIN ART" ULTRA-LIMITED
JOHN CARTER: THE END TRADE PAPERBACK
---
NEW! 1. 11/25/2020 - STEVE SKROCE
4. 11/16/2020 - RYAN O'SULLIVAN
5. 11/16/2020 - RYAN O'SULLIVAN