PETER MILLIGAN

SEND THIS TO A FRIEND!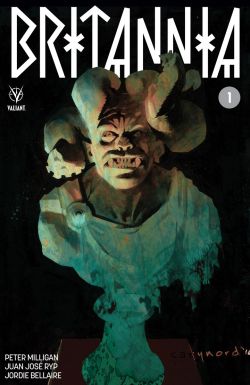 DF Interview: Peter Milligan does as the Romans do this fall in Britannia
By Byron Brewer
Valiant Entertainment will be launching a new prestige format miniseries in September.
Britannia by writer Peter Milligan and artist Juan Jose Ryp is about a Roman soldier whose mind breaks, is taken in by vestal virgins, and who starts to learn from them the early principle of psychology. Of course, he becomes … the world's first detective!
To learn more, DF approached veteran scribe Milligan and began our grueling interrogation. Here's what he said.
Dynamic Forces: Peter, I have been interviewing you about various books you've written for quite some time, and you always manage to come up with something fresh. Your latest for Valiant, Britannia, for example: the world's first detective … from ancient Rome? Where do these inspirations come from?
Peter Milligan: They don't feel like inspirations. Usually they feel like hard bloody work! I keep notebooks, when I have ideas, thoughts or whatever I try to put these down. Sometimes just on notes that end up on my wall. I try not to lose anything. Quite often an idea comes from a strange connection of a few different strands. With Britannia, I believe I'd been reading a bit about the Druids – the priest caste of ancient Britain. I'd also been looking again at a much-loved novel: I, Claudius. Throw into this my interest in the Vestal Virgins and a story was coming into shape. The story grew and the idea of Antonius, this proto-detective, came into focus. A character whose mind works differently from his contemporaries, a detective who might discover clues to help us and him understand better this strange world of Ancient Rome, made stranger by the supernatural events happening on the fringes of the empire…
DF: Tell us a little about the storyline of this unique book.
Peter Milligan: It is the time of Nero, the Roman empire stretches far and wide. But something weird is happening on the borders of the empire, in Britannia. Soldiers are dying horribly. There is talk of a monster, a demon.
In Rome, Antonius is getting a reputation as a "detectioner', a man who rather than ask the gods for guidance has the novel idea of looking for clues. He has elements of Sherlock Holmes about him here, but Antonius – an ex-soldier – can be a man of action when he has to be. He acquired his detective skills from the Vestal Virgins, whose role in the story and in Antonius' life is complex and all-pervading.
Antonius is sent by Nero to the dark fringes of Britannia…to use his detective skills to discover just who or what is killing the Roman soldiers. What Antonius unravels threatens the very future of the empire.
DF: Tell us a little about Antonius Axia.
Peter Milligan: Antonius was a soldier, a military hero. But a number of events – the loss of wife in childbirth and coming face to face with a demon -- made him a broken man. The Vestal Virgins healed Antonius … they gave him strange texts to read, texts that helped him understand the nature of a man by clues and signs, texts that helped make Antonius a detectioner. Though rational by the standards of the day, Antonius is no cold calculating machine, he's a very human person who loves his son, now being raised by surrogate parents.
DF: Being a Milligan book, this has to have layered supporting characters of note. Tell us about some, please.
Peter Milligan: There are a few very important supporting characters. The Emperor Nero, vile, dangerous, and the one who sends our hero to Britannia. Almost as powerful as Nero and certainly more clever is Rubria, head of the Vestal Virgins. This smart and sometimes manipulative woman has her own agenda, which includes Antonius. Bodmall is the beautiful but strange young "wyrd woman" whom Antonius meets in Britannia.
DF: You are dealing with a pretty turbulent time in British history as Axia travels to the titular locale. How much historical research did you do for this book, and is that something you enjoy?
Peter Milligan: A fair bit of research. But you could say the research began many years ago, before the story had been born, when I read I, Claudius by Robert Graves.
DF: How about artist Juan Jose Ryp? Did he put in the hours on research for Britannia, because the period has a very distinctive look and feel?
Peter Milligan: You'll have to ask Juan about his research! But I agree that he's given the world of Britannia a really distinctive – and I'd add realistic – feel. The feel is what's important, I'm more interested in the characters and the world feeling alive than some meticulously-researched design of sandal!
DF: Britannia has elements of horror, fantasy and historical fiction. As writer, how do you perform a balancing act like that, remain true to the work and also make it palatable for the comic book reader?
Peter Milligan: I think the key is, as you said, remaining true to the story. That is, knowing what the theme or themes of the story are and using these elements – like horror and historical fiction – to tell that story.
DF: Peter, what can you tell us about other current or near-future works from your talented keyboard?
Peter Milligan: I'm not sure how talented my keyboard is. I left it alone for 12 hours last night and, when I returned to it, it hadn't produced a damn thing! I'm working on a number of different projects right now. What you might call a modern take on a horror classic, which I can't talk about just yet. A few things for the British magazine 2000AD. A number of projects in and out of comics at varying stages of completion. More news soon!
Dynamic Forces would like to thank Peter Milligan for taking time out of his busy schedule to answer our questions. Britannia #1 from Valiant hits stores in September!
For more news and up-to-date announcements, join us here at Dynamic Forces, www.dynamicforces.com/htmlfiles/, "LIKE" us on Facebook, www.facebook.com/dynamicforcesinc, and follow us on Twitter, www.twitter.com/dynamicforces
ALL NEW MIRACLEMAN ANNUAL #1 JEFF SMITH VARIANT CGC GRADED! Writing from Peter Milligan
ALL NEW MIRACLEMAN ANNUAL #1 JOE QUESADA VARIANT CGC GRADED! Writing from Peter Milligan
TERMINAL HERO: THE DEATH AND LIFE OF RORY FLETCHER TRADE PAPERBACK Written by Peter Milligan
---
NEW! 1. 01/21/2021 - RORY MCCONVILLE
5. 01/07/2021 - DARICK ROBERTSON