TIM SEELEY & BRETT BOOTH

SEND THIS TO A FRIEND!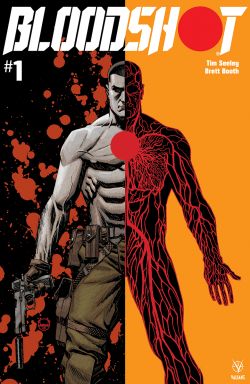 DF Interview: Tim Seeley & Brett Booth cook up 'amazing, visceral action alongside devastating character stuff' in the new 'Bloodshot'
By Byron Brewer
Bloodshot is back with a few new thrilling tricks up his sleeve! No amount of high-octane explosions can keep Bloodshot from completing his new mission. Who is the mysterious Black Bar, and what do they want with Bloodshot?
From writer Tim Seeley and artist Brett Booth comes the return of Bloodshot! To get the full impact of this new series, DF sat down with both author and artist to discuss the venerable VU stalwart.
Dynamic Forces: Tim and Brett, tell readers a little about how you got together for this new iteration of Valiant's Bloodshot and what type of stories we can expect to see.
Tim Seeley: Someone at Valiant cooked up this idea, and I'm all for it. It's been a year or so since I started working on Bloodshot, and when they told me halfway through that Brett was the artist, I was pleased.
Brett Booth: [Editor] Lysa Hawkins asked if I'd be interested in doing some interior work. They offered me Bloodshot the next week and once I heard Tim was attached, I said sure. From what I've seen so far, you can expect everything. But the main thing would be action, lots of action!
DF: Tim, give us your take on this iconic hero. What is "new" about the character this time around?
Tim Seeley: Nothing.
I didn't change him; I distilled him. It's what you love about Bloodshot, in concentrated form. It's focused, and turned up on the dial as far as it goes.
DF: What can you tell readers about the opening arc in #1, and is this a good jumping-on place for readers new to Bloodshot?
Tim Seeley: Yeah, it's designed expressly to be jumped into. If you liked Bloodshot before, you're good. If you're just checking him out, you're good. If you're excited for a Vin Diesel movie and need something to tide you over, you're good. If you don't care about movies, and just like comics, you're good!
DF: What does Brett's art bring to this new volume of the book?
Tim Seeley: Brett is one of those unusual comic artists who can do big, flashy, and cool AND actually tell a story. He's lining up amazing, visceral action alongside devastating character stuff. Also, everyone is kinda sexy.
DF: Brett, following up on Tim's comments above on your art, tell readers about this collaboration, about working with Tim (who is quite the artist himself) on this series.
Brett Booth: It's been a lot of fun! Each issue is something new and different so I'm constantly drawing something I wasn't expecting. Everyone's just letting me do my thing and giving me a ton of freedom to just have fun! We have a great team helping me out on art, [inker] Adelso [Corona] and [colorist] Andrew [Dalhouse], so when I might be getting a bit tired, seeing the incredible work they're doing gets me moving again. I can't wait for people to see this book!
DF: Did you get to design any new characters? If so, tell us about some.
Brett Booth: Pretty much everything is new. We've got Black Bar, a secret military group with tech, and the Burned, a spy group, so far. And everyone wants Bloodshot. Design-wise, Tim was a bit vague for Black Bar so I went a tad nuts with the costumes and future tech. I've been trying to keep it grounded in reality but I may have gotten a little carried away. For the Burned, Tim was more specific, a bit more classic spy....with masks.
DF: I don't know how far you are into the series real-world, but is there a favorite character you have taken a shine to as far as portraying their acting, etc.? Is there a particular set piece that has been particularly challenging?
Brett Booth: About halfway through issue #4. I'm quite fond of a Merc from issue #3 and one of the Black Bar soldiers so far. She takes a larger role in issue #5, which I'm really looking forward to drawing! Biggest challenge so far? The tank in issue #1. Valiant sent me reference with the script and it wasn't until I was partway done when I realized the tank was reversing so I'd been drawing it from behind! So I made sure I had the tank do that on purpose on the pages. (smiles)
DF: And what other projects do you have in the near-future you can tell readers about?
Brett Booth: Right now I'm also working on Flash Forward for DC and after that, I'm hoping to get back to a few IPs I've been messing with. I need like two more days in the week to do everything. (smiles)
Dynamic Forces would like to thank Tim Seeley & Brett Booth for taking time out of their busy schedules to answer our questions. Bloodshot #1 from Valiant Entertainment hits stores on Sept. 25th!
For more news and up-to-date announcements, join us here at Dynamic Forces, www.dynamicforces.com/htmlfiles/, "LIKE" us on Facebook, www.facebook.com/dynamicforcesinc, and follow us on Twitter, www.twitter.com/dynamicforces.
HACK/SLASH VS. CHAOS #1 SIGNED ATLAS EDITION - SIGNED BY TIM SEELEY
INJUSTICE VS. HE-MAN AND THE MASTERS OF THE UNIVERSE #1 SIGNED BY TIM SEELEY
HACK/SLASH VS VAMPIRELLA #1 (OF 5) ATLAS COMICS SIGNATURE SERIES - SIGNED TIM SEELEY EDITION
NIGHTWING #1 ULTRA-LIMITED NIGHTWING BLUE SIGNATURE EDITION SIGNED BY TIM SEELEY
GRAYSON #1 BLANK VARIANT SIGNED BY TIM SEELEY AND REMARKED BY KEN HAESER WITH A NIGHTWING SKETCH (BVS)
DEADPOOL VS. THANOS #1 ULTRA-LIMITED BLOOD RED SIGNATURE SERIES EDITION SIGNED BY TIM SEELEY
GUARDIANS OF THE GALAXY: BEST STORY EVER #1 SIGNED BY TIM SEELEY DUAL PACK!
DEATH OF WOLVERINE LOGAN LEGACY #2 CANADA VARIANT SIGNED BY TIM SEELEY!
DEAN KOONTZ'S FRANKENSTEIN: PRODIGAL SON VOL 2 TPB
---
NEW! 1. 01/21/2021 - RORY MCCONVILLE
5. 01/07/2021 - DARICK ROBERTSON