JAY FAERBER

SEND THIS TO A FRIEND!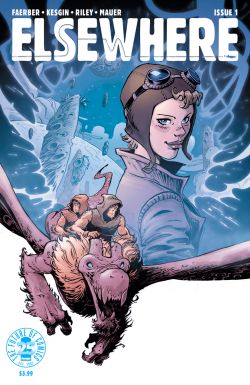 DF Interview: Jay Faerber takes Amelia Earhart on a flight of fantasy in Elsewhere
By Byron Brewer
Mysteriously transported to a strange new world filled with flying beasts and alien civilizations, famed airwoman Amelia Earhart desperately struggles to return home. Along the way, she forges alliances and makes enemies as she goes from aviator to freedom fighter in a rebellion against a merciless warlord.
Copperhead writer Jay Faerber teams with rising star artist Sumeyye Kesgin to unveil Elsewhere from Image Comics, the fantasy story of what REALLY happened to Amelia Earhart!
Intrigued? So were we, so DF sought out scribe Jay Faerber for all the info. Sans spoilers, of course.
Dynamic Forces: Jay, what really happened to famed airwoman Amelia Earhart? (LOL! Sorry, as a 40-year journalist I just could not resist) … So, Jay, your new series Elsewhere coming from Image Comics in August beggars the question: why Amelia Earhart as the prime protagonist?
Jay Faerber: Elsewhere is my first real stab at the fantasy genre, and for me, as a reader, fantasy works best when there's something to ground it — something relatable about it. So I knew I wanted to put an "everyman" into a fantasy setting — someone that was both the hero, and also a surrogate for the audience. And somewhere along the way, I hit on the idea of an everywoman — Amelia Earhart. You could argue that someone so accomplished is hardly an "everywoman," but she's still relatable. She's a human being in a far-flung land. The idea of putting this famous adventuress in a larger-than-life adventure was just too good to turn down.
DF: Before we get into your "strange new world filled with flying beasts and baffling alien civilizations," since I am always interested in "real" persons portrayed in fantastical adventures, how much research if any did you do on Earhart and her life and times for this series?
Jay Faerber: I did a fair amount of research. Enough to know her general history. Because the story is obviously fictional, I'm allowed certain liberties, of course. But I think I've got a pretty good grasp on who she was, both in terms of accomplishments and personality.
DF: Okay, NOW (without spoilers), what can you tell us about the world(s) you will be building in Elsewhere? Was/were there any particular inspiration(s) for it/them? I know you have been wanting to do a series with this kind of fantasy backdrop and scope for quite some time.
Jay Faerber: The world Amelia finds herself in was created just as much by artist and co-creator Sumeyye Kesgin as me. A lot of it was inspired by her sketches as we started talking about the series. We wanted a kind of landscape that would lend itself well to lots of aerial adventures, because Amelia is going to acquire a flying steed. Sumeyye came up with this great visual of chunks of land literally held in place by massive chains stretching down into the sea. It's quite amazing. We just built everything up from there, taking some fantasy tropes and giving them our own spin. For instance, we'll have a cruel overlord and a scrappy band of rebels, but done in our own unique way.
DF: What challenges does Earhart face in this world and can you give us just a non-spoilery peek at how her character might change as the series goes on?
Jay Faerber: Upon finding herself in this world, Amelia's number one goal is to find her friend and navigator, Fred Noonan. Not a lot of people know this, but Amelia didn't vanish alone. Fred was in the plane with her. But when she finds herself in this strange world, Fred is nowhere to be found. So her initial goal is to find Fred, then get the both of them home. Amelia's time in this world will be a constant test of her endurance. This is a woman who's never backed down from a challenge, now facing the ultimate challenge. She's got a real "never say die" kind of attitude, she'll fly in the face of adversity. The question is will she ever break? Will she be able to keep up this steely determination? Or will she finally give in to despair as she realizes just how seemingly insurmountable this place is?
DF: Aside from your prime protagonist, what other characters play an instrumental role in this drama? Can you introduce us to any and give a capsule summary as to who they are please?
Jay Faerber: As I said, Fred Noonan is an important part of the story. I can't say whether or not she finds him, but his presence looms large. The first two native people that Amelia comes into contact with are Cort and Tavel, two rebels who are fighting back against Lord Kragen, their vicious ruler. Cort is a brave, adventurous spirit. Tavel is more selfish and cowardly. He's the one always suggesting they leave Amelia behind because she's a liability. But Cort has too big a heart. Lord Kragen has a vast kingdom and he'll do anything to keep control of it. The arrival of Amelia is something of a curiosity to him. He initially doesn't realize what a threat she can be — what a galvanizing force she is for the rebels.
DF: As a writer of high fantasy, I know it is important to keep that "suspension of belief" grounded. How do you do this in Elsewhere?
Jay Faerber: It all comes back to Amelia. Her personality and point-of-view — plus her very simple goal — goes a long way towards keeping it all grounded and relatable for the audience.
DF: Talk about the gorgeous work of artist Sumeyye Kesgin on this series.
Jay Faerber: Sumeyye's incredible. We'd initially teamed up to pitch a crime series to Image. They passed, and I'm actually glad — because I think it ultimately would've been a bit stifling for Sumeyye. She's capable of such incredibly imaginative work that I think she's much better suited for something like Elsewhere, which lends itself to be much more visually stimulating. And as good as she is about the scope and the more far-out aspects of the book, she's also managed to capture Amelia in an amazing way. Her drawings never look photo-referenced, yet Amelia is always unmistakably Amelia. And colorist Ron Riley (who I've worked with for over a decade, at this point) has really meshed well with Sumeyye. Together they've really brought Elsewhere to life.
DF: Jay, any current or near-future projects you can tell our readers about?
Jay Faerber: I'm still writing Copperhead every month, with new interior artist Drew Moss. Co-creator Scott Godlewski is still involved with the book, contributing covers every month. And Simone Guglielmini and I are working on a new chapter in the life of our reformed hitman, Markham, in the pages of a new Near Death graphic novel. We don't have a release date for that one yet. And when I'm not writing comics, I'm writing for the TV series Zoo. Our third season premiered June 29th at 10pm on CBS. And you can catch the first two seasons on Netflix.
Dynamic Forces would like to thank Jay Faerber for taking time out of his busy schedule to answer our questions. Elsewhere #1 from Image Comics hits stores Aug. 2nd!
For more news and up-to-date announcements, join us here at Dynamic Forces, www.dynamicforces.com/htmlfiles/, "LIKE" us on Facebook, www.facebook.com/dynamicforcesinc, and follow us on Twitter, www.twitter.com/dynamicforces.
GRAVEYARD SHIFT #1 FIRST PRINTING CGC GRADED!
GRAVEYARD SHIFT #1 FIRST PRINTING!
---
NEW! 1. 11/25/2020 - STEVE SKROCE
4. 11/16/2020 - RYAN O'SULLIVAN
5. 11/16/2020 - RYAN O'SULLIVAN