JOHNNIE CHRISTMAS

SEND THIS TO A FRIEND!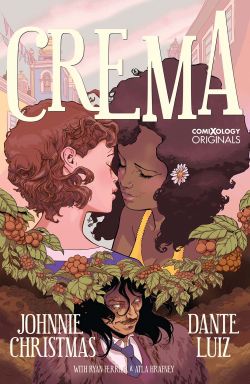 DF Interview: Johnnie Christmas brings a haunting twist to romance in 'Crema' OGN
By Byron Brewer
Esme is a Brooklyn barista with a secret: when she drinks too much coffee, she can interact with ghosts. When she meets the ghost of an Old World nobleman in the basement of her coffee shop, will it impact her burgeoning relationship with Yara, heiress of the coffee bean provider Cherry Mountain Farm – and, if so, how?
From ComiXology Originals comes Crema, written by Johnnie Christmas with art by Dante Luiz, letters from Ryan Ferrier and edits by Atla Hrafney. Christmas also provides the cover artwork for the book. DF almost missed the first serving of this cup o' joe, but we made it for the blended brew presented by scribe Johnnie Christmas.
Dynamic Forces: Johnnie, in anything I have ever read from your pen the relationships between characters are always complex, nothing given. Now you've added … ghosts? Tell readers about the coming of Crema.
Johnnie Christmas: Good to talk to you again, Byron! The germ of the idea started when a former editor suggested I work with Dante. I loved his work immediately. Aside from the draftsmanship, I loved that it was primarily romance, which I've long wanted to write (and hope to do more of, going forward). Being a distant admirer of Brazil also, I pitched Dante an idea of a haunted Brazilian coffee farm and lovesick ghosts. Luckily he liked the idea.
DF: Naturally when you hear this new graphic novel's title, you think of coffee and coffee shops. But through some shrewd investigation (I read the solicit copy), I understand you actually WROTE this in coffee shops around Vancouver, downing copious amounts of caffeine and listening to hours of cafe talk? Now that is research! Tell us about that experience.
Johnnie Christmas: Deadlines in comics are usually pretty tight. So caffeine is a welcomed and trusted co-pilot. Also Esme, one of our leads being a barista, gave me an excuse to hang out in cafes for hours, and Vancouver has some great cafes. When eavesdropping on cafe goers the topic of love – lost, found, rosy or arduous – seems to come up. Typically, I listen for what people aren't saying, because their energy in relaying these tales of love already tells you everything they're feeling.
DF: What is Crema's storyline? I love, in keeping with the wonderful title, that the story is told in three chapters: "The Last Roast", "The Grind", and "Brew".
Johnnie Christmas: Crema is the story of Esme, a barista who sees ghosts and she generally feels invisible and unseen in daily life. Enter Yara, who everyone sees and wants to be near, the beautiful heir to a coffee planting dynasty. Add in the lovesick ghost of a nobleman, who's been writing a love letter to his long-lost love for one hundred years. This brings Yara and Esme to Brazil and into harm's way on a haunted coffee farm.
DF: Tell readers a little more about Esme, her ectoplasmic friends, and Yara.
Johnnie Christmas: The first ghost Esme saw as a girl is Gerry, the ghost of a very bad sitcom called "It's Gerry!" After the initial fright, Gerry becomes Esme's one and only friend, and tries to warn Esme of sinister tidings ahead. Yara is the heir to a coffee farm. Esme lives in fear that Yara will find out that she talks to ghosts and question her sanity.
DF: What can you tell us about your collaboration here with illustrator Dante Luiz?
Johnnie Christmas: Dante's been great. He has a wonderful grasp of romance comics, a genre which is sadly rare in the industry. His characters have so much life and emotion, You really feel with them. Also, I don't live in Brazil, so Dante and his wife H. were the eyes on the ground. Adding believability on the road to flights-of-ghostly-fancy.
DF: How much did Amazon have to budget to get that awesome cover artist?! (LOL)
Johnnie Christmas: They found some jerk who volunteered to draw that cover for free. [Editor's Note: As mentioned above, Christmas illustrated the cover for the graphic novel.]
DF: Johnnie, what other projects, current or near-future, can you tell readers about?
Johnnie Christmas: My sci-fi series Tartarus (with artist Jack T. Cole) is coming out monthly, I love working on that book. Otherwise, nothing I can speak of right now, but I will be able to very soon…!
Dynamic Forces would like to thank Johnnie Christmas for taking time out of his busy schedule to answer our questions. The Crema OGN is available now via Kindle and ComiXology, as well as being available to subscribers of ComiXology Unlimited, Amazon Prime, and Kindle Unlimited.
For more news and up-to-date announcements, join us here at Dynamic Forces, www.dynamicforces.com/htmlfiles/, "LIKE" us on Facebook, www.facebook.com/dynamicforcesinc, and follow us on Twitter, www.twitter.com/dynamicforces.
---
NEW! 1. 11/30/2020 - SKYLAR PATRIDGE
5. 11/16/2020 - RYAN O'SULLIVAN