PETER MILLIGAN

SEND THIS TO A FRIEND!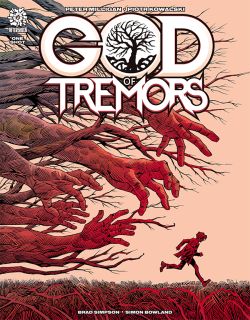 DF Interview: Peter Milligan combines enlightenment with horror in the 'God of Tremors' one-shot
By Byron Brewer
A 19th Century gothic horror of exorcism, demonic worship and epilepsy.
When Aubrey has his first seizure, he's pulled out of school and hidden away in the family's remote country estate. His father – a high-ranking English priest – tries to chase the "devil" out of Aubrey, but maybe the devil lurks in the grotesque pagan effigy that dwells on the grounds. And maybe the devil will turn out to be Aubrey's only ally…
A singular tale of nightmarish terror and creeping enlightenment told against a backdrop of ignorance and brutality, God of Tremors springs from the fertile imagination of award-winning writer Peter Milligan (Out of Body, Shade the Changing Man, X-Force) with illustrations from Piotr Kowalski (Join the Future, Sex). I was very eager to talk to scribe Peter Milligan about this one.
Byron Brewer: Peter, tell readers about your new one-shot coming from AfterShock. Is this a book that has been on the Milligan backburner for awhile? What is its genesis?
Peter Milligan: Not so much backburning but it's something I've been thinking about for a while. Last year I had a couple of nasty seizures and during this time the story came into focus.
BB: What is the main storyline of the comic?
Peter Milligan: The story's set in the 1880s, Victorian England, and follows a young man called Aubrey. Aubrey's the son of a church of England vicar who rails against modern science. Aubrey goes to a fee-paying school, he's a child of the establishment – but when he has his first epileptic seizure, everything changes . Sure that his son's epilepsy is caused by some shameful demonic possession, Aubrey's father pulls him out of school and isolates him in their remote country home. Here, the vicar attempts to brutally exorcise the demons of epilepsy from Aubrey. It's a horrific situation for Aubrey. But out in the wild woods that surround the gothic house, Aubrey finds what might be his salvation: an old stone pagan effigy. The story follows the affect that this strange pagan god has on Aubrey and his family.
BB: Tell us more about young Aubrey, and about his father and their relationship.
Peter Milligan: Aubrey is a pretty privileged kid, but that privilege counts for little when his world changes due to epilepsy. Though epilepsy plays a big part in the story, this is not some hard to read medical drama. The epilepsy is a catalyst that widens the fault-lines in his father's faith and exposes the iniquities of the patriarchal society. It also is the thing that sends Aubrey into the wild woods that surround their country house, and in these woods lurk strange ideas and desires.
BB: As someone who suffers seizures myself, I will be very interested to see the execution of this tale. It is not a plight you often see woven into a comic book story, even non-spandex.
Peter Milligan: This isn't some campaigning story to get the subject of epilepsy out there, but it was strange writing this book while my own seizures were so recent. I literally still had the scars – or at least a nice black eye that I bumped on the sofa. I think this allowed me to really get under the skin of Aubrey and have a degree of authenticity when writing about his seizures.
BB: Any hints as to that pagan effigy on the grounds of Aubrey's father? Non-spoilery, of course.
Peter Milligan: Suffice to say, Aubrey's high-ranking protestant father isn't too happy when he discovers that his son has been worshipping the pagan God of Tremors.
BB: There is obviously going to be subtext about the ignorance and brutality of the 19th century (the tale's period), especially involving societal status and treatment of odd illnesses. Can you talk just a little about that, and any research you might have done. For some reason, thinking like this always flashes way back for me to the Salem Witch Trials.
Peter Milligan: Of course. Aubrey's mother helps to highlight this. Though ostensibly a 'respectable' Victorian wife and mother, she increasingly sides with Aubrey against the brutalities of Aubrey's father. She does this at her peril. I reread some Victorian literature. Wilkie Collins is an interesting and enlightened chronicler of this period. I have read about the Salem Witch Trials but I think God of Tremors has more in common with the British tradition of what you might call Folk Horror. I'm talking about the stories of MR James, certain Hammer films, The Wicker Man, even Blood on Satan's Claw. The sense of something older, pagan, and dangerous lurking beyond the well-manicured lawns of refined modern society.
BB: Why is Piotr Kowalski the right artist for this one-shot?
Peter Milligan: Piotr's artwork is perfect for this book. His detail and research are remarkable and really take you on a journey into this period. He also brings a kind of intense, paranoid, edgy quality, sometimes it's almost suffocating, which really helps to illustrate Aubrey's own sense of isolation and suffering as his and his family's life descend into terrible horror.
BB: Peter, what other projects are you involved with that you can tell readers about?
Peter Milligan: I've just finished American Ronin for AWA and Happy Hour over at Ahoy. For AfterShock, there's obviously God of Tremors but also a new weird occult kind of murder mystery called Out of Body. Oh, at Marvel, Mike Alred and I are working through The X-Cellent, a brand new team series featuring X-Statix. Due to covid, the publication date for this has been pushed back somewhat. There are other projects in the pipeline, but I'm not sure how much I can say about those so best to say nothing for now.
Dynamic Forces would like to thank Peter Milligan for taking time out of his busy schedule to answer our questions. The God of Tremors one-shot from AfterShock is slated to be on sale August 18th!
For more news and up-to-date announcements, join us here at Dynamic Forces, www.dynamicforces.com/htmlfiles/, "LIKE" us on Facebook, www.facebook.com/dynamicforcesinc, and follow us on Twitter, www.twitter.com/dynamicforces.
ALL NEW MIRACLEMAN ANNUAL #1 JEFF SMITH VARIANT CGC GRADED!
ALL NEW MIRACLEMAN ANNUAL #1 JOE QUESADA VARIANT CGC GRADED!
ALL NEW MIRACLEMAN ANNUAL #1 SIGNED BY MIKE ALLRED!
TERMINAL HERO: THE DEATH AND LIFE OF RORY FLETCHER TRADE PAPERBACK
---
NEW! 1. 09/23/2021 - CONOR MCCREERY & NEIL GIBSON