JAI NITZ

SEND THIS TO A FRIEND!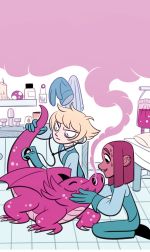 DF Interview: Jai Nitz 'aims high' with new series Fu Jitsu
By Byron Brewer
Fu Jitsu is the world's smartest boy, and has been for the last hundred years. Wait, what? Fu is an un-aging genius, and has had adventures around the globe and around the galaxy. From Einstein and the Wright brothers, to Gandhi and Johnny Unitas, Fu has met everyone in history while protecting Earth from Robert Wadlow, the world's tallest man, and his dangerous magi-science.
In September from AfterShock Comics and Jai Nitz, the award-winning writer of El Diablo, Sucide Squad Most Wanted, and Dream Thief comes this action-packed new series with art from Teen Titans Annual artist Wes St. Claire! DF cornered the series scribe and here is what Jai Nitz had to say.
DF: Jai, right out of the gate, I have to ask about your very vehement statement that your September-debuting series Fu Jitsu is "a comic for comic book readers." As a comic book reader, I find this fascinating. Can you expound on the point please?
Jai Nitz: First things first, some journalists and fans took that statement the wrong way and I want to set the record straight. One site used my statement to further their personal goal of dumping on Mark Millar because so many of his comics get turned into movies (I guess?). It's an insult and disingenuous for a "journalist" to do that. I love Millar. He's always been a top gent to me personally and I really like his writing.
Another well-versed writer took my statement to mean that I was denigrating the work of most comic creators who are making comics… because people who make comics are underpaid and underappreciated and if they wanted to sell out they'd easily find a better medium to do so. Nope. You missed the point too.
I went to the ComicsPro retailer summit in February. I have an office at my local comic shop and I do my best to keep my ear to the ground for what fans, retailers and companies are looking for. By my estimation, there are two things fans are looking for: entertainment and collectibility. There are two things retailers are looking for: initial salability and future salability. There are two things publishers are looking for: initial sales and overall popularity. Seeing a pattern? The things that make comics stand out are good stories and collectible reasons.
What's special about Killing Joke #1? It's a good story with amazing art. That makes it a desirable comic. What's special about Iron Man #55? It's the first appearance of Thanos. Is Iron Man #54 or #56 harder to find or have greater print runs? Nope. The thing that is special about #55 is that a character first introduced became collectible, salable and popular.
Where am I going with this? Overall, Wes and I want Fu Jitsu to be a good comic with a good story so readers will seek it out and stores can easily sell it. That's our main goal. We want to emulate the success of our heroes (the ones I originally sited were Chaykin, Simonson, and Starlin). On top of that, I want Fu Jistu #1 to become a collectible/future-salable/popular comic. I want Fu Jitsu #1 to ring a bell with collectors, retailers and our publisher. How do we do both? By making the best damn comic that we can. I'd rather aim high and fail than aim low and succeed.
DF: Bravo, sir! … Now, what brought Fu Jitsu – and you – to AfterShock?
Jai Nitz: Mike Marts. Look, I broke into comics around the year 2000. I self-published a comic as my resume and sent it to every editor I could find. Back then, I knew every editor at Marvel and DC off the top of my head. My biggest fanboy goal was to write X-Men. The X-Men editor was Mike Marts. I had a short Gambit story in X-Men Unlimited #3 and got his attention. That was not long after X-Men #400 came out by Joe Casey and Sean Phillips. I told Mike that my goal was to write X-Men #500. He told me that goal was a little ambitious and that the person who wrote #500 was probably going to be an industry vet. For the record, it was Matt Fraction, a friend, who started his career not long after I did and also lived in Kansas City (at the time). Anyway, I've been chasing Mike Marts all over comics. From the X-Office to the Bat-Office, back to the X-Office, and now to AfterShock. I finally caught him.
DF: Hah! Great story. … Tell us a little about the world you are creating here.
Jai Nitz: The world of Fu Jitsu is pretty much the same as our regular world, but with slightly more fantastic elements. I firmly believe that regular people will worship and reject superheroes the same way we do pop stars. Some people have heard of Fu and his exploits, but mostly people go about their regular lives and don't pay much attention to someone living a life infinitely more fantastic than their own. Kinda like me and Katy Perry.
DF: What can you tell us about "the world's smartest boy," "the world's tallest man" and other protagonists in the new series?
Jai Nitz: Fu Jitsu is the world's smartest boy. I should put "boy" in quotes because he's actually 120 years old but he doesn't age normally. I love the way Mike Mignola and Fred Van Lente write with the ability to sprinkle in real history into their fantastic tales. Fu Jitsu is my attempt to do that. Fu has been all over the globe and met all kinds of famous figures, so I get to incorporate history into my rock-em-sock-em comic scripts. Wes has to pick up the pieces and draw everything so I look good.
The villain of the story is Robert Wadlow, the world's tallest man. He faked his death so he could pursue his destiny of global domination (as told to him by the ghost of P.T. Barnum). Like most villains, it's pretty easy to see the world from Wadlow's point of view. He was born different, the world treated him differently, so now he fully embraces acting different instead of trying to fit in. It's a classic trope, really.
There are several historic figures in the book including superhero Johnny Unitas and super-assassin James Dean.
DF: Wait a minute! One of the bad guys is Jimmy Dean? (James Dean, rock on)
Jai Nitz: Yep. And Fu's girlfriend is a solar lamp he invented who achieved self-awareness. Her name is Rachel (she picked it), and she's pretty awesome. She's not a blue jean baby queen, but she is the prettiest girl I've ever seen.
DF: Haha! You have mentioned Walter Simonson and Jim Starlin, two writer/artists … or really artist/writers … from my early comic-reading era as influences on your approach to Fu Jitsu in specific and comics in general. How so?
Jai Nitz: I also mentioned Howard Chaykin (more on this). One of the first comics I collected and read monthly was Starlin's Dreadstar. I make no bones about the fact that the first issues of Dreadstar did a lot for the formation of my comic career. Another comic I read over and over and over was Simonson's Thor run. Specifically, the Beta Ray Bill arc and the Frog Thor arc. Holy crap. Walt could spin a yarn. Those comics also had a profound effect on me. But the comic that has hit me the hardest as an adult is Chaykin's American Flagg! I never got to read AF periodically when it came out, so I read it all in one chunk as an adult (thanks to Greg Smallwood). I'm totally in love with that comic. FYI, the best current writer/artist who steals my breath and my heart with every project is Zander Cannon. Go check out Heck and Kaijumax for the best of the best of modern comics.
Those creators brought their singular vision to comics and made artifacts for all to see. Those comics are testaments to writer/artists, creators who are both amazing writers or artists in their own right. I can't draw as well as them, but I can emulate them when collaborating with an amazing talent like Wes St. Claire.
DF: What does artist Wes St. Claire bring to this awesome table?
Jai Nitz: He's handling the pencils, inks, colors and letters on Fu Jitsu. I'm lucky to have him and I think he's going to blow everyone away. I have a long history of discovering new talent in comics, but Wes came to my attention via Mike Marts. He's a little too good to be true. When Mike and I approached Wes about the book, we were looking at his sample pages and we asked who inked them? He did. Who colored them? He did. Who lettered them? You don't need to guess. Wes's first pro job was on a Teen Titans Annual, and I have no idea how he isn't on a monthly book there blowing the doors off for everyone.
DF: Jai, any other current or near-future projects you can tell readers about?
Jai Nitz: I'm currently writing Suicide Squad Black at DC with Scot Eaton, Wayne Faucher and Guy Major handling the art. Amanda Waller assembles a team of magic users to go after a magical threat. The book looks so much better than I deserve. I've known Scot for years and we've always wanted to work together. This is our first chance and I think we're both elated. I also have a story coming out in Adventure Time Comics with my man artist Dev Pramanik (he's going to be huge). Finally, I'm doing some comics work based on the Pixar movie Coco that will be out later this year. That movie is going to be up for Best Picture. It's so good.
Dynamic Forces would like to thank Jai Nitz for taking time out of his busy schedule to answer our questions. Fu Jitsu #1 from AfterShock Comics hits stores Sept. 27th!
For more news and up-to-date announcements, join us here at Dynamic Forces, www.dynamicforces.com/htmlfiles/, "LIKE" us on Facebook, www.facebook.com/dynamicforcesinc, and follow us on Twitter, www.twitter.com/dynamicforces.
GREEN HORNET: PARALLEL LIVES #1
KIRBY: GENESIS - SILVER STAR #1
GREEN HORNET VOL. 6: LEGACY TPB
KATO ORIGINS #1: WAY OF THE NINJA - RARE "SPOT COLOR" VARIANT
KATO ORIGINS #1: WAY OF THE NINJA - SIGNED AND RE-MARKED BY COLTON WORLEY
KIRBY: GENESIS - SILVER STAR VOLUME 1 TP
KATO: ORIGINS VOL 2: THE HELLFIRE CLUB TPB
KATO: ORIGINS VOL. 1: WAY OF THE NINJA TRADE PAPERBACK
GREEN HORNET: PARALLEL LIVES TPB
---
NEW! 1. 11/25/2020 - STEVE SKROCE
4. 11/16/2020 - RYAN O'SULLIVAN
5. 11/16/2020 - RYAN O'SULLIVAN