CHAD REBMANN & MATT NICHOLAS

SEND THIS TO A FRIEND!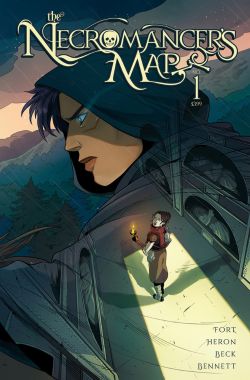 DF Interview: Chad Rebmann & Matt Nicholas explore the secrets of the Bermuda Triangle in 'Relics of Youth'
By Byron Brewer
Nat Rodrigues keeps dreaming of an island. Soon, the dreams become waking visions. Alone and concerned, Nat manages to locate other teenagers across the globe who share her intense obsession with the unmapped enclave. And then, the strangest part: Every one of them wakes one morning with a mysterious tattoo. A tattoo only the six of them can see. Now, each of them knows – no matter the obstacles in their way – they must discover this unknown paradise.
From writers Matt Nicholas & Chad Rebmann and artist Skylar Patridge comes new series Relics of Youth. DF wanted to get in on the ground floor with this one, so we sat down with both scribes.
Dynamic Forces: Chad and Matt, before we get into this exciting new fantasy series from Vault Comics, Relics of Youth, let's hit the rewind button: Tell me how you two came together and the genesis of this comic.
Chad Rebmann: Matt and I were introduced by a mutual screenwriting buddy, Jeffrey Reddick (creator of Final Destination). Even though Matt is a big comics fan, his background is primarily in TV and film, and even though I'm a big movie fan, my background was in comic book writing. I had written some well-received comics for Tidal Wave (formerly Blue Water productions) so we decided to team up on his Relics of Youth pitch. Matt had the initial idea and we both plotted the four issues and fine-tuned the main characters. Originally we were going for a very YA Maze Runner/Hunger Games type tone, but the idea was so fertile that it's a bit edgier, bigger and more in line with the Vault brand.
Matt Nicholas: I conceived the general idea for the comic when I was about 16-years-old. I had always been a comics fan and wanted to write one of my own, but I had no idea how to do it. I became acquainted with Vault from producer, screenwriter and comic book writer F.J. DeSanto and shortly after I told them about the concept for Relics and they implored me to write it. I began looking for a partner to write it with me and Jeffrey introduced me to Chad. After that, it was a smooth ride through all four issues of our first arc.
DF: What can you tell me about the world you two and artist Skylar Partridge are building for the series?
Chad Rebmann: I loved the idea of a chosen group of teens discovering this secret island that does not appear on any maps or radar. The Oshtia Island is the last bastion of the old mystical world, filled with these magical relics of myth and legend, and these modern day teens now have access to this untold power. When we were plotting, I was using Brian K Vaughn's Runaways & Chris Claremont's New Mutants as touchstones, as well as the films The Beach and Close Encounters of the Third Kind. Imagine an island paradise where you could wield Excalibur, or drink from the Fountain of Youth. But these teens will soon realize they are not alone on this mystical new world.
DF: What can you tell readers about Nat Rodriguez? Will she be the POV protagonist for the book going forward?
Matt Nicholas: First, we plan to keep Nat as the POV character for the foreseeable future. Nat, which is short for Natalie, is the true believer of the group and the unofficial leader of this misfit band. She's an isolated and socially awkward coder and hacker and is in a very dark place at the start of the series. Nat has been contemplating suicide due to the death of her mother, and the only thing keeping her going is these strange visions of an island paradise and the sudden appearance of her magical tattoo. It's Nat who finds the other teens through social media, and organizes a meeting. Due to her awkward nature, she doesn't particularly like the other members of this diverse group, but she needs them to find the island. Nat can't do this alone, but she does form a sweet bond with Derek. We also intentionally made her Latinx because it is such an underrepresented race in the comic space.
DF: Who are the teens with which Nat shares an invisible tatoo? Can you do some brief intros here?
Chad Rebmann: There's six teens in total, with the aforementioned Nat.
Derek – An 80's movie fan from Oklahoma in the final stages of terminal brain cancer. He's embraced that he's going to die and views the island as his last big adventure. Due to his bleak relationship with death, Derek and the suicidal Nat will find themselves drawn to one another.
Garrett – A spoiled, partying trust fund baby who's a real asshole. Think of a male version of Paris Hilton. He's so much fun to write.
Tristan – The youngest of the group, she's a sweet, sheltered Asian American from San Francisco. By running away to the island, she's committing her first act of rebellion against her strict parents.
Matt Nicholas: Then we have the other two...
Mia – A former Hollywood child star that's now grown up and is angry that no one takes her seriously. She's bitter that her once-flourishing career is gone and has a very short fuse. Another character we love writing.
Blake – The oldest and the "big brother" of the group. Blake has a family history of serving in the military, and just before he was about to enlist the island visions and tattoo appeared. Why he decided not to enlist is a mystery that will be revealed as the series progresses.
There is also a seventh child that we will introduce much later since there were seven families who took the relics from the island and hid them in the world of man.
DF: Without spoilers (I know, I know), can you tell us anything at all about the "dream" island and the aforementioned tattoos?
Chad Rebmann: I don't want to spoil any of the surprises, but I can say that the Fountain of Youth is the focus of the first story arc. Nat and the other teens also discover that much of the island is starting to decay and that there are natives on the island not happy by their arrival.
Matt Nicholas: The tattoos were a fun twist, a nice visual marker that they were chosen and act as a compass that guides them into the heart of the Bermuda Triangle. The tattoos have a few more secrets, but I'm not revealing anything else.
DF: Talk about your collaboration as co-writers, working on this young adult adventure.
Chad Rebmann: This was my first time writing primarily teenage characters, which is way out of my comfort zone. Since Matt is closer to the age of the characters, he was a good sounding board to make sure their dialogue was accurate. It was very much give and take, and I took the lead on doing the panel breakdowns for the first few issues until Matt got his feet wet with the comic scripting format. This was my first time working with a co-writer, but it was a great experience. We were able to check each other and make sure there no glaring plot holes or errors. One of the challenges was that we had too many ideas for this first story arc that we had to cut some stuff out.
Matt Nicholas: It was so fun being able to breathe life into these characters and into this story. As Chad describes, this was my first go-round with comics since I come from a screenwriting background -- and what a journey it's been! It was such an amazing learning experience and also fun as hell to literally be able to write anything you want on the page without having to worry about budgets, haha!
DF: While we're at it, say a word or two about the awesome art of Skylar Partridge.
Chad Rebmann: Oh my god, Skylar is a gift from heaven. When we first saw her character designs we were jumping up and down in excitement. She nailed every character in both looks and body language. She has such a wonderful sense of pacing and storytelling beats. It's like she plucked the images from my brain and put them to paper. Need I go on?
Matt Nicholas: She is literally a gem. She was able to bring every character to life – exactly how I envisioned. We basically gave her the descriptions once and she came back with the masterpieces you see on the page.
DF: Matt and Chad, before we wrap, take a moment to mention some of your individual projects coming up, in or out of comics, please.
Chad Rebmann: I'm really focused on Relics at the moment, but I have just started writing my first novel. All I can say is that it's a hybrid serial killer and film noir set in 1920s Hollywood. I'm also working on launching my personal website that will have film, comic reviews and other pop culture musings.
Matt Nicholas: I just sold a film to Amazon that I am producing with Gabrielle Union. I also have one I wrote that I am producing with Viola Davis. I have a writing and producing partner in the film space and we are working on our first graphic novel in the dystopian sci-fi space. We also have a book we have adapted into a TV series coming too.
Dynamic Forces would like to thank Chad Rebmann & Matt Nicholas for taking time out of their busy schedules to answer our questions. Relics of Youth #1 from Vault Comics hits stores on Sept. 25th!
For more news and up-to-date announcements, join us here at Dynamic Forces, www.dynamicforces.com/htmlfiles/, "LIKE" us on Facebook, www.facebook.com/dynamicforcesinc, and follow us on Twitter, www.twitter.com/dynamicforces.
---
NEW! 1. 11/25/2020 - STEVE SKROCE
4. 11/16/2020 - RYAN O'SULLIVAN
5. 11/16/2020 - RYAN O'SULLIVAN