GRACE ELLIS & SHAE BEAGLE

SEND THIS TO A FRIEND!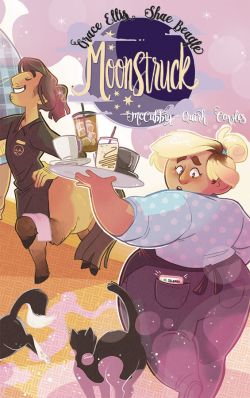 DF Interview: Grace Ellis & Shae Beagle fill Moonstruck with monsters, magic and mirth
By Byron Brewer
Fantasy creatures are living typical, unremarkable lives alongside humans, and barista Julie strives to be the most unremarkable of all. Normal job, normal almost-girlfriend, normal...werewolf transformations that happen when she gets upset? Yikes! But all bets are off when she and her centaur best friend Chet find themselves in the middle of a magical conspiracy.
Moonstruck is a new Image Comics ongoing series from Lumberjanes creator Grace Ellis and talented newcomer Shae Beagle that tells a story of monsters, romance and magical hijinks! DF wanted to know more so you would know more, so we sat down with the talented creators for a chat.
Dynamic Forces: Grace, this new ongoing series Moonstruck looks awesome! I am not sure I have ever seen anything like it before. Tell us how the concept came about and how it came to Image Comics.
Grace Ellis: Thank you! That's such a good, meaningful compliment, since we're really angling for something totally new here.
Moonstruck started its life as a five-page story for an anthology, actually. Shae was a student at the Columbus College of Art and Design, and they were taking a class taught by Laurenn McCubbin, and in the class, the students would take scripts turned in by established comics professionals and illustrate them. By some great stroke of luck, Shae and I were paired up. We worked so well together and the story had so much potential that Laurenn swooped in and asked us if we wanted to try and expand Moonstruck into a full series, which was an idea we were obviously super into. Laurenn had heard through the grapevine that Image was interested in expanding into young adult/all-ages territory, and Moonstruck is a pretty off-beat book in general, so it was a natural fit.
As for the actual concept of Moonstruck, that was born out of me sitting alone in my bedroom brainstorming ideas that could have a twist and then an additional twist built out of the first twist but all packed into five pages. Having a world where everyone appeared to be normal humans but were actually magical creatures seemed like fun and full of possibilities, and here we are!
DF: Tell us about the world you and artist Shae Beagle are creating here.
Grace: The world of Moonstruck is exactly like ours except for all the magic, which makes it totally different. It's the kind of world where you could go about your life exactly the way you do now, but maybe a centaur makes you your morning latte, and maybe your Lyft driver is a will-'o-the-wisp, and maybe that frat bro who shoves past you at the grocery store is a fairy. So the world is the same, but it's also fundamentally different because there are so many things that are possible in a world that's inhabited by magical and mythical characters. In the beginning, it's a very warm, almost syrupy world, if that makes sense, but just like the real world, there's a darker underbelly. The kinds of problems the characters face in Moonstruck are problems that could only exist in this world, which makes it really fun to write and hopefully just as fun to read.
DF: Who are Julie and Chet? What can you tell us about them and the challenges they face, everyday and not-so-everyday, in Moonstruck?
Grace: Julie and Chet are our protagonists, and they're best friends, and they work together at the Black Cat Café in Blitheton, near the BSU campus. Julie is a werewolf, but she's very ashamed of it. It gives her a lot of anxiety, partially because she thinks of wolfing out as losing control and making herself the center of attention, ya know, like the spotlight effect. Chet, on the other hand, is a centaur, and since they're a centaur, there isn't really any way they could possibly hide their non-human abilities. They take up a lot of space physically, so they aren't afraid to take up a lot of space emotionally. They're very fun, I saw one person who described them as "extra," which I would agree with.
DF: Shae, how much fun was it designing the world this book takes place in? Tell us a little bit about that, and about establishing the "mood" of the series through art.
Shae Beagle: The mood for Moonstruck has always been soft and warm, much like the quiet cafe Julie and Chet work in. Both Grace and I wanted this world to be welcoming above all, so I designed the style and colors around that mood. It's been so much fun, especially after growing up being convinced cutesy and cartoony art doesn't do well. It warms my heart to hear that people find comfort in the art of Moonstruck.
DF: Did you design the characters for the series? If so, tell the readers a little bit about this process.
Shae: Yes I did! Grace leaves the designs for our characters very up to my interpretation, and I try to steer clear of overused tropes as much as I can. Julie was designed to be the near opposite of what you think when imagining a werewolf - she's short, chubby, loves pastel colors, dresses, and all things cute. It's pretty freeing when you're interpreting this cast of mythical creatures into modern day, and gives me lots of room to mess around with designs!
DF: I know it is early, but what has been the most difficult/challenging thing for you as artist of the series to execute in the series thus far?
Shae: BY FAR this has been "How do I fit x non-human-shaped creature into a vehicle."
DF: Grace and Shae, each of you tell me a little bit about the collaboration on this book with the other.
Grace: Shae is just a dream to work with. Their art is obscenely beautiful, and they have a really deep understanding of the world and of my writing specifically, so I can't really ask for anything better than that. AND, maybe the best part of working with Shae: that they not only make my writing seem better than it is, but they actively make me a better writer. For example, in a scene in issue #2, I had very casually written that Chet gets into the backseat of a car with two other people, which is all fine and dandy until you realize Chet is a centaur and, uh, how does a centaur sit in the backseat of a car. So not only did Shae puzzle it out, but having a conversation about it made me rethink Chet's perspective on the world, and it really made their storyline a lot stronger.
Shae: From the start it's been so amazing to work with Grace, even outside of the comic. (I was having a stressful week once, and Grace so kindly gave me care package that included a copy of Space Jam, and I cherish it every day.) Our creative styles and personalities just click so right, I couldn't have asked for anyone better to start my journey into comics with.
DF: Again, I know it is early but who is your favorite Moonstruck character thus far? It doesn't have to be Julie or Chet.
Grace: This question is so hard! I love them all for different reasons. I'm working on issues way down the line, and Cass, the oracle who works at a coffee shop named Little Dog 2 down the street is moving up the ranks a lot for me. She can see the future, but she doesn't always tell you the future; sometimes she just does stuff that seems weird but then makes sense once her vision comes to pass. Plus she's hyper-confident and very sweet. Cass is a lot of fun, is what I'm saying.
Shae: This feels like choosing a favorite child…I find I relate a LOT to Chet, especially as the series progresses. It also feels SO GOOD as a nonbinary individual to have a genderqueer character in our main cast, especially when they're allowed to be loud and and expressive. I do also love Lindi for the "loud and expressive" reason as well, though she handles that a little differently.
DF: Each of you tell our readers about some of the current or near-future projects in which you are involved.
Grace: I'm writing some episodes for the show Bravest Warriors, but I think that's the only thing I have cooking that I'm allowed to talk about, unfortunately.
Shae: Nothing much else on my end that I can say, outside of some personal projects. (I've enjoyed dabbling in bookmaking!)
Dynamic Forces would like to thank Grace Ellis & Shae Beagle for taking time out of their busy schedules to answer our questions. Moonstruck from Image Comics hits stores July 19th!
---
NEW! 1. 11/25/2020 - STEVE SKROCE
4. 11/16/2020 - RYAN O'SULLIVAN
5. 11/16/2020 - RYAN O'SULLIVAN