FRED VAN LENTE

SEND THIS TO A FRIEND!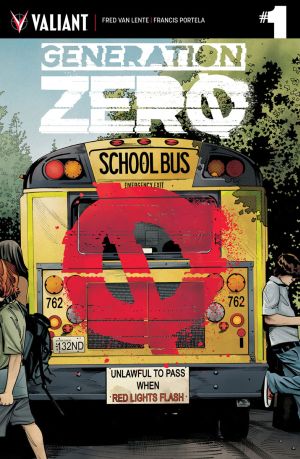 DF Interview: Fred Van Lente brings Generation Zero into teen team's first series
By Byron Brewer
Valiant Entertainment's most volatile team of teenage superhumans explodes out of the pages of Harbinger Wars and into their first ongoing series in August with New York Times best-selling writer Fred Van Lente (Archer & Armstrong, Amazing Spider-Man) and artist Francis Portela (Faith) behind the book.
Generation Zero is part of the "Future of Valiant" initiative first announced at Valiant Summit 2016 in NYC. Want to know more? We did, so DF sat down with our scribe to see what sort of drama and comedy FVL will be treating readers to this go-round.
Dynamic Forces: Fred, tell us the opportunity Generation Zero brings you as a writer: basically to perceive and to tell stories in the Valiant Universe from an entirely new perspective.
Fred Van Lente: Yeah, the opportunity provided me to explore a completely different corner of the Valiant Universe, one focused on teens and the high school experience. Warren Simons at Valiant asked me to develop a team book for them and this is where I landed. For one thing, the name "Generation Zero" is absolutely awesome, right?
DF: Er uh, right … I know this group of kids was first seen in the "Harbinger Wars" storyline. Without individual introductions, what can you tell us about their origins (for the uninitiated) and what they represent as a whole?
Fred Van Lente: The kids were developed, like Bloodshot, by the shady military contractor Project Rising Spirit to be human weapons, but now they've escaped and are kind of roaming the countryside helping out other kids in need, assuming those kids can find them.
DF: Tell us about your cast, and their superpowers.
Fred Van Lente: Cronus, the militant leader, generates energy you can use to destroy as well as heal.
Telic, his lieutenant, can both see into the future for brief periods as well as project herself into it.
Animala, the fan favorite from Harbinger, can transform herself into cartoon animals.
And Cloud, the telepathic member, is their communications expert. She's hooked into the collective consciousness of humanity.
But sure to be a new favorite character is Gamete, the super fetus. Her mother was rendered comatose in Armor Wars, and Gamete's been inside her ever since. This is for you so in case the group needs an adult for whatever reason, but since they keep to themselves that doesn't come up all that much ...
DF: Who is Keisha and what does she have to do with Generation Zero?
Fred Van Lente: Keisha is Generation Zero's latest client, from the town of Rook, Michigan. Rook used to be a Rust Belt sinkhole, but after being given an emergency manager directly transformed itself into a high-tech hub. Keisha's boyfriend suspected there was more to this, but died mysteriously before he could figure out what. Keisha suspects her own father, the sheriff of the town, of being in on a conspiracy, and can't trust him. She's brought in Generation Zero to solve the case.
DF: Now that these teens are in your purview (and they have been hanging around for sometime in the VU), will there be one or more in this new series that will be the focal character, the eyes for a new readership?
Fred Van Lente: Keisha is definitely the point of view character; she's like the normal niece on The Munsters. My favorite [character], though, is her arch nemesis Adele. She's not quite the big bad but she's definitely the Veronica to Keisha's Betty. She's been a real fun character to develop and only gets more interesting and bad ass as the series progresses.


DF: What is the first major storyline going forward for these young folks?
Fred Van Lente: Solving the mysteries of Rook will take the bulk of the first year of the series. The first season, if you will. I'm hoping Rook will be a fun part of the Valiant Universe other writers and creators will be able to use moving forward, our little world needs more of that.
DF: I love how in some of the press you described this team as Archie meets The Authority. (laughs) Please explain.
Fred Van Lente: Yeah, it's the small town and emotional relationships of Archie, combined with the violence and property damage of The Authority!
DF: First big-bad?
Fred Van Lente: That would be telling. Suffice it to say it's a major new character who will menace the Valiant Universe for years to come.
DF: Wow, quite the build-up! … So what does artist Francis Portela bring to the table?
Fred Van Lente: I'm really excited to create a whole world with Francis. We've done a bunch of stuff both at Valliant and Marvel, but this is the first series we've totally created on our own and he's just completely knocked it out of the park. The art on this book really is the selling point to put my writing to shame.
DF: Fred, what else is coming out of that kinetic keyboard of yours these days?
Fred Van Lente: Well, there's Weird Detective, my creator-owned book from Dark Horse that's doing really well and I'm really excited for it. I'm still doing Assassins Creed: Templars for Titan, but there's more exciting stuff being announced at San Diego and beyond and I look forward to talking to you about it!
Dynamic Forces would like to thank Fred Van Lente for taking time out of his busy schedule to answer our questions. Generation Zero #1 from Valiant hits stores Aug. 24th!
For more news and up-to-date announcements, join us here at Dynamic Forces, www.dynamicforces.com/htmlfiles/, "LIKE" us on Facebook, www.facebook.com/dynamicforcesinc, and follow us on Twitter, www.twitter.com/dynamicforces
CONAN THE AVENGER #1 SIGNED BY FRED VAN LENTE!
CAPTAIN AMERICA HOMECOMING #1 SIGNED BY FRED VAN LENTE!
GI JOE #1 (2013) FIRST PRINTING SIGNED BY FRED VAN LENTE!
---
NEW! 1. 01/21/2021 - RORY MCCONVILLE
5. 01/07/2021 - DARICK ROBERTSON