AMY CHU

SEND THIS TO A FRIEND!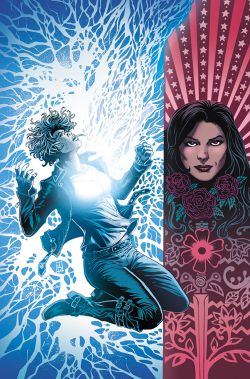 DF Interview: From Amy Chu comes a new hero for a new universe: Summit
By Byron Brewer
A new superhero universe has been born at Lion Forge Comics. It is called Catalyst Prime. One of the new titles that will be born in this brave new world is Summit, a book to be written by Amy Chu (KISS, Red Sonja) and illustrated by Jan Duursema (Star Wars, The Warlord).
DF sought out rockin' writer Amy Chu and here is what she told us about the new Summit series.
Dynamic Forces: Amy, you must really be excited! A new book (Summit) for a new superhero universe of sorts (Catalyst Prime) from Lion Forge. First, what can you tell us about how you came to be on the series? Was this a pitch from you or was it a publisher conception?
Amy Chu: It is very exciting! After my work on Poison Ivy and Red Sonja, I was approached by Lion Forge to develop the Summit character and storyline. And you know I'm always up for writing a super-smart, powerful woman with great superpowers and this is getting in on the ground level.
DF: Tell us about Summit. What kind of stories can readers expect to read in the new series?
Amy Chu: Ooh, I haven't talked about this much at all yet, but the way I think of Summit is modern superhero grounded in reality and science. We have so few superheroes that are women.
DF: Who is Dr. Valentina Resnick-Baker and what's she all about?
Amy Chu: If you picked up the Catalyst Prime Free Comic Book Day issue you'll see a glimpse of her there. At first I was describing her as "Rachel Maddow in space" but Val definitely is more than that. Val is an astronaut who develops plasma fusion powers after contact with a mysterious asteroid in space. She's complicated, she's got flaws, and more power than she could have ever envisioned.
DF: Any other interesting characters in her orbit that we'll want to get to know?
Amy Chu: Absolutely! She gets a lot of help from an MIT professor and his team of "supergeeks." They started off as minor characters, but like the Lone Gunmen in The X-Files, they're really developing a life of their own.
DF: Old habits die hard, so in the parlance of your KISS interviews I will ask: What exactly was the "soundtrack" of Summit #1 as you wrote?
Amy Chu: Haha! The "soundtrack" is a lot quieter and more contemplative than KISS. It's basically lots of classic David Bowie: "Space Oddity," "Heroes," "Starman," "Changes".
DF: How do you feel about collaborating with artist Jan Duursema?
Amy Chu: Jan Duursema's amazing. Talk about focus on craft. Her artwork is so tight. She makes me raise my game every step of the way. I only hope I end up with as legendary a career as she's had.
DF: So Amy, what other projects can you tell readers about at this time?
Amy Chu: Very excited about a short Emma Frost story with Kate Niemczyk coming out July 19. I loved her work on the Mockingbird series, so I was happy Marvel could make this collaboration happen! I also have a tween book through Papercutz called Ana and the Cosmic Race with Kata Kane coming out in September. Think of it as a Hogwarts in space kind of thing.
Dynamic Forces would like to thank Amy Chu for taking time out of her busy schedule to answer our questions. Summit #1 from Lion Forge Comics is slated to be in stores in December. Stay tuned to DF News for more on Summit and Catalyst Prime!
For more news and up-to-date announcements, join us here at Dynamic Forces, www.dynamicforces.com/htmlfiles/, "LIKE" us on Facebook, www.facebook.com/dynamicforcesinc, and follow us on Twitter, www.twitter.com/dynamicforces.
RED SONJA: WORLDS AWAY VOLUME 1 TRADE PAPERBACK
KISS: THE DEMON TRADE PAPERBACK
KISS #1 GENE SIMMONS AND PAUL STANLEY SIGNED EDITION
---
NEW! 1. 11/25/2020 - STEVE SKROCE
4. 11/16/2020 - RYAN O'SULLIVAN
5. 11/16/2020 - RYAN O'SULLIVAN