SANDRA LANZ

SEND THIS TO A FRIEND!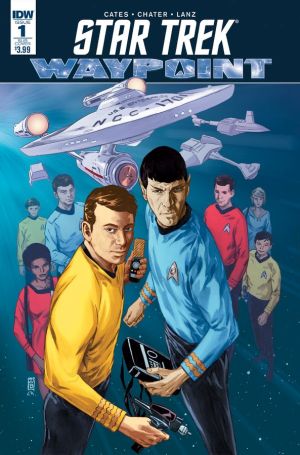 DF Interview: Sandra Lanz celebrates Star Trek at 50 with Uhura backup in IDW's anthology Waypoint
By Byron Brewer
To celebrate 50 years of Star Trek, and even as the film Star Trek Beyond gets set to open in theatres July 22nd, IDW Publishing, under license by CBS Consumer Products, will boldly launch a new series in September which honors the legacy of the various Starfleet crews which have inhabited the Star Trek Universe over the past five decades.
From Captain Kirk to Archer, and everyone in between, each issue of Star Trek: Waypoint will feature brand-new stories starring fan-favorite characters written and drawn by some of today's top talents.
Sandra Lanz (Prophet) will write and illustrate the backup taking place during Star Trek: The Original Series and shines a spotlight on Uhura as she navigates a strange planet. Stranded, she attempts to make contact with a bizarre alien creature.
To find out more, DF beamed down planetside to discuss the situation with the Uhura scribe herself.
Dynamic Forces: Sandra, tell us a little about how you became involved with this IDW series debuting in September.
Sandra Lanz: For the last year or so, I've been working on a variety of sci-fi projects and have come to know many other creators with similar interest. I was recommended for this project by Malachi Ward, a fellow sci-fi and Trek enthusiast, who I worked with on Prophet (Image).
DF: How does it feel to be working on as an iconic franchise as Star Trek just as it celebrates its half-century anniversary?
Sandra Lanz: It's an honor, having the opportunity to contribute my little piece to such a storied universe. Its 50 years are a testament to how expansive and adaptable and welcoming it is, and I'm looking forward to seeing it grow even further with Star Trek: Waypoint.
DF: 'Fess up: Are you a Trekkie? (Or do they say "Trekker" these days?)
Sandra Lanz: I don't think I qualify! I'm a huge fan of The Original Series and The Next Generation, but I haven't seen a lot beyond that. I have a lot of work to do before I earn my Trekkie badge.
DF: You will be writing and illustrating the backup series in the Star Trek: Waypoint books about one of the Original Series' most esteemed characters, Uhura. A female, an African-American in a prominent role in a 1960s American TV series, so ahead of her time (no pun intended). Tell us your take on Uhura as a character.
Sandra Lanz: I built my story around Uhura's backgroud. She's a communications officer and the plot to this short is centered on that, while also taking the opportunity to touch on her cultural heritage, and hint at her love of math with a children's Swahili counting song.
DF: What is the storyline for your Uhura adventure?
Sandra Lanz: Uhura becomes stranded on the surface of an alien planet, and while awaiting rescue, encounters a creature that is so interested in communicating with her, it begins to evolve human characteristics.
DF: I know many comic writers and artists who find it hard (or harder) to bring characters based on living folks to the comic book page, and there must especially be pressure with such an iconic character. How have you met this challenge, both as a writer and artist?
Sandra Lanz: I find that I really enjoy working with constraints like these. When your box of crayons is limited, you don't have to worry about what colors to use, just how to use them! Such iconic characters are great to build short stories around because everyone already knows them. Instead of having to build a whole world around them, one can just drop them into a scene and have the advantage of a rich fictional universe to contextualize them. Also as an artist I found it refreshing to have similar constraints, because I didn't have to design the characters, the costumes, the gear... The bouffant, Starfleet uniform, and phaser were already there, ready for me to draw them!
DF: Do we see any other Original Series characters in the adventure?
Sandra Lanz: This is strictly an Uhura story, though the Star Trek: Waypoint series will boast of many more, varied shorts featuring all sorts of stories and characters.
DF: Sandra, any other projects current or near-future you'd care to share with us?
Sandra Lanz: I'll be taking over the role of artist on the new volume of From Under Mountains, an ongoing high-fantasy series at Image Comics. It takes place on another world full of intrigue, strange creatures and alien structures, so it's safe to say it's not so different from my sci-fi work! We're projected to release the first issue by the end of the year.
Dynamic Forces would like to thank Sandra Lanz for taking time out of her busy schedule to answer our questions. Star Trek: Waypoint #1 from IDW Publishing hits stores in September!
For more news and up-to-date announcements, join us here at Dynamic Forces, www.dynamicforces.com/htmlfiles/, "LIKE" us on Facebook, www.facebook.com/dynamicforcesinc, and follow us on Twitter, www.twitter.com/dynamicforces
STAR TREK/GREEN LANTERN: THE SPECTRUM WAR #1 DYNAMIC FORCES EXCLUSIVE PURE LINE ART BLACK & WHITE COVER SIGNED BY JAE LEE
STAR TREK/GREEN LANTERN: THE SPECTRUM WAR #1 DYNAMIC FORCES EXCLUSIVE PURE VIRGIN ART COVER SIGNED BY JAE LEE
STAR TREK/GREEN LANTERN: THE SPECTRUM WAR #1 DYNAMIC FORCES EXCLUSIVE GOLD ELITE SIGNATURE SERIES SIGNED BY JAE LEE
STAR TREK/GREEN LANTERN: THE SPECTRUM WAR #1 DYNAMIC FORCES EXCLUSIVE SIGNED BY JAE LEE
STAR TREK DOCTOR WHO #8 SIGNED BY GORDON PURCELL
STAR TREK 30 YEARS 23 KARAT GOLD SCULPTURED TRADING CARD
STAR TREK: FOUR CAPTAINS LITHOGRAPH - UNSIGNED VERSION
STAR TREK: THE MOTION PICTURE 20TH ANNIVERSARY LITHO - SIGNED VERSION
---
NEW! 1. 11/30/2020 - SKYLAR PATRIDGE
5. 11/16/2020 - RYAN O'SULLIVAN