TIM DANIEL

SEND THIS TO A FRIEND!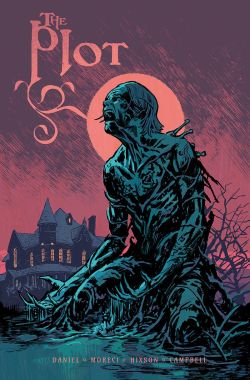 DF Interview: Tim Daniel conjures the creepy in 'The Plot', kicking off Vault's Nightfall event
By Byron Brewer
In order to receive ... first, you must give. When Chase Blaine's estranged brother and sister-in-law are murdered, he becomes guardian to McKenzie and Zach, the niece and nephew he hardly knows. Seeking stability for the children, Chase moves his newly-formed family to his ancestral home in Cape Augusta which overlooks a deep, black bogland teeming with family secrets.
From writers Tim Daniel and Michael Moreci and artist Josh Hixson comes The Plot, a new series from Vault Comics. DF was anxious to talk about this book, which is a part of a new event called "Nightfall," and so we spoke with one of its writers as well as Vault's V.P. of Branding & Design – all in one package: Tim Daniel.
Dynamic Forces: First, Tim, tell readers about Vault Comics' fall horror publishing event called "Nightfall."
Tim Daniel: Nightfall is an annual Fall (September through November) event—during which time we'll introduce our readers to a small number of carefully selected tales of horror. The initiative allows us to devote ourselves to these titles while still focusing on our core genres, Science Fiction & Fantasy. Horror at Vault was something we've discussed for a very long time, but never felt confidence in supporting until Adrian, Damian and I arrived at this solution. We looked at our 2019 books and selected two titles we felt clearly deserved the Nightfall badge and now here we are, eagerly awaiting the arrival of Fall!
DF: The first title under the Nightfall banner is The Plot, co-written by yourself and Michael Moreci and drawn by Joshua Hixson. Without too many spoilers, what can you tell us about this book you guys are assembling?
Tim Daniel: The Plot is our first Nightfall title and just so happens it's the third horror book Mike and I have co-written (Curse/Burning Fields). We do indeed have the good fortune of an extraordinarily talented team of collaborators; Joshua Hixson (art), Jordan Boyd (color) and Jim Campbell (letters) – along with the industry's most insightful editor, Adrian Wassel.
The six of us are taking readers back to 1974, to a small northeastern enclave named Cape Augusta as Chase Blaine returns to his ancestral home in care of his niece and nephew, but quickly finds they are being terrorized by some very dark family secrets.
DF: Tell us more about Chase Blaine and his niece and nephew, MacKenzie and Zach. What is their relationship like as we dive into The Plot and how does that change as we go forward?
Tim Daniel: Chase is the uncle everyone wants but no one trusts. In the eyes of his young relatives, he's pretty cool, if not an outright mystery. Years ago, prior to the events in the book, he left behind his family, their home, the accompanying privilege of the Blaine name and their wealth and struck out on his own. But having to care for MacKenzie and Zach has forced him back home.
For their part, Mackenzie and Zach have experienced an unimaginable trauma. They been uprooted from the West Coast and moved across the country to Cape Augusta. Their lives have been turned upside down and their caregiver is this seemingly shiftless man would just as soon sleep in the bed of a pick-up truck as in the comfort of their palatial mansion or a luxury 5-Star hotel.
Going forward, this trio will either learn to forge a deep bond or drown in the despair that has been visited upon them.
DF: As readers approach The Plot #1, what other characters do they need to know about? Can you introduce a few of them here?
Tim Daniel: Keep your eye on Reese Rassmussen, a local teacher and Blaine family obsessive. Watch Magnus Sullivan closely—as Cape Augusta's sheriff, his entanglement with the Blaine family might have severely skewed his sense of justice. More importantly, read closely. Our story is loaded with information…from the house to the surrounding grounds—there's a reason why we named this tale The Plot. I think if we've done our jobs collectively speaking, readers can enjoy a thrilling horror tale and/or a deeper dive by determining if what is happening to Chase and the kids is truly supernatural or a product of something that has afflicted the family for generations--clear back to the founding of Cape Augusta.
DF: Tell us about Cape Augusta.
Tim Daniel: "To receive, first you must give." Is that not really the perfect summation of every immigrant's tale? Is that statement not quintessentially American? It's the promise of living the dream that exacts first its cost. Cape Augusta and the tale of the enclave's founding families is the absolute epitome of what it means to come to the country seeking to build a rich and rewarding life, but first learning what that truly costs.
Our town is no Derry, Hawkins or Whisper, however. What is happening is specific to this family and confined mainly to the Blaine plot. That does not mean others outside the immediate family circle will not feel the malevolent influence stalking Chase and the children.
DF: What does the art of Joshua Hixson bring to this haunting comic?
Tim Daniel: ATMOSPHERE and TEXTURE. And I'm using caps lock for a reason.
Josh is supremely talented at capturing the tone and tenor of a setting and he's infused the Blaine house and Cape Augusta with a dark dread. He is also very successful at delivering strong characterization—our cast is distinctly rendered because of Josh and their emotions are front and center. Adding to that, Josh's design work is top notch—he designed the floor plan of the home, a layout of the grounds, and an absolutely horrific creation that serves as the centerpiece of our tale. He's given us and readers a very powerful cocktail.
DF: Fans should be excited about Nightfall. What other offerings are coming during autumn from Vault?
Tim Daniel: I'm very, very excited to reveal the next title to wear the Nightfall badge, not only because I'm enthralled by what the creative team has shown us thus far, but because their book will mark the breadth of ground we wish to cover with our Nightfall titles. Horror is and can be very elastic, and the combination of The Plot and the second title will clearly demonstrate that point.
DF: Finally, Tim, tell readers about what projects you are involved with in the near and far future, and a little about being Vault's EVP of Branding and Design, if you'd like.
Tim Daniel: I'm 100% locked into The Plot as Mike and I are currently halfway through scripts for the eight-issue series. My goal has been to return to Spiritus and Atoll to wrap those long-delayed series up as well. I owe it to the stories--that keep nagging at me, but more importantly, I owe it to each of those creative teams and the readers of both books that somehow are still interested in those stories.
Dynamic Forces would like to thank Tim Daniel for taking time out of his busy schedule to answer our questions. The Plot #1 from Vault Comics hits stores on Sept. 25th!
For more news and up-to-date announcements, join us here at Dynamic Forces, www.dynamicforces.com/htmlfiles/, "LIKE" us on Facebook, www.facebook.com/dynamicforcesinc, and follow us on Twitter, www.twitter.com/dynamicforces.
BATTLESTAR GALACTICA: TWILIGHT COMMAND #1 - ATLAS EDITION SIGNED BY MICHAEL MORECI
ROCHE LIMIT #1 SIGNED BY MICHAEL MORECI!
---
NEW! 1. 11/25/2020 - STEVE SKROCE
4. 11/16/2020 - RYAN O'SULLIVAN
5. 11/16/2020 - RYAN O'SULLIVAN