JEFF LEMIRE

SEND THIS TO A FRIEND!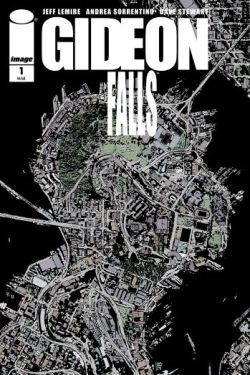 DF Interview: Jeff Lemire on board in plans for bringing Gideon Falls to TV
By Byron Brewer
After a reportedly intense multi-studio bidding war, new production entity Hivemind has acquired the rights to bring the hit Image comic book Gideon Falls to television in partnership with co-creators Jeff Lemire and Andrea Sorrentino.
An atmospheric thriller colliding rural mystery and urban horror, the series follows an ensemble cast of seemingly random strangers—a washed-up Catholic priest, an uncompromising female sheriff, and a young recluse obsessed with unraveling a conspiracy buried in his city's trash—as they become drawn into a mystery connected to a long-forgotten local legend.
DF caught up with Jeff Lemire, who discussed with us both the comic and its development as a TV program.
Dynamic Forces: First, Jeff, a sincere congratulations on Gideon Falls being developed for television! Having interviewed you about the series before its publication by Image Comics, I feel very close to what became one of the publisher's hits this year. So, how did the deal with Hivemind come about?
Jeff Lemire: I have a great agent in Angela Cheng Caplan. At this point, she has set up nine of my creator-owned books for film and TV and Gideon is the latest. We had a lot of interest in Gideon from Hollywood and talked to a lot of different people. But I have an established relationship with Dinesh Shamdeshani from his time at Valiant, so working with him, Kath, Sean and Jason at Hivemind seemed like the best fit for sure.
DF: And will you and artist/co-creator Andrea Sorrentino have anything to do in the to-television production process, e.g. story development, exec producers, etc.?
Jeff Lemire: Yes, we will be Executive Producers and I will be involved in the story development.
DF: Many comics writers love time travel, so let's join Sherman in the WABAC Machine and tell readers how you and Andrea got together for Gideon Falls – the comic.
Jeff Lemire: I was given the assignment of writing Green Arrow for DC Comics back in 2012. I really wanted to move the series away from generic superhero territory and try and do something edgier and darker. Andrea was wrapping up a horror series at DC called I Vampire and I loved his stuff and thought he would be an interesting and unusual choice for Green Arrow. I managed to convince the powers at DC of this and we immediately hit it off and had great chemistry on that series. Jump ahead to 2015 and I was over at Marvel and was taking on Old Man Logan and was reunited with Andrea. Again, we remembered how much we love working together and we started talking then about a creator-owned book, something we could build ourselves. Gideon was born pretty quickly after that.
DF: What can you explain to the uninitiated – and I know these things change as one medium borrows from another – about the storyline of the comic you guys created?
Jeff Lemire: Gideon Falls focuses on two main characters and two different settings and narratives. First, we have Norton Sinclair, a troubled young man who believes he has discovered some sort of secret conspiracy or power hidden in the trash of the large city he lives in. So Norton literally goes out and hunts through the alleys and dumpsters of the city looking for clues in the trash. And our other narrative focuses on Father Fred Quinn, a Catholic Priest sent to the small town of Gideon Falls to replace the town's priest who recently died. Fred has a checkered past of his own and soon learns that his predecessor in Gideon Falls was murdered. Eventually both stories and the characters of Father Fred and Norton begin to connect and everything they are involved in seems to be linked to something called The Black Barn, a supernatural building and seemingly the source of some evil that is sort of a rural legend in the town of Gideon Falls.
DF: I know this is early in the process, but what are some of the things in the development you EXPECT to change?
Jeff Lemire: It's probably too early to tell. But our partners at Hivemind love the comic and I know they will honor what we are doing in their adaptation. But my focus remains the comic and telling the best story we can in the comics medium. This just gives them more to work with.
DF: I know Gideon Falls is creator-owned, but as someone with a continuing character in and out of fanzine and online publication over the decades I know there are things you look back on and wish they had written themselves differently. What would you LIKE to see changed in a TV-based Gideon Falls.
Jeff Lemire: Again, it's too soon to tell. I know that the television series will need to change things to adapt this story to a different medium and I am okay with that. Andrea and I get to tell the story exactly how I see it in the comic, so I am not precious about changes, we will always have our version in print.
DF: Hoping the development goes forward into a pilot or to-series deal in the future, what effect would you speculate that would have on the Image comic (should it still be running)?
Jeff Lemire: Well, obviously Hollywood and comics are now cross-pollinating more and more. It has just become part of the business. And, ideally, a television series helps bring more readers to the comic book.
DF: Jeff, what other projects current and near-future – and in or out of comic books -- can you tell us about?
Jeff Lemire: Black Hammer is ongoing and expanding all the time over at Dark Horse. Descender is wrapping up, but we have big news about that too. [Note: As reported in DF News, Jeff and artist Dustin Nguyen, the Descender creative team, will in 2019 be launching a new series for Image Comics set in the same universe, ASCENDER.] And I will be launching a new series called Family Tree with Phil Hester and Image Comics in early 2019.
Dynamic Forces would like to thank Jeff Lemire for taking time out of his busy schedule to answer our questions. Watch for more developments of Gideon Falls' journey to Television Land in DF News!
For more news and up-to-date announcements, join us here at Dynamic Forces, www.dynamicforces.com/htmlfiles/, "LIKE" us on Facebook, www.facebook.com/dynamicforcesinc, and follow us on Twitter, www.twitter.com/dynamicforces.
---
NEW! 1. 11/25/2020 - STEVE SKROCE
4. 11/16/2020 - RYAN O'SULLIVAN
5. 11/16/2020 - RYAN O'SULLIVAN