KATE LETH

SEND THIS TO A FRIEND!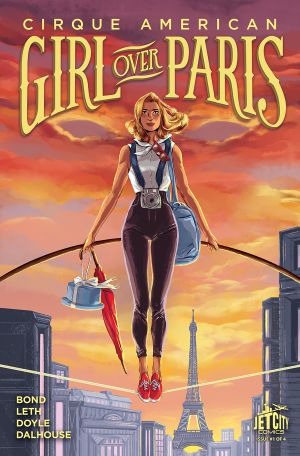 DF Interview: Kate Leth brings Gwenda Bond's magical Cirque American to life in new miniseries, Girl Over Paris
By Byron Brewer
From bestselling writer Gwenda Bond (Girl on a Wire, Lois Lane: Fallout), this four-issue comic book miniseries features a new stand-alone story set within the world of Bond's exotic, magical Cirque American. Girl Over Paris is written by New York Times bestselling comic book writer Kate Leth (Patsy Walker A.K.A. Hellcat, Adventure Time: Seeing Red) and features stunning art by acclaimed artist Ming Doyle (The Kitchen, Constantine: The Hellblazer).
After a high-profile tumble, Cirque American's star wire walker, Jules Maroni, has a lot to prove—and her invitation to an exclusive exhibition in Paris looks to be just the opportunity to put her back on top. Unfortunately, the City of Lights glitters with distractions, including the presence of her first serious boyfriend and a mysterious figure haunting the venue.
To get the full 411, Dynamic Forces sat down and chatted with writer Kate Leth about this exciting new miniseries.
Dynamic Forces: Kate, I am a big fan of your re-"vamped" Vampirella at Dynamite and also Gwenda Bond's YA Lois Lane. Tell us how you came to be attached to your new 4-issue series, Girl Over Paris.
Kate Leth: Gwenda had already planned to put together a comic tying into the Cirque American universe, and I think I was on her shortlist! Paul Morrissey from Amazon got in touch -- we had both worked on a book ages before -- and asked if I was interested. Circuses and magic? Not exactly a hard choice. Plus, once they mentioned Ming's name, I couldn't say no!

DF: What can you tell the uninitiated about Bond's existing Cirque American universe, in which this stand-alone story takes place?
Kate Leth: As Gwenda mentioned on a podcast recently, many circus stories are period pieces, and she had really wanted to explore the world of modern circus arts. I'm also fascinated by them -- I've seen Cirque du Soleil 7 times! It's a mix of that old-world mystery with a coming-of-age story.

DF: Introduce us please to Jules Maroni. Tell us about her relationship with Remy.
Kate Leth: Jules Maroni is a self-sufficient and plucky wire walker who grew up in the circus with her family, and Remy Garcia is her acrobatic love interest from the rival Garcias! The first book, Girl On A Wire, is something of a Romeo and Juliet story, which you might pick up on from their names, but as we move into the comic and into Gwenda's next book, Girl in the Shadows, the world of Cirque American really comes into its own. We get to explore Jules and Remy's budding young love, and see how it fares when put to the test.

DF: You sometimes have rather unique takes on your characters (Vampirella, Patsy Walker). Who is Jules in your perceptions as the writer?
Kate Leth: Jules is such a fun character to write, because she is so self-possessed. She is ambitious and determined, and she believes in herself. Sure, she's prone to the same insecurities most teenage girls face, but none of it stops her. I like writing her as the kind of teenager I wish I'd been.

DF: Tell us about using Paris – high town and low town – as your backdrop. What particular atmosphere were you seeking herein, and how important was any research you might have done on the City of Lights?
Kate Leth: I've never been to Paris, although I'd love to. What I wanted to capture was something I am intimately familiar with, which is being a bit overwhelmed and enchanted by somewhere that's a world away from what you grew up with. Jules is used to the glamour and glitz of the circus, but Europe is a whole new ball game. From a big fish in a small pond to a small fish in an ocean, so to speak. In terms of research, I've watched a lot of videos of catacombs explorers and other documentaries Gwenda dug up for us! She's been incredibly helpful and has a very clear vision of what she wants to express.

DF: I know it is difficult, but what can you tell us (non-spoilery) about the ghostly Harlequin?
Kate Leth: Well, I can tell you he has his own twisted backstory that will explain why he fixates on Jules. We explore it in issue #3, as we begin to explore the Paris underground, and I've seen Ming's art for it -- I think people are going to love it.

DF: What was it like working with Ming? What design work, if any, did Ming do for Girl Over Paris?
Kate Leth: Ming has done such an incredible amount of work for this project, I can hardly begin. We had a Pinterest board, and she did a lot of character and location sketches. I've wanted to work with her forever, and there couldn't be a better book for us to collaborate on. She puts so much of herself into the design of a book, and it really shows. Her art, and Andrew Dalhouse's colors, make this book what it is.

DF: Kate, what other projects current and near-future might you have that you can discuss?
Kate Leth: I can tell you I have another book being announced in the VERY near-future... But I can't tell you what! The theme of magic does carry over to it, though, and it is an original story.
Dynamic Forces would like to thank Kate Leth for taking time out of her busy schedule to answer our questions. Girl Over Paris #1 from Jet City Comics is in stores now!
For more news and up-to-date announcements, join us here at Dynamic Forces, www.dynamicforces.com/htmlfiles/, "LIKE" us on Facebook, www.facebook.com/dynamicforcesinc, and follow us on Twitter, www.twitter.com/dynamicforces
VAMPIRELLA VOL 3 #1 DYNAMIC FORCES EXCLUSIVE BLACK AND WHITE PURE LINE ART COVER BY JAY ANACLETO Written by Kate Leth
VAMPIRELLA VOL. 3 #1 RARE JAY ANACLETO "VIRGIN CONNECTING ART" EDITION Written by Kate Leth
VAMPIRELLA VOL. 3 #2 RARE CHRISSIE ZULLO "VIRGIN ART" EDITION Written by Kate Leth
VAMPIRELLA VOL. 3 #3 RARE CHRISSIE ZULLO "VIRGIN ART" EDITION Written by Kate Leth
VAMPIRELLA VOL. 3 #4 RARE CHRISSIE ZULLO "VIRGIN ART" EDITION Written by Kate Leth
VAMPIRELLA VOL. 3 #5 RARE CHRISSIE ZULLO "VIRGIN ART" EDITION Written by Kate Leth
VAMPIRELLA VOL. 3 #6 (OF 6) RARE CHRISSIE ZULLO "VIRGIN ART" EDITION Written by Kate Leth
---
NEW! 1. 11/25/2020 - STEVE SKROCE
4. 11/16/2020 - RYAN O'SULLIVAN
5. 11/16/2020 - RYAN O'SULLIVAN