DAN ABNETT

SEND THIS TO A FRIEND!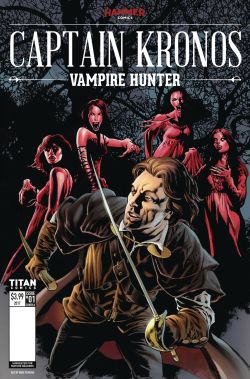 DF Interview: Dan Abnett gives us an unusual mix of horror and swashbuckling derring-do in Captain Kronos
By Byron Brewer
In the depths of Eastern Europe, the legendary vampire hunter Captain Kronos and his two assistants, Grost and Carla, are called upon to help rid a town of its vampire plague.
However, beneath the surface of the beleaguered town, a malevolent force far more evil and deadly is awakening and it might just be a match for Kronos!
The creative team for the Titan Comics four-part miniseries, Captain Kronos, includes writer Dan Abnett (Aquaman, Guardians of the Galaxy, Titans) and artist Tom Mandrake (Sidekick, The Spectre).
To get the down-low, DF talked with our old cosmic comics pal, Dan Abnett.
Dynamic Forces: Dan, and not to discuss type casting (certainly not in the wake of Adam West's recent passing), but when I see "Dan Abnett" I think epic sci-fi or awesome superheroes! How did Titan pair you up with the legacy of a former Hammer film (about which I am most intrigued)?
Dan Abnett: Actually, I'm also a very big fan of horror, of British "folk horror", and of Hammer Films. Hammer themselves asked me to take a look at some of their classic properties with a view to refreshing them, and it was Captain Kronos that came out mutually as the top choice. It's a great film, a moody and atmospheric blend of classic Hammer horror, swashbuckling adventure, and a distinctly quirky sensibility, right down to a distinct flavor of Leone's spaghetti westerns. It also, though an action film, has the haunted, eerie qualities I associate with the 'folk horror" sub-genre (typified by The Wicker Man, Blood on Satan's Claw, Children of the Stones, etc).
DF: Captain Kronos as a character has quite an interesting history as cinema AND as a previous comic book. Can you tell us about that history?
Dan Abnett: I believe the movie was originally intended to be the start of a series of adventures, but it was possibly too 'different' for its time. It was written and directed by the great Brian Clemens (his only directorial outing, I think) who gave us the Avengers (no, not THOSE Avengers… Steed and Mrs Peel etc). It has a great cast, including the luminous Caroline Munro, and the great Ian Hendry in a supporting role. It has a genuine cult following, and lived on for a while through several of UK comic strips.
DF: Give us your take on the character, how is your iteration both different and the same as the cult classic vampire hunter, and did either the film or comic act as your muse? If not, what is (for this particular series)?
Dan Abnett: I'm building directly on the movie as my source… this story could happen a month or so after. The only major difference is that Caroline Munro's character, Carla, has not been left behind, she's ended up joining them as an apprentice hunter. So we have this central trio, the intense, quiet, driven Kronos, the erudite and inventive guru Grost and the vital, courageous Carla. I've really tried to capture the quirky flavor, the atmosphere, and push it further.
DF: Making assumptions on the comic, I presume we'll see an unusual mix of supernatural horror and swashbuckling action? If so, is it hard to unite those two genres for the project?
Dan Abnett: Of course. The action is ferocious, but there is an eerie mood too. Actually, I find that blend comes easily and works well. Kronos and Co. are up against a more powerful (and more numerous) enemy force than in the movie. That doesn't mean this is "Michael Bay's" remake of the original movie. (smiles) A more useful comparison might be how Aliens built on Alien.
DF: Tell us about some other characters readers will want to watch for in the four-issue mini.
Dan Abnett: There are a lot of new characters, friends and foes, but my focus is really on the central trio…developing Kronos as the lead, but also giving Grost and Carla more to do. We'll see Grost as the 'technical genius', the expert on lore guiding them, and Carla as the fresh blood (ha ha!), eager to learn the hunting trade. I want to take her away from that very seventies 'bosomy damsel in distress' role and give her more agency. She's more than just a "Bond movie" love interest. It's sort of like three generations of hunters together: Grost, who was great once but is now too crippled to be active, guiding and teaching his potent protege Kronos, who has a death-wish attitude and a bitter past that might make him take too many risks and end his life and career early, and Carla learning the craft to potentially take Kronos's place one day… and also to escape her life, the grimly limited of opportunities for a pretty peasant girl in this harsh mileau. Oh, and then there's the Big Bad Guy too…
DF: The series takes place (or at least starts) in Eastern Europe. Is this a period or modern-day piece, and have you done any research to get the flavor of the area besides the usual vampire tropes?
Dan Abnett: Like the movie, it's a kind of non-specific "Hammer film" seventeen hundreds, sort of English Civil War era. But we're never specific. It has a realistic atmosphere, an historical feeling, but it could just as easily be some fantasy world.
DF: What does artist Tom Mandrake bring to this iconic table?
Dan Abnett: Amazing art. Tom's a legend, and I've loved his work for a long time. Apart from great art skills, he brings a true moodiness to the work. The brooding atmosphere is flowing from him.
DF: Dan, what other projects current or near-future would you like to share with the readers?
Dan Abnett: Well, it would be remiss of me not to mention my work on Aquaman, Titans and Silencer for DC, and my 2000AD strips like Brink, Sinister Dexter, Grey Area and Lawless. Both Brink (with Ian Culbard) and Lawless (with Phil Winslade) have been highly acclaimed, and both get sexy trade paper back collections this year. Oh, and my next Gaunt's Ghosts novel from Black Library (Warhammer 40,0000 military SF) is out later this year. I'm also working on some game projects, and a movie… it's been a deliriously busy and exciting year so far…
Dynamic Forces would like to thank Dan Abnett for taking time out of his busy schedule to answer our questions. Captain Kronos #1 (of 4) from Titan Comics hits stores Sept. 27th!
For more news and up-to-date announcements, join us here at Dynamic Forces, www.dynamicforces.com/htmlfiles/, "LIKE" us on Facebook, www.facebook.com/dynamicforcesinc, and follow us on Twitter, www.twitter.com/dynamicforces.
AQUAMAN REBIRTH #1 CGC GRADED!
BATTLESTAR GALACTICA: THE DEATH OF APOLLO #1 RARE MIKE MAYHEW "VIRGIN ART" EDITION FEATURING SILVER ELITE EDITION SIGNATURE BY MIKE MAYHEW
GUARDIANS OF GALAXY #14 100TH ISSUE ANIVERSARY CELEBRATION CGC GRADED 9.8!
WAR OF KINGS #1 (OF 6) - SIGNED BY COVER ARTIST BRANDON PETERSON!
BATTLESTAR GALACTICA VOL. 2: THE ADAMA GAMBIT TRADE PAPERBACK
BATTLESTAR GALACTICA VOL 1: MEMORIAL TPB
---
NEW! 1. 11/25/2020 - STEVE SKROCE
4. 11/16/2020 - RYAN O'SULLIVAN
5. 11/16/2020 - RYAN O'SULLIVAN