MARK LONDON

SEND THIS TO A FRIEND!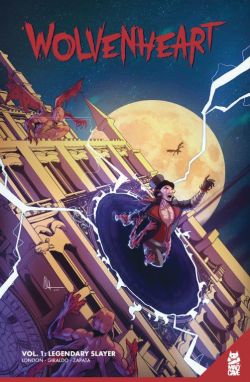 DF Interview: Mark London gets the monster hunt underway in the Wolvenheart TPB
By Byron Brewer
Led by the legendary professor Van Helsing, Wolvenheart is an organization dedicated to monitoring anomalies in the space-time continuum. After the group is infiltrated and decimated by a cabal of history's most infamous villains, led by the most notorious serial killer of the 16th century, Elizabeth Bathory, monster hunter Sterling Cross winds up trapped in an alternate reality where his only choice is to fight his way through time and change the course of history.
From Mad Cave Studios comes the trade edition of Wolvenheart! By writer Mark London (Battlecats), with art and colors by Alejandro Giraldo (Midnight Task Force), and letters by Miguel Angel Zapata, Wolvenheart is for comics fans who love Doctor Who, Castlevania, Penny Dreadful, and League of Extraordinary Gentlemen.
To discuss the collection of issues #1-7 of the series, DF chatted the new TPB up with scribe Mark London, who also serves as CEO/CCO of Mad Cave Studios.
Dynamic Forces: Mark, so how does it feel to see your book, Wolvenheart, go to trade? Pretty cool, eh?
Mark London: It's such a surreal experience—it feels like winning a medal after running a marathon. There's nothing better than seeing your completed work out in the world!
DF: For those who did not get the opportunity to read the collected issues, Wolvenheart #1-7, tell us a little about the genesis of the series. How did this concept come to be for you?
Mark London: Growing up, I was really into horror movies. Anything that had to do with monsters and the supernatural, I was there. And when Konami came up with a little game called Castlevania, I was hooked by the concept of monster hunters. Since then, I've wanted to write an action-adventure story with classic movie monster elements, about things that go bump in the night, but with our signature Mad Cave twist. If you're fond of classic movie monsters like werewolves, Dracula, and even Frankenstein, then this book is for you!
DF: Can you tell readers about the world you built herein?
Mark London: I wanted to play with the idea of using classic monsters in a Victorian-era setting. This has always been a favorite historical period of mine because of its eerie ambiance. It makes for a setting that lends itself perfectly to a story as dark and dangerous as Wolvenheart.
DF: What is the Wolvenheart organization? Can you give us a bit of its "history" and the general storyline of the series?
Mark London: Wolvenheart is dedicated to monitoring anomalies in the space-time continuum from Specters, menacing monsters that have laid dormant since the events of the Great Crossing in the 1700s. Wolvenheart's leader is Van Helsing (yes, THAT Van Helsing) and all of its members are monster slayers that have been trained to defeat anyone or anything that puts the timeline in jeopardy. So when the Queen in Black becomes an imminent threat to their organization and the world, Sterling Cross, the top monster slayer in Wolvenheart, must go on an inter-dimensional adventure to battle some of the timeline's greatest threats and do everything in his power to stop her.
DF: Introduce us to Wolvenheart's members, or at least the major ones utilized in the TPB.
Mark London: Wolvenheart's top members are Van Helsing, the legendary monster slayer, and Sterling Cross, a prolific monster slayer in his own right. We also have Nikola Tesla, the brains of the operation (Mad Cave's own version of Dr. Frankenstein), a genius whose forward-thinking has helped Wolvenheart get to where it is today.
DF: Who is Elizabeth Bathory, what can you tell readers about her covert cabal?
Mark London: Elizabeth Bathory was the first female serial killer in history. She was so ruthless and calculating, eventually she was sentenced to death for the countless murders she committed. We also have a very eccentric gentleman by the name of Sir Dorian Gray. Then, of course, there's Dracula himself, only with our signature Mad Cave spin. He might not be the main character of the series or even the main villain, but a lot is happening that directly relates to him.
DF: Talk about the art of Alejandro Giraldo.
Mark London: Alejo is a monster of an artist (no pun intended). He's been with Mad Cave since the beginning. I believe he was the second artist we hired almost five years ago. Alejo and I have a great working relationship, we understand each other and it's a blessing to have someone this good in my corner, not to mention the fact that he nails everything I give him. Sometimes I question myself because I think that a scene is going to be too complicated to draw, but he always surprises me and the results are even better than expected.
DF: Mark, what other projects can readers look for as coming from you?
Mark London: The next stop is Knights of the Golden Sun Vol. 2 which we plan on releasing early next year. You can also look forward to Honor and Curse Vol. 2 and Battlecats Vol. 3 (the last chapter in the saga). It's going to be an exciting 2021!
Dynamic Forces would like to thank Mark London for taking time out of his busy schedule to answer our questions. The Wolvenheart TPB from Mad Cave Studios collects Wolvenheart #1-7 and is slated to hit stores August 19th!
For more news and up-to-date announcements, join us here at Dynamic Forces, www.dynamicforces.com/htmlfiles/, "LIKE" us on Facebook, www.facebook.com/dynamicforcesinc, and follow us on Twitter, www.twitter.com/dynamicforces.
---
NEW! 1. 11/23/2020 - CHUCK BROWN
3. 11/16/2020 - RYAN O'SULLIVAN
4. 11/16/2020 - RYAN O'SULLIVAN