WAYNE T. YOUNG

SEND THIS TO A FRIEND!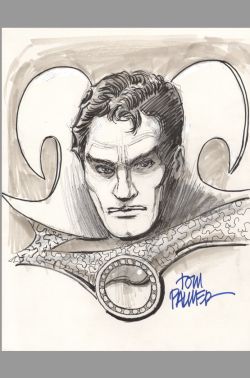 DF Interview: Three face a post-apocalyptic world in Wayne T. Young's OGN, Children of the Fall
By Byron Brewer
Overpopulation and fossil fuel exhaustion have led to humanity's demise, leaving the world a violent and chaotic shell of its former self. Amidst the turmoil, Lin Shaw, the eldest daughter of a warlord, has retreated with her younger sister, Kay, to a remote island in Southeast Asia. There, they encounter the enigmatic Gunfighter and, together, the trio must face a treacherous landscape and a dangerous adversary in the hopes of securing safe passage to Valhalla — mankind's last sanctuary.
In his new graphic novel from Arcana Studios, Children of the Fall, Wayne T. Young has created a vivid world of a possible future that is as unsettling as it is familiar... a story that asks the question, "When your world is a memory, does what you do still matter?"
DF sat down with Wayne T. Young to find out more about his OGN.
Dynamic Forces: Wayne, tell us how this new graphic novel came about.
Wayne T. Young: These characters have been rattling around in my head for a long time, well over a decade, and the post-apocalyptic sci-fi genre has always been one of my favorites. However, I've always felt that the cause of the apocalypse in most of those stories comes from something that doesn't exist in the real world – artificially intelligent machines, zombie plagues, etc. It's not that I have anything against those themes and stories (I love them as much as the next geek and they're the reason I'm here) but, if you look at a lot of the flagship issues concerning our species right now, like our fossil fuel dependency and population growth, I feel like we don't really need any help in bringing about our demise, we'll get there all on our own in a century or two (and that's a conservative projection.) So, in terms of creating CoTF, it was simply a matter of throwing all of those ingredients into a pot and cooking up something very personal.
DF: What can you tell readers about the world you are trying to create in Children of the Fall?
Wayne T. Young: Again, the thing I love about the post-apocalyptic genre is that you're able to pull the past into the future and have them coexist side-by-side and that's the world I wanted to create. Things like computers and machines and technology still exist but, in the world of CoTF, people have very little resources with which to power them. Also, with a breakdown in social order, civility would have to give way to survival. People are only as civilized as the world allows them to be… and sometimes not even that. Plus, who doesn't want to see a guy in Kevlar with a katana riding through a fallen futuristic city on horseback? That image isn't in the book but, hopefully, we'll get there!
DF: You have three very different main protagonists, I see. What can you tell us about this trinity, and their characters? Can you give us a snap shot of Lin Shaw, her sister Kay and the mysterious Gunfighter?
Wayne T. Young: Lin Shaw is the eldest daughter of a Southeast Asian warlord. She's a brave but idealistic young woman who wants nothing more than to be liberated from the bloodshed caused by her father's conflict with a rival despot. Her fault is that she's young and inexperienced and may not see everything for what it really is. But she wants to do what's best for her younger sister, Kay, and, in her mind, that means getting the both of them as far away from their father as possible. Kay is a little girl who stopped speaking after her mother died and now she looks to Lin as not only a big sister but also as a substitute mother-figure. As far as the Gunfighter, he's enigmatic for a reason – he's my Eastwood-esque anti-hero and you really do just have to read the book to find out why he's doing what he's doing.
DF: In a non-spoilery fashion, of course, what can you tell us about the trio's adversary?
Wayne T. Young: I'm glad you chose the word adversary and not villain because, like the Gunfighter, Shuyin Feng has a solid reason for doing what he's doing. Again, it's very difficult to go into what that reason is without giving anything away but I can tell you that he's a man with an unshakable code and moral principal. Externally, I can say that I based a lot of his design off Toshiro Mifune's character from Yojimbo. There's also a little (or a lot) of me in his likeness. In fact, almost every character in the book, Lin, Kay… they're all based on real people in my life. So, yeah, nepotism is all over this book!
DF: What other characters should readers be on the lookout for in this OGN?
Wayne T. Young: In terms of the cast, this narrative is very intimate and revolves primarily around the aforementioned handful of characters, with Lin and the Gunfighter's stories being the driving focus. That being said, readers should certainly pay close attention to the character of Basher Coolridge. He doesn't make an appearance until the final few pages of the book but, if this project does well and I'm able to continue spinning yarn in this world, he will be a major player in the stories to come.
DF: What can you tell us about your creative process herein? Do you like working as a one-man band, both writer and artist?
Wayne T. Young: Honestly, I get tired just thinking about it! The one-man band thing was really a necessity for this first book because I just didn't have the resources to get it done any other way. In the end, though, I'm glad I did because I got to put my stamp on every frame, every illustration, every line of dialog – this book is 100% my baby. In the future, though (please, let there be one…) I think I'd prefer to take the George Lucas approach – you know, just sit in a giant Dr. Horrible sized chair wearing a leopard-skin suit while I point at kids fresh out of art school and shout, "You, there! More detail! More detail in that frame!"
DF: Hah! … Working as writer AND artist gives you a unique chance to set the mood of the locales, especially the island to which Lin and Kay have fled and Valhalla. What can you tell us about making these places come to life in Children of the Fall?
Wayne T. Young: Simple… go live there! The setting for CoTF is inspired almost entirely from the four or five years I spent living in Taiwan. In fact, anybody who is familiar with the southern portion of that island may recognize certain buildings and landscapes in the book. As for Valhalla, you won't get a chance to actually see it in this first story but it's the place everybody's trying to get to, it's my Zihuatanejo. As far as where that is geographically, the only hint I'll give you is… it's "there and back again."
DF: Wayne, any other projects current or near-future you may be working on that you'd like to tell readers about?
Wayne T. Young: I wrote a live-action screenplay around the same time that I wrote the script for CoTF. The tentative title of the screenplay is Dead Funny but that may change. The story is about an up-and-coming stand-up comedian who has a side gig as a contract killer, which, naturally, begins to conflict with his personal life and comedy career. I chose to focus on getting CoTF out into the world first but the next item on my agenda will definitely be getting Dead Funny made.
Dynamic Forces would like to thank Wayne T. Young for taking time out of his busy schedule to answer our questions. The Children of the Fall OGN from Arcana Studios will be premiering at San Diego Comic-Con and will be available in stores in September.
For more news and up-to-date announcements, join us here at Dynamic Forces, www.dynamicforces.com/htmlfiles/, "LIKE" us on Facebook, www.facebook.com/dynamicforcesinc, and follow us on Twitter, www.twitter.com/dynamicforces.
---
NEW! 1. 11/30/2020 - SKYLAR PATRIDGE
5. 11/16/2020 - RYAN O'SULLIVAN