AMY CHU

SEND THIS TO A FRIEND!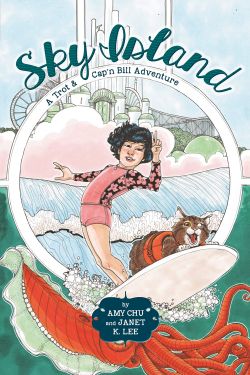 DF Interview: Amy Chu returns to the shores of Trot & Cap'n Bill for middle-grade OGN, 'Sky Island'
By Byron Brewer
School's out and Trot and Cap'n Bill are looking forward to a carefree summer of surfing. But trouble surfaces when Grandpa hooks a message in a bottle while fishing. Clia, the Sea Siren princess, and Anko, King of the Sea Serpents, need their help: Merla, their Sea Siren friend, has been kidnapped!
Trot, her cat, and her grandfather join the rescue effort which takes them to an old abandoned amusement park island resort, where plans are afoot for a grand re-opening. But who is behind this development? Enter Rosalie, an environmentalist with a personal grudge against the developer. She can tell them a thing or two about the mysterious Mr. Buluru and his secret plans for the park. And Trot has a pretty good idea who the new main attraction of the park will be – but not if she and her crew get to that tank and free Merla first!
From Viking Books and co-creators writer Amy Chu and artist Janet K. Lee comes Sky Island, the stunning sequel to Sea Sirens, the middle-grade graphic novel about a spunky Vietnamese American surfer girl and her cantankerous talking cat. DF (and our younger friends) loved Sea Sirens, so we wanted to take a deep dive (LOL) into this OGN by talking with the scribe of both, our good friend Amy Chu.
Dynamic Forces: Amy, did you ever think we would be talking Sea Sirens sequel, and yet here we are! I noticed that like Sea Sirens before it, your new graphic novel for middle-grade readers, Sky Island, was inspired by a novel by L. Frank Baum, creator of the Oz books. What is it about his tales that has inspired you to write your own? What other writers inspire you?
Amy Chu: I grew up with all the Oz books, as well as lots of fantasy and sci-fi. Madeleine L'Engle, Grimm's Fairy Tales... I basically spent my childhood in the library. I read so much it's hard to single out anyone in particular as an influence.
DF: What can you tell your young readers (and those who have young readers of their own) about this new OGN? I know it takes place in the world of Sea Sirens, but tell us about the world you are building here.
Amy Chu: In Sea Sirens, most of the action took place underwater. For this story, I thought it would be fun to bring things up to land. The original Sky Island took place, well, in the sky, but that was just too complicated for mermaids. Walking on land, however, I mean, we've seen that before in that Darryl Hannah movie, Splash.
DF: For those (and you know who you are!) who may not have picked up on Sea Sirens, can you bring us up to speed on your main protagonists: Trot, Cap'n Bill and Grandpa? Do young readers need to have read Sea Sirens before they try out Sky Island?
Amy Chu: Trot is the main character, she's a surfer girl. Cap'n Bill is her talking cat companion and Grandpa is suffering from dementia. It's a sequel to Sea Sirens, but we tried to make it as standalone as possible, just like the original Sky Island.
DF: For those of us who did read Sea Sirens, what old friends will we see in this graphic novel? Can you please do a little intro for Merla and the others?
Amy Chu: Oh, you'll see the Sirens again, Princess Clia, Merla, and Queen Aquareine. And the boy Anko and his serpents. But this time, Clia has to navigate on land with her new legs.
DF: New characters?
Amy Chu: A major new character is a mysterious old lady named Rosalie who lives in a rambling house full of cats. And of course there has to be a bad guy. In this case, it's Mr. Buluru, the man behind the Sky Island amusement park.
DF: What is the story about?
Amy Chu: Merla's been kidnapped and is being held in an abandoned amusement park called Sky Island and it's up to Trot, Cap'n Bill and Grandpa to rescue her. It's a rescue adventure, but what I hope kids understand is, the story is really about friendship. We need to work at it and it's not something to be taken for granted.
DF: Talk about the beautiful works of your collaborator, artist Janet K. Lee.
Amy Chu: Janet is amazing. She's a genius. We're both mid-career changers and started making comics relatively late. The difference is, she won an Eisner for her very first book!
DF: Amy, what else in the way of your projects – OGNs, comic books or otherwise – can we look forward to?
Amy Chu: Well, these are crazy times, of course. A couple of my book projects have been put on hold, but at least I get to work on some new things. I just finished a fun project with DMC Darryl McDaniels, Larry Hama and Rob Guillory that I hope everyone will see soon. I've also got something in the works that involves martial arts – it's something I dabbled with in Green Hornet, and I'm excited to really explore it some more.
The Marvel series I've been working on are put on hold, but you can read my adaptation of the second arc of both Sword Master and Aero starting with issue #7 onward.
Dynamic Forces would like to thank Amy Chu for taking time out of her busy schedule to answer our questions. The Sky Island OGN from Viking Books can be ordered from the Penguin Random House website or anywhere children's books are sold.
For more news and up-to-date announcements, join us here at Dynamic Forces, www.dynamicforces.com/htmlfiles/, "LIKE" us on Facebook, www.facebook.com/dynamicforcesinc, and follow us on Twitter, www.twitter.com/dynamicforces.
RED SONJA & VAMPIRELLA MEET BETTY & VERONICA #1 - AMY CHU SIGNED ATLAS EDITION
KISS: THE END #1 - ATLAS EDITION SIGNED BY AMY CHU
RED SONJA VOL. 4 #1 VIRGIN J. SCOTT CAMPBELL VARIANT - SIGNED BY AMY CHU
GREEN HORNET VOL. 2 #1 ATLAS SIGNATURE EDITION - SIGNED BY AMY CHU
DEJAH THORIS #1 ATLAS SIGNATURE EDITION - SIGNED BY AMY CHU
RED SONJA TRADING CARDS PREVIEW SET - SIGNED BY AMY CHU AND SHANNON KINGSTON
KISS #1 GENE SIMMONS AND PAUL STANLEY SIGNED EDITION
RED SONJA VOL. 5: END OF THE ROAD TRADE PAPERBACK
DEJAH THORIS VOL. 2: DEJAH RISING! TRADE PAPERBACK
RED SONJA & VAMPIRELLA MEET BETTY & VERONICA VOL. 1 - TRADE PAPERBACK
RED SONJA: WORLDS AWAY VOL. 4 - THE BLADE OF SKATH TRADE PAPERBACK
GREEN HORNET VOL. 1: GENERATIONS TRADE PAPERBACK
RED SONJA & VAMPIRELLA MEET BETTY & VERONICA #1 - FAY DALTON COVER CGC GRADED
---
NEW! 1. 11/23/2020 - CHUCK BROWN
3. 11/16/2020 - RYAN O'SULLIVAN
4. 11/16/2020 - RYAN O'SULLIVAN