B.CLAYMOORE

SEND THIS TO A FRIEND!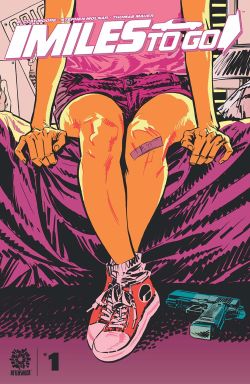 DF Interview: B. Clay Moore injects family drama into an assassin crime story in 'Miles to Go'
By Byron Brewer
Family can be complicated, especially for someone whose father figure was an assassin who trained her to follow in their blood-stained footsteps. But years after her last kill, Amara Bishop has to remember everything her mentor taught her in order to stay alive — and keep her daughter safe as well. Welcome to the complicated, deadly world of AfterShock Comics' new series, Miles to Go.
Launching this fall, the fast-paced series is co-created by writer B. Clay Moore (Hawaiian Dick, Savage) and artist Stephen Molnar. DF wanted to find out the full 411 on the book for you, so we tracked down scribe B. Clay Moore. Here's what he told us.
Dynamic Forces: Clay, tell readers how Miles to Go came about. Is this something new, or has it been brewing on the Moore backburner for awhile?
B. Clay Moore: About a year ago, Stephen Molnar got in touch and asked if I wanted to work up something new together. I'd been wanting to tell a story about people lost in the American landscape, maybe on the run from something. Sort of a vague notion, but I also had this loose idea about a woman who'd grown out of her role as an assassin, and started kicking it around with Stephen. We did that for a while, and it all sort of tumbled together at some point.
DF: Introduce us to single mom Amara Bishop. More than meets the eye, from what I have read.
B. Clay Moore: The first glimpse we get of Amara is at the age of twelve, blowing a man's head off in a mobile home, with her older mentor (Marcus Tiger) looking on. So, that was her childhood. She was a tween living with a father who spent his time drinking some past troubles away, estranged from the rest of her Indian-American family. How and why she took to the art of killing so seamlessly is a key to the story. Over twenty years later, she's the just-separated mother of a young girl (Alea), checking in now and then with that same aging mentor as he rots in an assisted living facility. Amara is close to her daughter, but has never really been able to make anything in her life work the way shooting people worked. Her estranged husband, Niles Bishop, is at loose ends, still hoping to reconnect with his family.
DF: What is the overall story of the series? Tell us what faces Amara Bishop going forward from September's #1.
B. Clay Moore: A combination of outside forces seems to come together and begin pursuing Amara and Alea. When Moses Graves, a friend of her former mentor, shows up at her house with a trunk full of guns and helps her deal with an immediate threat, the three of them hit the road. From there, we dip into the past to figure out how Amara and Moses got to where they are, and why someone (or someones) are after them now.
DF: What can you tell readers about the relationship, the chemistry of Amara and her daughter, Alea? How instrumental is this to the series?
B. Clay Moore: It's the core relationship at the heart of the series. The only other person Amara has ever truly felt close to was Marcus Tiger. When something happens to Marcus, all of her attention and affection go to Alea, and she'll do whatever she can to protect her. But there's more to the relationship than that, which is revealed later in the series. For her part, Alea is a typical pre-teen girl in America. Which is to say she's trying to sail along in the wake of her parents' separation, not fully understanding what's happening but dealing with things the way kids do.
DF: What other characters should we be on the lookout for as this series begin s?
B. Clay Moore: Amara's childhood mentor, Marcus Tiger, enlisted her assistance in carrying out government directed assassinations when she was a child. What Amara didn't realize was that Marcus was part of a larger network called the Icehouse. As the story kicks off, we meet another former member of that network in Moses Graves. Moses is living a quiet, lonely life, with a daughter he's never met, someone in the wind. The attack on Amara and Alea spurs him back to action, and pushes him to find that missing daughter. Along the way, the three of them form a sort of cracked familial bond of their own.
DF: Clay, how tough is it as a writer to put deep family drama into a hardcore crime narrative and do both justice?
B. Clay Moore: The only difficulty is doing so within the space allotted. Ideally, this would be a sprawling, large scale story taking us into different corners of the country and exploring the different levels of black operations we're hinting at. This initial arc is five issues long, so things are a bit compressed, out of necessity. But I think we've done a good job of introducing the characters and defining them for the readers. I've always thought readers should be able to "get" a character in short order, not through exposition but through action and dialogue. Hopefully that happens here.
DF: Talk about your collaboration with artist and series co-creator Stephen Molnar.
B. Clay Moore: I've known Stephen for a long time, and the book was definitely tailored not only with his input, but to suit his strengths. For starters, his character design and the way he communicates acting is off the charts. It was Stephen's idea to make Amara of Indian descent, which then helped me expand on one of the themes of the book, which is this sort of American search for deeper identity (ironic, since Stephen is Canadian). For this book, I really encouraged Stephen to loosen up a bit, after seeing these wonderful character sketches he'd done with a brush. If you've read the last Vertigo book he did with Tim Seeley, Imaginary Fiends, you'll see that his lines were much tighter, and more slick. The book looked great, but I think he's really taken a step forward by loosening up a bit. He's coloring this book as well, so his toolbox just keeps expanding.
DF: Clay, if you don't mind me asking, how did you cope during the pandemic, and what projects might you have in the near-future?
B. Clay Moore: Just before all of this hit, I'd sort of intentionally taken a step back to clear my head, dealing with some of life's ups and downs (mainly downs), and to rediscover what I feel is my real voice. This book is the first example of that woodshedding, but not the last. I've got a kind of postmodern (for lack of a better term) superhero book that I've been developing with writer Alex Grecian and artists Hatuey Diaz and Brett Weldele that we're waiting out the pandemic to get back on schedule and, while I wouldn't normally talk about things I haven't even found a home for yet, artist Mack Chater and I have been slowly building something long-form that we'd like to kick off in the next year, that we both have extremely high hopes for. I've also got a long overdue Hawaiian Dick book that I'm trying to get finished and out the door by the fall. I let the Dick trades slip out of print, and have put a halt to anything Hawaiian Dick related (which included turning down the opportunity to do a new series) until I get that book done. I've got several things floating around out there that I'm hoping to get the green light on soon, and I'm still trying to figure out how all of the shutdowns are going to impact a film project we've been working on for a while.
I've had the same issues anyone else has had in coping with the pandemic, but am probably more fortunate than most in that I've kept working steadily. There are challenges, but no more than anyone else has faced, so I can't complain. My biggest long-term concern is the impact missing school and athletics has had on my boys (one of whom is a college football player), but, man, their Xbox skills have leapt off the charts!
Dynamic Forces would like to thank B. Clay Moore for taking time out of his busy schedule to answer our questions. Miles to Go #1 from AfterShock Comics is slated to hit stores Sept. 9th!
For more news and up-to-date announcements, join us here at Dynamic Forces, www.dynamicforces.com/htmlfiles/, "LIKE" us on Facebook, www.facebook.com/dynamicforcesinc, and follow us on Twitter, www.twitter.com/dynamicforces.
---
NEW! 1. 11/23/2020 - CHUCK BROWN
3. 11/16/2020 - RYAN O'SULLIVAN
4. 11/16/2020 - RYAN O'SULLIVAN