B. CLAY MOORE

SEND THIS TO A FRIEND!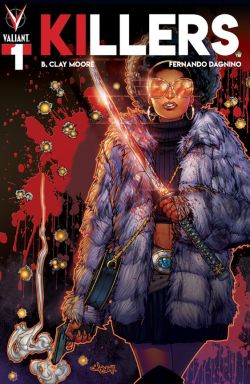 DF Interview: B. Clay Moore introduces a different kind of assassins' game in 'Killers'
By Byron Brewer
Five deadly assassins are recruited into a game of cat and mouse by the mysterious Jonin. But what does the Jonin want from them, and what do they gain out of helping him? Each of these assassins can channel their ki in different ways, granting them incredible abilities!
From Valiant comes Killers, a new miniseries from writer B. Clay Moore and artist Fernando Dagnino. DF wanted to hit the ground running on this expansion of the Valiant U. so we sat down with scribe B. Clay Moore.
DF: Clay, tell readers the genesis of this coming miniseries. Was it something that has been brewing in the Moore Mine of Ideas for a while, or a new revelation?
B. Clay Moore: The truth is editor Karl Bollers approached me about expanding on the Ninja-K universe, and it got the wheels turning. Using his basic guidelines, we put together this cast of former government ninjas and built a back story (and front story!) for each one.
DF: What can you tell us about the world in which this happens. You just mentioned the Ninja-K universe ...?
B. Clay Moore: Yep. The story takes place following the most recent Ninja-K book. Ninja-K (Ninjak) has disappeared, but the book is only tangentially related to that fact.
DF: What is the basic storyline going forward for Killers?
B. Clay Moore: Several former MI6 operatives, graduates of the "Ninja Programme," have found themselves under attack, while each has also seemingly lost some part of themselves. They seek to restore what that lost part is, separately, and together. Each was trained in the Programme by the ancient monk, the Jonin, which is not a coincidence.
DF: Introduce us to our five assassins and their something extra via their 'ki'.
B. Clay Moore: Each successive member of the Ninja Programme was granted an identifying letter, in the order in which they served (Ninja-K being the most familiar to readers). So, here we have Ninja-F, Ninja-G, Ninja-I, Ninja-J. And the even more mysterious Ninja-E.
F, codename the Undisciple, was active in the swinging '60s, and possesses the ability to reach into someone's head and pull things out. His mind, however, has suffered from years of government experimentation in an attempt to expand his powers.
G, codename Blindside, appeared extensively in the NINJA-K book. A '70s era badass, she possesses the ability to briefly disappear from someone's field of view. Or she used to, in any event.
Until recently, I, codename Snapdragon, has been overseeing an Indonesian criminal empire. She sports a large dragon tattoo that she can project as an active, moving apparition.
J, codename Carapace, has kept tabs on other Ninja Programme graduates as best he can over the years. His ability allows him to briefly transform his skin into a nearly impenetrable shell.
And E, codename Sights, who is mute, is nonetheless the world's most deadly accurate assassin. All of his existing senses channel together when he takes a shot, and every outside influence is assessed and accounted for.
DF: Any other important characters around we need to know about going forward? A big-bad?
B. Clay Moore: I mentioned the Jonin. After decades spent training MI6 operatives, he now has his own empire to run. He plays a large role in assembling the Killers, and will have a definite influence on where they go from here.
DF: While this deepens the importance of the Ninja Programme in the Valiant Universe, this is also quite the unique concept. How does it feel to bring some fresh to the VU and what should that mean to me as a Valiant Comics reader?
B. Clay Moore: I absolutely love it. One of my favorite things to do anywhere is introduce new concepts into an existing framework. Taking the basic concepts put in place by Christos Gage and others, I think we've really added a new wrinkle to the Valiant Universe. More toys in the Valiant toy box, ready to make life difficult for someone down the line.
DF: Seems like a good place for new VU readers to jump on board?
B. Clay Moore: Sure! It's a fast-paced, fun book that should be an easy jumping-on point for new readers.
DF: Talk about what artist Fernando Dagnino brings to this book.
B. Clay Moore: Fernando is just terrific. He has the rare ability to communicate over-the-top action as well as quieter character moments. His art is evocative and compelling on all levels.
DF: Clay, any other projects you'd care to mention that are our or near coming?
B. Clay Moore: I'm actually knee-deep in a handful of new creator-owned things, across different mediums, but it's probably early to get into them. And, obviously, I'd love to kick around the Valiant Universe some more.
Dynamic Forces would like to thank B. Clay Moore for taking time out of his busy schedule to answer our questions. Killers #1 from Valiant Entertainment hits stores July 31st!
For more news and up-to-date announcements, join us here at Dynamic Forces, www.dynamicforces.com/htmlfiles/, "LIKE" us on Facebook, www.facebook.com/dynamicforcesinc, and follow us on Twitter, www.twitter.com/dynamicforces.
---
NEW! 1. 05/24/2023 - DOUG WAGNER
3. 02/10/2022 - SIMON SPURRIER