EMMA KUBERT

SEND THIS TO A FRIEND!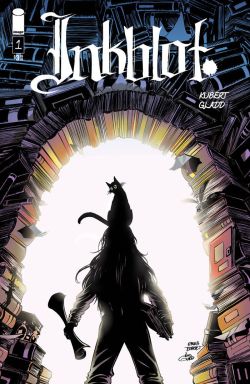 DF Interview: Emma Kubert unleashes a magical cat which threatens to unravel reality in 'Inkblot'
By Byron Brewer
A powerful sorceress attempts to correct her greatest mistake—the creation of a magical cat that can travel through time, space, and reality. The cat threatens to unravel the fabric of the universe, doesn't care, and just won't listen!
Third-generation comic artist Emma Kubert partners with up-and-coming writer Rusty Gladd to deliver the epic high-fantasy adventure, Inkblot. The new ongoing series from Image Comics will launch this September. DF wanted to know about this magical mystery tour, so we took the first necromatic vortex available to chat with series artist and co-creator Emma Kubert.
Dynamic Forces: Emma, before we discuss Inkblot, your new ongoing from Image Comics, let's discuss your industry heritage. Anywhere in comics you are, say "Kubert" and ears will perk up. Like "Kirby". Talk about your family of comic book royalty (even a school!) and how, yes, the third generation went into the family business (aka, tell us about your interest and start in art, and comic book art).
Emma Kubert: I've always been interested in art, drawing, and storytelling, probably since I could hold a pencil. I'm extremely fortunate to be born in such a creative environment and seeing my family do what they love and succeed inspired me to be an artist too.
I wasn't exactly into comics when I was younger. Comics seemed like it was all about big muscled super men, and to a young girl like myself (at the time), I didn't quite relate. What I did relate to was animation, cartoons, and fantasy.
After high school, I initially attended Savannah College of Art and Design (SCAD) for animation, but quickly realized it wasn't for me. I also interned at DC Comics in the summer between my freshman and sophomore years of college, which gave me further insight in the comics world. I remember reading Jimmy Palmiotti and Amanda Conner's Harley Quinn comics, where I saw a strong female lead be funny, quirky, weird and adventurous. It was exactly what I wanted to see in comics and really opened my eyes.
I made the decision to attend the Kubert School and never looked back. I realized comics were the perfect medium for me, and I've come to appreciate the work that goes into it, the characters that are developed (even the large muscled super men), and having a great amount of control over my own narrative.
DF: Tell readers about the very interesting gestation of Inkblot, which ironically circles back to the Kubert school (kind of).
Emma Kubert: I began thinking about Inkblot during my time at the Kubert School. The assignments at the school are very open, and we are encouraged to create our own stories. Something that I have always wanted to do ever since I was little was create my own fantasy story.
Growing up, I loved Sabrina the Teenage Witch, Harry Potter, Buffy, Lord of the Rings, and other media similar to those titles. Witches, cats, sorcery, and mythical creatures are all up my alley, so I started from there!
I developed a comic called Willowbrook (it ended up being a successful Kickstarter project), which featured a witch and her pet cat, but I also thought it would be cute to have a spin-off mini-comic that featured the pet cat, and I called it Inkblot because the opaque black cat looked like I accidentally spilled some ink on the page.
A couple of years after Rusty and I graduated from the Kubert School, we revisited my old ideas of the mini-comic and Willowbrook. We morphed these stories and sculpted additional ideas into the Inkblot comic that is coming out in September!
DF: What is the basic storyline for this arc of Inkblot?
Emma Kubert: In Inkblot, the reader follows this adorable magical cat that travels to fantastic worlds where they meet new characters, mythical beasts, and go on epic adventures!
DF: Can you introduce us to your seemingly very complex protagonists?
Emma Kubert: There will be many protagonists (similar to Game of Thrones in that way), but the narrator of our comic is called The Seeker. She is the second oldest of the Ten Children, who were the first sorcerers. She's the one who writes down all the magic history in her giant library, accidentally creates this crazy Inkblot cat, and has to figure out how to stop it.
DF: And what about that darned cat?
Emma Kubert: That darned Inkblot cat is the most epically magical thing in the whole universe. Imagine the most god-like powers, traveling through time and space and morphing into anything, but all inside a domesticated small pet cat. What could go wrong?!
DF: As artist and co-creator, do you have a character you like to render most? As of yet, has there been a set piece or scene which was most difficult (or conversely, most enjoyable) to draw?
Emma Kubert: My favorite thing I've drawn so far is the Inkblot cat! It's fun (story- and drawing-wise) to draw this silly little thing dancing around the page, and then draw the characters that are completely dumbfounded by the weirdness.
But in all honesty, since I co-created this story, everything in Inkblot is what I like to draw. Sorcerers, nature, silliness, creatures, and epic magic! Love it!
DF: What can you tell us about your collaboration with writer Rusty Gladd? Not too many long distance phone calls, eh? (laughs)
Emma Kubert: Rusty Gladd and I collaborate on EVERYTHING Inkblot, and it's really easy since we work in the same studio room (back to back, if you are wondering)! We developed a relationship in school (we were in the same class) and graduated together. We both use our strengths, I look at the big picture while he is more detail-oriented, which allows us to create a nice well-rounded story. We both discuss the plot of an issue, I layout and pencil the pages, he inks, I color, and then he letters and writes the dialogue. With each step, we are constantly checking each other's work, making sure it's the best it can possibly be.
DF: Emma, what other projects current or near-future can you share with readers?
Emma Kubert: I am currently working on more Inkblot, and Rusty and I also run a free Instagram mini-comic of Inkblot, featuring day-to-day mini-adventures that the cat goes through (@inkblotcomic). I wanted people to see what this magical cat was all about before the full length comic is published and try to reach an audience that doesn't normally read comics. It took awhile for me to like comics. I needed the right kind of story to win me over too, and I believe Inkblot has the power to do that.
I have some other projects in the works, but I can't share until they are ready so you will just have to wait and see!
Dynamic Forces would like to thank Emma Kubert for taking time out of her busy schedule to answer our questions. Inkblot #1 from Image Comics is set to hit stores on Sept. 2nd! Keep watching DF News and comics-related social media for more information.
For more news and up-to-date announcements, join us here at Dynamic Forces, www.dynamicforces.com/htmlfiles/, "LIKE" us on Facebook, www.facebook.com/dynamicforcesinc, and follow us on Twitter, www.twitter.com/dynamicforces.
---
NEW! 1. 11/23/2020 - CHUCK BROWN
3. 11/16/2020 - RYAN O'SULLIVAN
4. 11/16/2020 - RYAN O'SULLIVAN