ROBERT VENDITTI

SEND THIS TO A FRIEND!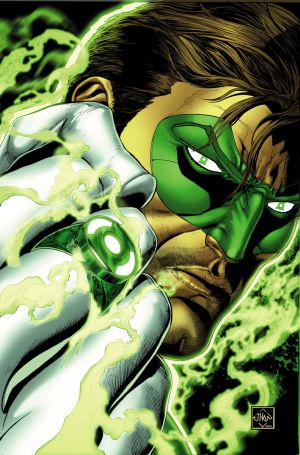 DF Interview: Robert Venditti returns Hal Jordan to the spaceways as a one-man GLC in July
By Byron Brewer
In the outer reaches of the DC Universe, in the absence of the Green Lantern Corps Sinestro and his fear-inducing Yellow Lantern Corps patrol the universe as its sole protectors. But deep in space, a green light still burns.
In July, in a Rebirth issue and then a new #1, a veteran hero will harness the remainder of his will and become a one-man Green Lantern Corps to defeat his greatest foe and restore freedom to the cosmos.
Writer Robert Venditti returns Hal Jordan to the front and center of the cosmic side of the DCU in Hal Jordan and the Green Lantern Corps! To know more, DF sat down with the scribe somewhere in Sector 2814. This is what we found out.
Dynamic Forces: Robert, Hal Jordan and the Green Lantern Corps, in its Rebirth issue and its #1 that follows, brings change to the characters of the cosmic side of the DCU. Tell us how each of these issues affects our hero, Hal Jordan.
Robert Venditti: When we open the series' Rebirth one-shot, the Green Lantern Corps is missing, and Hal Jordan is the last of the former Green Lanterns. He takes on the mission of finding the rest of the Corps and protecting the universe while he does it. It's an incredible responsibility to shoulder, and it isn't made any easier by Sinestro, who has used the Green Lantern Corps' absence to seize control of the universe. The way Hal reclaims his mantle as Green Lantern is hugely significant, and it sets in motion a chain of events that will affect both the immediate and long-term future of the series. We're laying down a ton of plot threads in these opening issues. As the series continues, readers will be able to track everything back to the beginning.
DF: In a non-spoilery way, can you tell us what will be the new status quo of the Green Lantern franchise, both in the DCU …?
Robert Venditti: The Green Lantern Corps—including Hal, John, and Guy—will be primarily space-based, tackling all the problems and crises that arise in the wild, wonderful DCU. These are our cops in space. Every planet, every alien race, every cosmic villain—they're all toys that we get to play with. Operating outside this will be Simon Baz and Jessica Cruz, two rookie Green Lanterns who are in charge of Earth. Anyone who's already reading Green Lanterns knows those two have plenty on their plate.
DF: … And in the stores? For example, how many GL books will there be now?
Robert Venditti: Currently, there are two titles in the Green Lantern franchise: Hal Jordan and the Green Lantern Corps and Green Lanterns. But the DCU is a shared universe, so Lanterns will be popping up in other titles as well.
DF: What changes, if any, will we see in the statuses of the Green Lantern Corps?
Robert Venditti: One of the most difficult things to do in monthly comics is develop consistent status quo changes for the characters that make sense within the context of the story, but also keep readers guessing. It's important because status quo changes carry the story forward for long-time readers, but are the start of a new chapter for new readers. Hal Jordan and the Green Lantern Corps: Rebirth #1 won't be on the stands until July 13, but by that time I'll have at least twelve issues written, and five issues will be completely finished—art, colors and letters. So I can say with certainty that each arc is beginning with a new status quo for our characters. It's difficult to say what those are without giving too much away, but I can say that everything connects back to something Hal does in the series' Rebirth one-shot. He does something we haven't seen before, and it's going to change everything.
DF: Aside from Hal, what Lanterns will storylines be focusing on in the days and weeks ahead?
Robert Venditti: The first story arc focuses on Hal and Guy Gardner, with John Stewart also playing a key role. The second arc focuses on Hal and John, with Kyle Rayner playing a key role. When it comes to the four Earth Lanterns starring in the title, they'll all get their moments in the spotlight. While Hal thinks he's the last Green Lantern, John has to lead a Corps whose ranks have been greatly thinned in recent conflicts. His job is maybe the hardest of all. Guy finds himself unwittingly in the enemy's crosshairs. Then there's Kyle. What we're doing with Kyle is so secret, I can't say much. But when he arrives on the scene, it'll be to do something that only he can do.
Then, of course, we have the rest of the Green Lanterns everyone knows and loves. Iolande, Arisia, Kilowog, Salaak and the rest.
DF: What role will Sinestro play in all this?
Robert Venditti: Sinestro is the main antagonist of the opening arc. With the Green Lantern Corps vanished, he has moved Warworld to the center of the universe and established the Sinestro Corps as the new police force. He has everything he's always wanted, which is an unfamiliar position for him to be in. He isn't the taker; he's the one with everything to lose. But, always the tactician, he has a lot of unexpected tricks up his sleeves. The Sinestro Corps is growing more powerful than we've ever seen them before.
DF: What was it like to work with the great Ethan Van Sciver and Rafa Sandoval & Jordi Tarragona on the Hal Jordan and the Green Lantern Corps Rebirth issue and #1, respectively?
Robert Venditti: Ethan is an artist who has become synonymous with both Green Lantern and with Rebirth as a concept. Having him on the title is such a boon. He co-created much of the modern Lantern mythology, and he has an incredible passion for everything that came before.
This is Rafa and Jordi's first time on Green Lantern, but I worked with them in the past on X-O Manowar. They handle grand scope and epic scale so well. They're also great at design, which there's quite a bit of as we introduce new concepts. I'm on the book I want to be on, with the artists I want to work with. I couldn't be happier.
And because color is so important to a title like this, I want to mention Jason Wright and Tomeu Morey, who'll be coloring Ethan and Rafa respectively. The issues are absolutely gorgeous.
DF: One of the main aspects of Rebirth has been a return of DC's "legacy." What will Rebirth mean to Hal Jordan and to the Green Lantern franchise?
Robert Venditti: Part of the mission statement of Rebirth is to create a new beginning, but also to return to the characters' roots and embrace the long, storied history of the DCU. The way we'll be tapping into the legacy of the Green Lantern franchise is definitely going to surprise people. We'll be using characters who are integral to the mythology, but who we haven't seen in a very long time. And again, because we're so far ahead on production, I can say this isn't hypothetical. A lot of it has already happened—readers just don't know it yet.
Dynamic Forces would like to thank Robert Venditti for taking time out of his busy schedule to answer our questions. Hal Jordan and the Green Lantern Corps: Rebirth one-shot hits stores July 13th, with issue #1 of Hal Jordan and the Green Lantern Corps shipping July 27th!
For more news and up-to-date announcements, join us here at Dynamic Forces, www.dynamicforces.com/htmlfiles/, "LIKE" us on Facebook, www.facebook.com/dynamicforcesinc, and follow us on Twitter, www.twitter.com/dynamicforces
HAL JORDAN AND THE GREEN LANTERN CORP: REBIRTH #1 SIGNED BY ETHAN VAN SCIVER
STAR TREK/GREEN LANTERN: THE SPECTRUM WAR #1 DYNAMIC FORCES EXCLUSIVE SIGNED BY JAE LEE
GREEN LANTERN/GREEN ARROW VOLUME 1 TPB
GREEN LANTERN: REBIRTH #2 - SIGNED BY ARTIST ETHAN VAN SCIVER!
GREEN LANTERN: REBIRTH #3 - SIGNED ARTIST ETHAN VAN SCIVER
GREEN LANTERN CORPS: RECHARGE #1 - SIGNED BY DAVE GIBBONS!
GREEN LANTERN: CIRCLE OF FIRE #1 AND #2 MATCHING # SET - SIGNED BY NORM BREYFOGLE AND ROBERT TERANISHI
GREEN LANTERNS: REBIRTH #1 ALEX GARNER VARIANT ULTRA-LIMITED LANTERN GREEN SIGNATURE EDITION SIGNED BY ETHAN VAN SCIVER!
GREEN LANTERNS #1 SIGNED BY SAM HUMPHRIES
GREEN LANTERN ANNUAL #1 80 PAGE GIANT (SPECIAL EDITION 1998) ULTRA-LIMITED SIGNED BY MARK WAID IN LANTERN GREEN!
---
NEW! 1. 11/25/2020 - STEVE SKROCE
4. 11/16/2020 - RYAN O'SULLIVAN
5. 11/16/2020 - RYAN O'SULLIVAN