JIM ZUB

SEND THIS TO A FRIEND!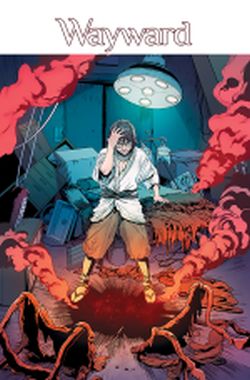 DF Interview: Jim Zub's Wayward: The comic is getting intense, and the teens may soon be hitting real-world TV
By Byron Brewer
Nikaido's powers are growing, and he's not the only one…
Wayward, from creators Jim Zub and Steven Cummings, unleashes myth into the modern world this summer.
DF needs to know more, and so does its readers. Thus, we sat down with scribe Jim Zub and here's what we got out of him.
Dynamic Forces: Jim, your stalwart title Wayward is beginning its fifth arc! How does that feel in these days of reboots and relaunches, and as the creator of something the fans have obviously taken to heart?
Jim Zub: Our whole team is thrilled that Wayward is continuing and that we're able to dive deep into this modern mythological story. Like you said, the market is fickle and attentions are being pulled all over the place, so being able to concentrate and build this out has been a real thrill.
DF: So, what will we be seeing in Arc 5, beginning with Wayward #21? You know DF is not one for spoilers, but tell us as best you can please.
Jim Zub: The split story we had in Arc 4 with Japan and Ireland continues, but those two tales are going to weave themselves closer together as the arc goes on. Both stories are building in intensity as our teens discover bigger threats that have loomed over them since the beginning.
DF: What is up with Nikaido?
Jim Zub: Nikaido's power, absorbing emotional energy and releasing it in soothing waves or crashing fire, is going into overdrive. The fact that he's been placed in a hospital where emotions are running high and he can't get away makes it even worse.
DF: Powder keg! … Continuing, and quoting the solicit: "… And [Nikaido's] not the only one." What are we looking at here?
Jim Zub: All of our wayward teens are tapping into greater power than ever before as the story continues. We're upping the ante.
DF: Jim, you always have a hidden muse of subtext in these arcs. What undercurrent should fans be reading in between the lines with "Tethered Souls"?
Jim Zub: I don't want to tip my hand too much, but suffice to say that the fever pitch the story is building up right now is a reflection of our intensifying world. It feels like there's no middle ground. Pick a side and fight for the future.
DF: Your assessment of Steven Cummings on the art chores? Out of the ballpark?
Jim Zub: No word of a lie, Steven has leveled up on this story arc. The visuals in the upcoming issues, particularly issue #23, are going to blow people's minds. I wrote some crazy scenes and worried that we'd bitten off more than we could chew, but Steven grabbed hold of it and has really delivered. I'm absolutely thrilled.
DF: Why is this the best time for the vaunted "new readers" to jump on board Spaceship Wayward?
Jim Zub: It's a fun supernatural story with twists and turns aplenty. With each arc we continue to get new readers who are pulled in by the story Steven and I are weaving. We've hit a fun stride with intense drama and mythological action and it's grabbed the attention of Manga Entertainment. They've optioned Wayward for Japanese TV development, so you'll want to get on board the ground floor now and see how it all develops in the months ahead.
DF: Yes! Tell us about the excitement and any details about Wayward and Manga Entertainment, the U.K.'s largest anime distributor! What are the deets? Will either Steven or you have any active role in this?
Jim Zub: Manga UK has optioned the series and is securing financing to develop Wayward as either an animated or live-action series. Obviously, all of us on the comic creative team are thrilled. Steven and I are directly involved in the development. Steven just finished a series of 'design pack' drawings to show how the characters look and their costuming and I'm working with the producers developing the 'story bible' with back story, character details, and a story pacing breakdown into episodes so we can adapt the story accurately while using the medium to do things that we couldn't on the printed page. Exciting times ahead, that's for sure.
DF: What else does the Zub-meister have brewing in his projects pot?
Jim Zub: In addition to Wayward arc 5, Glitterbomb will be returning for a second mini-series called Glitterbomb: The Fame Game in September and we're in the midst of production on that. I'm done writing Dungeons & Dragons: Frost Giant's Fury and Freelance, so they'll be wrapping up soon. My run on Uncanny Avengers just started with issue #24 and the months ahead will be filled to the brim with surprises, especially in the post-Secret Empire Marvel Universe. I also have another Marvel project due to be announced in late July/early August that should grab some eyeballs. 2017 is going strong.
Dynamic Forces would like to thank Jim Zub for taking time out of his busy schedule to answer our questions. Wayward #21 from Image Comics hits stores June 28th, today!
For more news and up-to-date announcements, join us here at Dynamic Forces, www.dynamicforces.com/htmlfiles/, "LIKE" us on Facebook, www.facebook.com/dynamicforcesinc, and follow us on Twitter, www.twitter.com/dynamicforces.
PATHFINDER VOL. 1: DARK WATERS RISING HC - SIGNED BY JIM ZUB
PATHFINDER VOL. 2: OF TOOTH AND CLAW HC Written by Jim Zub
PATHFINDER VOL. 3: CITY OF SECRETS HARDCOVER Written by Jim Zub
RED SONJA: TRAVELS VOL. 2 TRADE PAPERBACK Written by Jim Zub, others
---
NEW! 1. 05/30/2023 - DAN ABNETT
4. 02/10/2022 - SIMON SPURRIER