PAUL JENKINS

SEND THIS TO A FRIEND!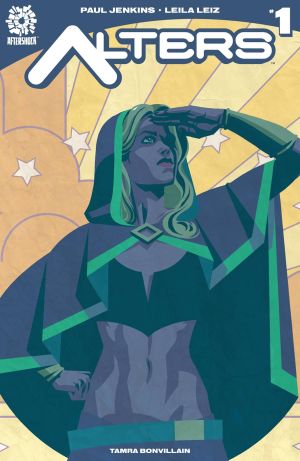 DF Interview: Paul Jenkins' Alters brings transgender protagonist, other 'challenged' superheroes to comics
By Byron Brewer
From a diverse team of creators composed of differing genders, gender identities, ethnic backgrounds and sexual orientations comes a groundbreaking new series featuring a transgender superhero.
As the world struggles to accept the emergence of a new kind of mutant species known as alterations, or "Alters," a young woman begins her transition from male to female only to find herself also transitioning into a powerful Alter.
Faced with persecution by the multi-powered fascist known only as Matter Man, she will face the world as Chalice–a hero for a new age.
DF sat down with writer Paul Jenkins to discuss Chalice and the other diverse superheroes who will make up Alters, a new series from AfterShock.
Dynamic Forces: Paul, right off the bat and being handicapped myself (seizures), I can say this is a book whose time has definitely come. How did the concept of superheroes with real-world challenges (genuine or perceived by society) come to you? And I understand it has been a long time in gestation?
Paul Jenkins: When I was working more regularly in the mainstream arena, I'd often be looking for a way to bring new ideas into comics -- or at least a fresh approach to something. I suppose I never really considered myself a "comics insider" because my job was to bring a different look to various titles, as opposed to sticking to the continuity all the time. I'd had the good fortune of bringing Sentry to Marvel, and having him accepted as a mainstream member of the Avengers. A few years after Sentry, I began to pitch this idea. Initially, it was about superheroes with disabilities but I quickly broadened it to cover any number of people who were living at a disadvantage. In part, this idea came to me because I'd once had a good friend in Massachusetts who was quadriplegic -- I used to take him to Patriots games once in a while. I guess I wanted to write about his situation. And I also wanted to write about people who are dealing with disadvantage -- why could they not have their heroes too?

DF: And wasn't there a bit of a personal inspiration for this series as well?

Paul Jenkins: My Mum raised my brother and I on a farm and then near the sea in England's West Country. We were very poor, especially after my Dad left. Mum is a very amazing person. She is quite the eccentric little old lady nowadays -- and she describes herself as "six of one and half a dozen of the other" (she's bi). I suppose we try to write about what we know. Mum showed me not necessarily to celebrate diversity but instead to seek inclusion for everyone.

DF: Tell us the story about your encounter with a fan named Liz Luu and how it inspired the transgender superhero Chalice, who will be only one of several characters in Alters.

Paul Jenkins: Well, I met Liz at a show a few years ago when Alters was already being pitched. At the time, I had a trans character in mind for Alters but that character was not particularly a focus. Liz approached me after a panel and she told me a very cool idea, where a trans superhero could only really show herself in her female identity when in costume. I thought that was far better than the approach I was about to take, and so I asked Liz if she would mind me using that backstory for my character. I have been showing Liz all of the character designs and scripts as we progress, which is part of an agreement I have with her. She now works at Cartoon Network and I have no doubt she is going to go far!

DF: This is so intriguing! Tell us please about the rest of the cast of this AfterShock series and, if you can, their challenges and powers.

Paul Jenkins: If I delve too much into the present cast, I will probably give too much story away. What I can say is that I have a story planned about a quadriplegic shape-changer -- he has broken his neck and basically must choose between living his life in a chair or just changing one more time, living for just a month or so, and dying relatively quickly. Think about it: in that situation, could you say what choice you might make? I have a homeless character and a person with cerebral palsy. One story that intrigues me is a character who is simply unattractive. I feel that is the type of person we would tacitly see bullied by the media, no matter their level of accomplishment. I have stories about PTSD and bipolar disorder -- many different people living with disadvantages.

DF: Will this be a team book eventually, or just a series of "slices of life" of these challenged heroes?

Paul Jenkins: It's a team book but we will definitely try to focus on the different characters over time. Some will be longer arcs, and others may even be one-shots.

DF: What type of villains will these characters face? Any non-spoilery hints?

Paul Jenkins: I have talked about the main bad guy before -- his name is Matter Man and he is pure evil. BUT… what if his evil is caused by mental illness? The USA tends to execute people who are clearly insane (I mean Ted Bundy was surely the poster child for this). So his particular thread will be an examination of insanity and what our society does with it.

DF: Why is artist Leila Leiz a good fit for Alters?

Paul Jenkins: The primary thing I look for when I am working with artists is their ability to tell a story. Leila's work really reflects an understanding of camera movement, depth, characterization, and so on. Now, added to that she happen to be just plain amazing at what she does. I'm extremely pleased that she agreed to come onto the book -- she is aces! While I'm at it, I also wanted to add a mention for Tamra Bonvillain, our colorist. Tamra is a great colorist who recently worked of AfterShock's Strayer, among other books. I'm very proud of the fact that with Leila, Tamra and Brian Stelfreeze, our book is created by a very diverse group. That means a lot to me personally and it means a lot to this project.

DF: Speaking of Brian Stelfreeze, how exciting is it to have that fantastic Black Panther artist providing some awesome covers for this series?

Paul Jenkins: I think you just said it. One other thing of note: Brian is quite possibly the nicest person working in this business.

DF: Paul, once this unique cast (at least, to my mind, for comics) is introduced, where do we see this series going forward? Definitely character-driven?

Paul Jenkins: Definitely. I have about fifty stories lined up with different characters. Let's hope the series does well enough to last for enough time that I can tell them.

DF: What else might you have project-wise you'd care to discuss?

Paul Jenkins: I have a novel coming out at the beginning of September called Curioddity, from St. Martin's Press. And any number of comics projects, no doubt. Also I will be showing an animated project I wrote and directed for Nickelodeon at SDCC this year. So I'm doing a bunch of stuff -- I have a hard time keeping track!
Dynamic Forces would like to thank Paul Jenkins for taking time out of his busy schedule to answer our questions. Alters #1 from AfterShock hits stores September 7th!
For more news and up-to-date announcements, join us here at Dynamic Forces, www.dynamicforces.com/htmlfiles/, "LIKE" us on Facebook, www.facebook.com/dynamicforcesinc, and follow us on Twitter, www.twitter.com/dynamicforces
GENERATION M #1 - SIGNED BY WRITER PAUL JENKINS
G.I. JOE: FRONTLINE: ONE-SHOTS TPB Work by Paul Jenkins
THE DARKNESS PRELUDE #1 - SIGNED VERSION (COVER A) Signed by Paul Jenkins
---
NEW! 1. 11/25/2020 - STEVE SKROCE
4. 11/16/2020 - RYAN O'SULLIVAN
5. 11/16/2020 - RYAN O'SULLIVAN