CHRIS SEBELA

SEND THIS TO A FRIEND!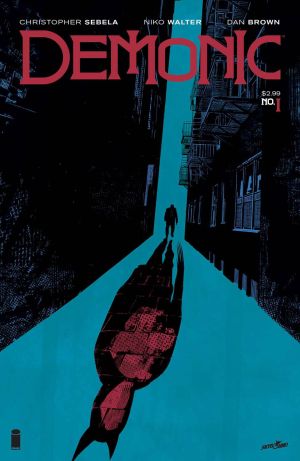 DF Interview
: A demon comes a'calling to a hardcase cop in Chris Sebela's Demonic mini
By Byron Brewer
Detective Scott Graves will do anything to protect his family… even bargain away his soul. Now, the only thing to fear isn't New York's worst criminals, but what's already raging inside of him. After all, what's the cost of your soul when it's already damaged?
Robert Kirkman's 2010 one-shot comic book, Demonic, is being expanded into a six-issue miniseries from Skybound Entertainment. Eisner-nominated writer Chris Sebela (High Crimes), newcomer Niko Walter and colorist Dan Brown unleash a vigilante who answers to no man, only the demon within.
Dynamic Forces: Chris, everything Robert Kirkman seems to touch these days morphs into crowd-pleasing magic! How cool is it to be working on one of his projects?
Chris Sebela: It's ridiculously cool. I never expected to get that phone call, especially not as someone who feels like he's still relatively new to comics. I might have possibly thought it was a prank at first until I did some googling. Just getting beyond Robert's own writing, everything Skybound has been putting out is so good, I was kind of blown away that they thought I was good enough to join the team. Frankly, I'm still a little dazzled by having been able to work on Demonic.
DF: Tell us how you became attached to the mini.
Chris Sebela: I got contacted by my editor, Sean Mackiewicz, shortly after my book High Crimes started coming out digitally. Apparently they really liked what they saw there and we started talking about working on something together. Sean sent me over the original first issue of Demonic to see if it was up my alley and it definitely was: masks, knives, blood, a messed-up protagonist and a whole lot of darkness. Once I was on-board, we started breaking it down and going back to the foundation to build something cool on top of this foundation.
DF: Some have been citing Breaking Bad when talking about the new book. Tell us about the storyline, please.
Chris Sebela: Without spoiling anything, our main character is an NYC cop who gets recruited, in a way, by an ancient demon. She requires blood and lots of it and while he works to find a way out of this deal he's trapped in, he's dived in with both feet as a way to keep his family alive and safe, sacrificing his body and his sanity for them. He's also trying to unwrap the mystery of this demon and where it comes from, who's responsible for him being in this position, while struggling with whether or not, deep down, he actually likes what he's being forced to do.
DF: Tell us more about this law enforcer.
Chris Sebela: Scott Graves is an NYC cop who has a wife and a daughter and has rebuilt his life after going down some dark rabbit holes in his life. He's living in this domestic bliss, trying to keep it together, while staring down some of the bigger ugliness of his day job as a detective. He has, not to abuse this word, a lot of demons he's wrestling with. From drinking problems to infidelity to a childhood that would make anyone run screaming for a bottle. And into all this comes Aeshma, who makes him an offer he's unable to resist for a lot of reasons, but especially because he's been dreading this all his life and now it's in front of him. Scott's not an ideal character to fight back against evil and champion good, but that's what makes him an interesting study. He has, outwardly, all the signs of a champion, but inside he's wrestling with all these things that makes him the perfect vehicle for something as ugly as Aeshma.
DF: So the demon who lives in Graves … is this to him more of an inner struggle thing to keep mastery of the body, ala Banner/Hulk? Or is it a Jekyll/Hyde type of relationship, where the body seems almost equally shared? Can you explain the inner turmoil of this cop, if indeed any?
Chris Sebela: Scott's body is a time share of sorts. He gets the days to live his normal life and then at night is when Aeshma, the demon living inside him, gets to take over and try to ruin all the good he might have done. Scott struggles against this a lot, trying to find a way to keep control all the time but it's similar to an addict trying to keep away from the thing that's ruining them. They can say they're done, no more, but once the quiet moments slip in, that resolve begins to slip more and more. With Scott it's a bit more intense than that, but the stakes are the same: his life, his sanity, his family. Scott has to fight pretty hard to keep control and Aeshma is not exactly a roll over and play dead adversary.
DF: Will Scott's family play a role in the story? Who are some of the other supporting cast?
Chris Sebela: Our main focus is on Scott, but the reason he's doing any of this is as a way to save his wife and daughter, who remain somewhat oblivious of this turn in his life. His family has seen Scott at his worst and still stuck with him, but it's all dangling by a thread. One turn back to the old Scott he used to be could destroy everything. Scott's working alongside his partner who he used to have a more intimate relationship with, who kind of helped him on his downhill slide back in the day, but now they have to keep working together while keeping that stuffed down somewhere unspoken. And there's Aeshma, the demon who taunts and teases him and who threatens to set his life on fire, as his partner in the evenings.
DF: Writers love NYC as a backdrop for "true crime" tales, noir pulp stories … what atmosphere does the Big Apple set the table for in Demonic?
Chris Sebela: It's NYC as this huge, densely packed city of secrets. That there are so many people there — transplants who just arrived on a bus alongside fifth-generation residents who've never left their borough — means that there's so many stories going on at once and so many stories being told that it's easy to look around and not notice the darkness. NYC is definitely a place that has been deeply plagued by darkness in its history, outwardly, but now we're into this era where it's at least cleaned the surface, so all these uglier stories are still being told, but in whispers. You could share a subway with a couple of killers and never know it, or live next door to a psychopath and have nothing but pleasant interactions. The pace and the size of NYC is such that even huge, decades-old conspiracies could be going on right under your nose but you're too busy trying to keep your head above water and not notice that anything is off. It seemed like a really effective playground for Demonic and everything we deal with in it.
DF: How is it working with Niko Walter and Dan Brown?
Chris Sebela: It's been amazing. I'd never seen Niko's pages before and as soon as he started drawing it really inspired me to work to his strengths. He's got a great style and does lots of neat little tricks with layouts and panel breakdowns that the more I wrote for him, the more fun it was for both of us. Dan's colors are so good too. I've admired his stuff for awhile now, so seeing what he did on top of Niko's art really elevated everything even higher. Add on Sal Cipriano's lettering and I feel like I'm part of this team of all-stars which is intimidating a little, but definitely made me work harder to be as good as the rest of the squad.
DF: Finally, Chris, any other projects you'd care to let us know about in which you are involved?
Chris Sebela: My latest creator-owned book Heartthrob with Robert Wilson IV and Nick Filardi at Oni Press is currently coming out in comics shops. I've also wrapped up this prose nonfiction book, I Live in a Clown Motel, about living in a Clown Motel for a month. I'll be selling that soon to anyone who wants to read about things as dumb as that. I have several other things in progress but they must remain my own deep dark secrets for now.
Dynamic Forces would like to thank Chris Sebela for taking time out of his busy schedule to answer our questions. Demonic #1 from Skybound hits stores August 17th!
For more news and up-to-date announcements, join us here at Dynamic Forces, www.dynamicforces.com/htmlfiles/, "LIKE" us on Facebook, www.facebook.com/dynamicforcesinc, and follow us on Twitter, www.twitter.com/dynamicforces
---
NEW! 1. 11/25/2020 - STEVE SKROCE
4. 11/16/2020 - RYAN O'SULLIVAN
5. 11/16/2020 - RYAN O'SULLIVAN