STEVEN CUMMINGS

SEND THIS TO A FRIEND!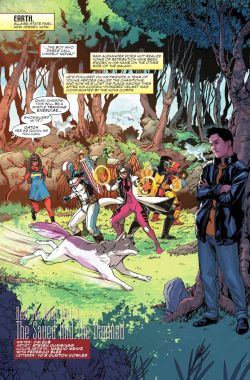 DF Interview: Steven Cummings talks his art and career, from 'Genepool' to 'Champions'
By Byron Brewer
Steven Cummings had drawn for the Big Two, Marvel and DC, but it was not until writer Jim Zub and he began the expansive Wayward for Image Comics that I – and apparently all of Comicdom Assembled – began to take notice.
When the long-running Wayward came to an end, Cummings joined his co-creator on Marvel Comics' Champions with a new Number 1 and a new concept in young worldwide teen heroes that gave the property a real shot in the arm as far as energy and creativity.
DF sat down for a few minutes with the artist to discuss just a little chunk or two of a comics career that is, now more than ever, on the rise!
Dynamic Forces: Steven, until you exploded at the House of Ideas recently with the latest global iteration of Champions, both you and writer Jim Zub had a lot of success, a long run and great chemistry on Image Comics' Wayward. (Since August 2014!) How is life without Wayward now? Does it still seem strange to you, as it does to many readers?
Steven Cummings: Wayward was a big part of my life for several years so at first it was strange to be working on something different. The first thing I did with each page of Wayward was to write "Wayward" at the top of each page every morning. I had to really work to stop that habit when I started Champions. So now that I am several issues in, the pages all get labeled "Champions" but I still want to draw Rori and crew. Maybe one of these days, I can revisit them.
DF: Looking back on that long run, what would you consider your greatest contribution to Wayward? If you had to do it over again, what would you change (a design, a common set piece, etc.)?
Steven Cummings: This is hard to answer. I am not sure there was that one thing that I could say was the greatest contribution... When we started the process of discussing what we wanted to do, one thing I told Jim was a desire to tell a story set in modern Japan. Modern and very normal Japan. The part of Japan where people actually live and spend their days. Jim was alright with that and he was able to easily include that into the script work he started. But we were involved together in the creation process from themes to plot points to character types to names to, well, you get the drift.
DF: How did working with Zub on Wayward prepare you for the great popularity of the new global Champions (14 heroes, a synthezoid dog, and growing!)?
Steven Cummings: The two books are very different. Wayward had several lead characters but that was nothing compared to Champions and all the characters involved. There is a lot of continual referencing I need to do in order to be able to draw the characters and it really takes time. The Wayward characters I knew by heart which made drawing them easy but Champions is full of ones that are new to me.
DF: Can you compare working on Wayward with working on Champions? What character, and I know it is early for you, have you found the most endearing in Champions, which one is your fave?
Steven Cummings: Amadeus Cho aka Brawn and Pinpoint are very appealing. Poor Sam who has lost his powers also appeals to me. I really want him to succeed and be happy, but first he has to deal with the fact that he is a normal person hanging out with super-powered heroes.
DF: Let's jump in the WABAC Machine for a time. How did you get interested in being an artist, and about working in comics?
Steven Cummings: I decided I wanted to create comics when I was in high school. I was in love with them and had to agonize every week how to spend my limited money on books. This was back just before and during the creation of Image and everything I read made me want to run home and start drawing. It was all I could think about for high school and college and when I got that first phone call offering me work, I was over the moon.
DF: What was your first paid published piece, and for which publisher?
Steven Cummings: It was a book called Genepool from IDW. It was full of kids with powers, action and mystery.
DF: Talk about your long association with Jim Zub.
Steven Cummings: I met Jim when I started talking to Udon Entertainment, a comic and art book publisher that specializes in video game properties. Jim was doing project management with them and ended up being my boss on a lot of illustration jobs for a while.
DF: Steven, what do you have coming up now or in the near-future you can tell readers about?
Steven Cummings: As of right now, I am concentrating on getting Champions one page at a time. When the time is right, I hope to get back into creator-owned books as that is always a special kind of fun. But as for right now, I can't announce anything!
Dynamic Forces would like to thank Steven Cummings for taking time out of his busy schedule to answer our questions. Check out Champions every month from Marvel Comics!
For more news and up-to-date announcements, join us here at Dynamic Forces, www.dynamicforces.com/htmlfiles/, "LIKE" us on Facebook, www.facebook.com/dynamicforcesinc, and follow us on Twitter, www.twitter.com/dynamicforces.
PATHFINDER VOL. 3: CITY OF SECRETS TRADE PAPERBACK
PATHFINDER: CITY OF SECRETS #6 (OF 6) ULTRA-LIMITED EDITION COVER
PATHFINDER: CITY OF SECRETS #5 (OF 6) ULTRA-LIMITED EDITION COVER
PATHFINDER: CITY OF SECRETS #4 (OF 6) ULTRA-LIMITED EDITION COVER
PATHFINDER: CITY OF SECRETS #3 (OF 6) ULTRA-LIMITED EDITION COVER
PATHFINDER: CITY OF SECRETS #2 (OF 6) ULTRA-LIMITED EDITION COVER
PATHFINDER: CITY OF SECRETS #1 (OF 6) ULTRA-LIMITED EDITION COVER
---
NEW! 1. 11/25/2020 - STEVE SKROCE
4. 11/16/2020 - RYAN O'SULLIVAN
5. 11/16/2020 - RYAN O'SULLIVAN